Inside Amazon's West Plains fulfillment center, associates ship more than 2 million items a week Amazon's fulfillment center on the West Plains echoed with a flurry of activity Wednesday afternoon.
Yellow shelving stations, guided by Amazon Robotics, glided along the building's second floor to workstations operated by associates, who scanned incoming items from third-party vendors and placed them on the station and into inventory, which is updated in real time on the company's website.
On the building's third floor, robots brought the yellow shelves to pick stations where associates retrieved and placed items into medium-sized plastic boxes.
In the packing area on the upper floor, associates packaged orders at stations that automatically determined the appropriate size of boxes and the exact amount of tape needed to seal packages.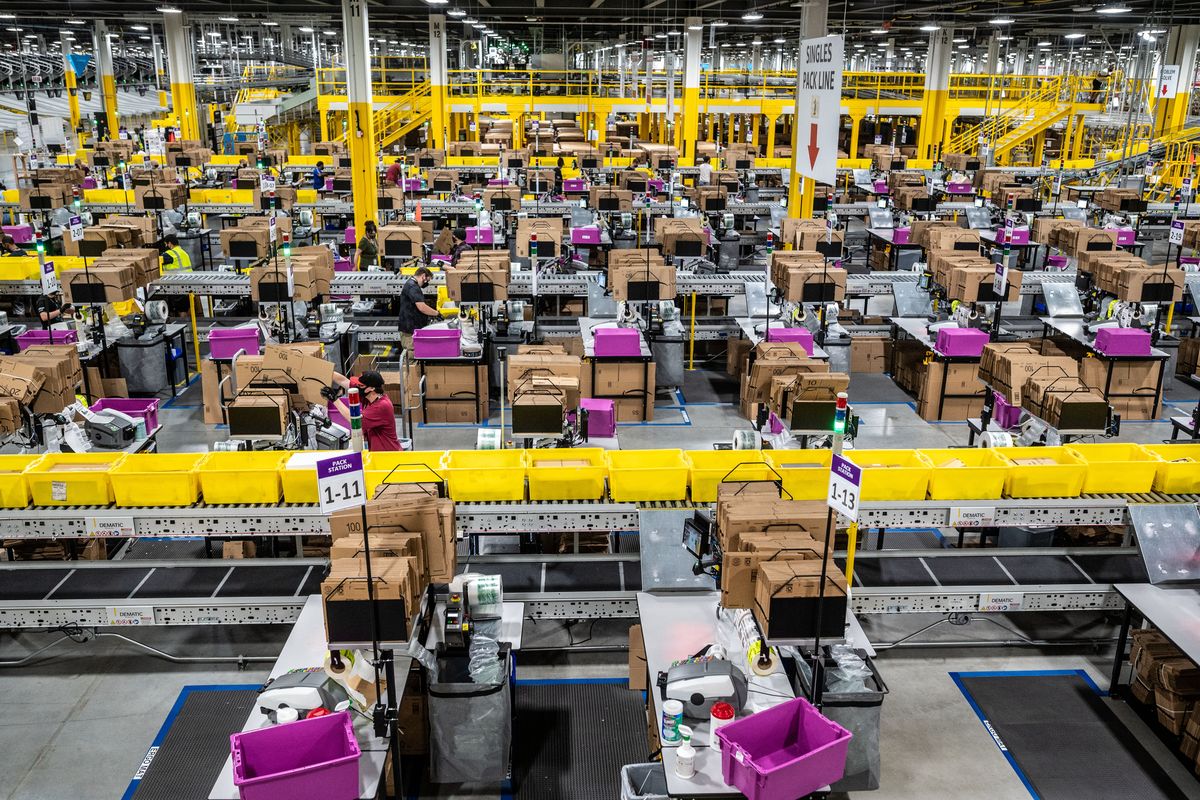 Boxes traveled on a conveyor belt through what's called a "slam station," which affixed address labels and used a computer to decide the fastest route and shipping method for orders in fewer than two seconds.
Packages were then transported to the first floor docking station, where they will be picked up and delivered nationwide.
Amazon's West Plains fulfillment center, also known as GEG1, is processing and shipping more than 2 million items a week since opening in June, said Andy Parra, director of operations for the facility.
None
The fulfillment center, which has the ability to store more than 40 million products in inventory, will eventually ramp up operations to ship out more than 5 million items weekly, Parra said.
The facility processes orders for small to medium-sized items, such as SD cards, coffeemakers and blenders, Parra said.
Amazon has not yet implemented same-day shipping for Spokane customers, but the goal is to increase shipping speed as the fulfillment center gains more inventory, Parra said.
"As more inventory gets in the building, people will get their orders faster," he said.
The massive facility, spanning 2.6 million square feet at 10010 W. Geiger Blvd., employs more than 2,600 associates, exceeding the 1,500 to 2,000 workers Amazon initially estimated it would hire after announcing the project in 2018.
Amazon officials cited Spokane's job market as a primary reason to build the fulfillment center in the area.
"We are doing well when it comes to hiring," Parra said. "But we still need to hire more."
Parra said the facility is on track to meet its goal of hiring 3,000 associates before the holiday season.
Jobs at the fulfillment center are posted to Amazon's website on a rolling basis.
"There's still layers of planning, but we are confident we will be able to get to 3,000 employees at GEG1," he said, adding that associates will have the ability to cross train for various positions in the facility.
Washington State Department of Commerce Director Lisa Brown, who toured the fulfillment center Wednesday, called the facility impressive and is excited it's bringing jobs to the area.
"Jobs right now are so important because of the economic downturn," she said, adding the facility will diversify the regional economy.
The West Plains fulfillment center, which is one of the first to open during the coronavirus pandemic, has implemented several health and safety protocols to protect employees from COVID-19.
Employees, upon entering the facility, must wear face masks and walk through an infrared temperature-checking station. The company added hand washing and sanitizing stations throughout the facility, which is deep-cleaned weekly. High-touch areas are sanitized several times a day, Parra said.
The company also has a system that identifies potential high-traffic areas in the facility via a daily report, allowing changes to be made to ensure social distancing among employees.
Parra said it's a priority to maintain a safe work environment at the facility.
"We want the community to know we are going to care for them and they can have a career here," Parra said.
This article was updated Aug. 6 to clarify the fulfillment center spans 2.6 million square feet. 
---