News > Nation/World
Washington, Idaho officials join both sides of latest presidential election challenge
Dec. 10, 2020 Updated Fri., Dec. 11, 2020 at 9:36 a.m.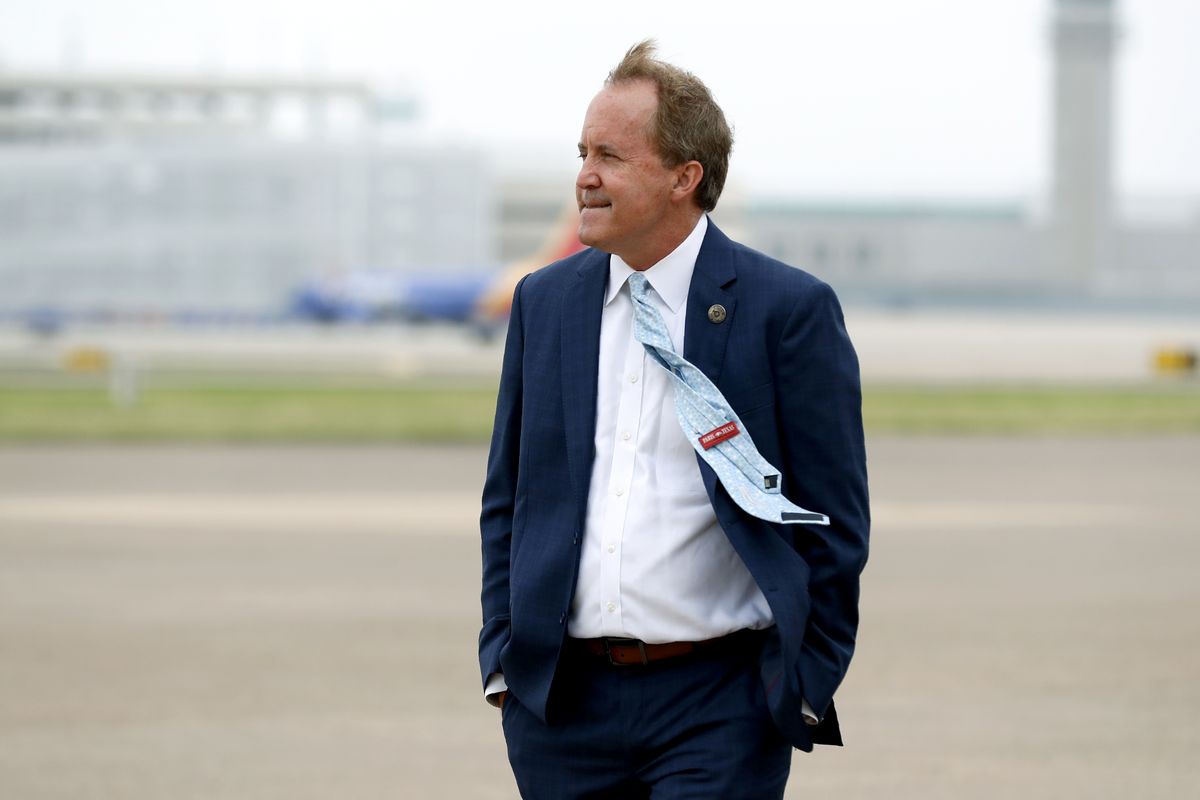 FILE - In this June 28, 2020 file photo, Texas' Attorney General Ken Paxton waits on the flight line for the arrival of Vice President Mike Pence at Love Field in Dallas. A longshot lawsuit that President Donald Trump is now calling "the big one" in his effort to subvert the will of the voters is helmed by Republican Texas Attorney General Ken Paxton, who is likewise trying to reverse his own skidding fortunes. (Tony Gutierrez)
Elected officials from Washington and Idaho joined both sides of the U.S. Supreme Court battle Thursday over the 2020 presidential election results.
Washington Attorney General Bob Ferguson announced the state was joining a "friend of the court" request to join on the side of the four states that are defending the results showing that Democrat Joe Biden won and is entitled to their Electoral College votes.
Ferguson called the lawsuit, initially filed by his Texas counterpart Ken Paxton and joined by 17 other Republican state attorneys general, an attack on democracy.
"This lawsuit has no legal or factual basis," he said. "It will not succeed in overturning the will of the voters."
Washington is among 22 states or territories and the District of Columbia opposing the Texas suit against results in four states: Pennsylvania, Georgia, Michigan and Wisconsin.
U.S. Rep. Cathy McMorris Rodgers was among 106 Republican House members who filed a similar request to join GOP state attorneys general on the other side of the fight.
Also signing on the House Republican "friend of the court" request were Dan Newhouse of Washington, along with Russ Fulcher and Mike Simpson of Idaho.
The group said they have "concerns as members of Congress, shared by untold millions of their constituents, that the unconstitutional irregularities involved in the 2020 presidential election cast doubt upon its outcome and the integrity of the American system of elections."
Their request said states' electors should be chosen "by counting only lawful votes" but added they wanted to protect state legislatures' role in deciding how their electors are chosen.
In a statement released Friday morning, McMorris Rodgers repeated her contention that President Donald Trump has a right to legal recourse over claims of voter fraud. Many people have had questions about the election and its results, she added.
"This case is about the Supreme Court answering those questions for the American people so we can move forward," she said in the statement. "This amicus brief specifically focuses on constitutional requirements for elections and the legal requirement that changes to election processes be approved by state legislatures as well as the state laws which require elections officials to check signatures on mail-in ballots." "
Idaho Attorney General Lawrence Wasden, a Republican, said Thursday that state will not join Texas in challenging the vote counts in the four states, which he viewed as an attack on state sovereignty.
"Idaho is a sovereign state and should be free to govern itself without interference from any other state," Wasden said in a statement reported by the Associated Press. "Likewise, Idaho should respect the sovereignty of its sister states."
But the Idaho Republican Party is supporting the lawsuit and Idaho Lt. Gov. Janice McGeachin is among GOP elected officials from several states asking to join the challenge, claiming "unconstitutional actions, fraud, and other irregularities" by the four states where relatively close vote totals show Biden winning.
The Texas lawsuit repeats baseless claims that have been rejected by other courts and not verified by elections officials – in some cases Republican, in others Democrats – in those states.
The U.S. Supreme Court has not yet scheduled a hearing on the challenge to the four states' results. which combined have enough electoral votes, 62, to change the apparent outcome of the election.
The Electoral College meets Monday to cast electoral votes for president that currently would give Biden 306 votes and the presidency on January 20.
Local journalism is essential.
Give directly to The Spokesman-Review's Northwest Passages community forums series -- which helps to offset the costs of several reporter and editor positions at the newspaper -- by using the easy options below. Gifts processed in this system are not tax deductible, but are predominately used to help meet the local financial requirements needed to receive national matching-grant funds.
Subscribe now to get breaking news alerts in your email inbox
Get breaking news delivered to your inbox as it happens.
---