A&E
Myles Kennedy and Alter Bridge receive warm hometown welcome at Knitting Factory
Feb. 28, 2020 Updated Sat., Feb. 29, 2020 at 1:58 p.m.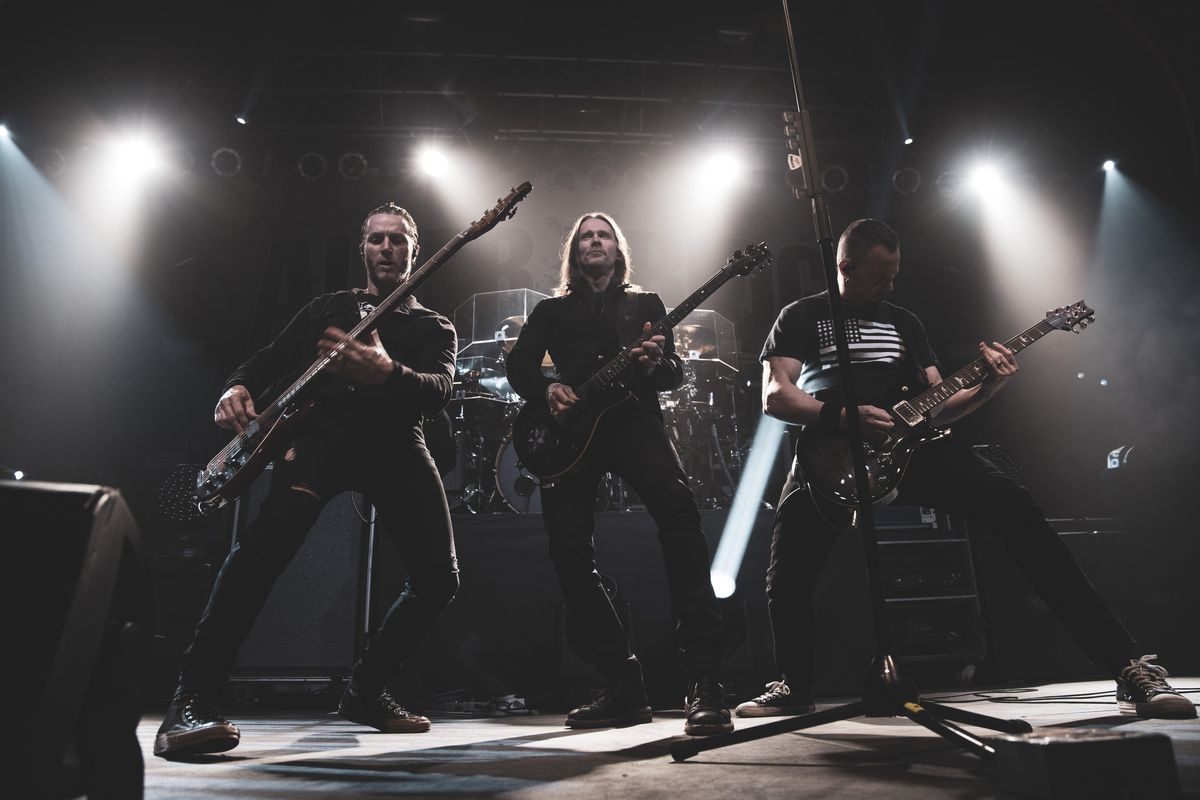 Brian Marshall, Myles Kennedy and Mark Tremonti of Alter Bridge perform at the Knitting Factory on Feb. 27, 2020, in downtown Spokane. (Chuck Brueckmann)
"Are you ready to rise, Spokane?" Spokane native and Alter Bridge frontman Myles Kennedy asked at the Knitting Factory on Thursday night, incorporating the rock band's hit "Rise Today" into his question.
The sold-out crowd responded with loud cheers, just as it did for every song in Alter Bridge's setlist as the clock neared 11 p.m. The evening was filled with 3 1/2 hours of music that included opening acts Deepfall and guitarist and singer Clint Lowery of Sevendust fame.
Alter Bridge was formed in Orlando, Florida, in 2004, but Kennedy was raised in Spokane – and he and his wife, Selena, reside on the South Hill. Along with vocalist and rhythm guitarist Kennedy, Alter Bridge is lead guitarist Mark Tremonti, bassist Brian Marshall and drummer Scott Phillips.
Here are takeaways from Thursday night's stop in support of Alter Bridge's latest studio album, "Walk the Sky," released on Oct. 18 digitally and on CD and LP:
· This was the most-crowded concert I've attended at Knitting Factory, and it was hot, humid, sweat-filled and smelly.
· The 21-and-older wristbands doubled as advertisements for Cinder.
· Kennedy performed mostly at stage right, which is interesting, as most lead singers are front and center.
· Tremonti, clad in a black T-shirt with an American flag, made the most of his solo moment, as his vocals and guitar playing were solid.
· The setlist included the aforementioned "Rise Today," "Open Your Eyes," their biggest-charting hit "Isolation" and, in the encore, "Godspeed."
· The gracious Kennedy thanked Deepfall and Lowery numerous times for being part of the evening at Knitting Factory and the "Walk the Sky Tour."
· At show's end, Kennedy thanked his band individually, the crew, The Spokesman-Review and Spokane.
· After the show, Selena mentioned how she purchased stacks of The Spokesman at Rosauers after Alter Bridge was featured on the cover of Seven on Feb. 21.
· Kennedy was again appreciative of The Spokesman's longtime support and (surprisingly) soft-spoken. Then again, he did just perform a 90-minute concert.
· After touring the globe the last few months, Kennedy and his wife are happy to be home and have downtime in Spokane.
· Kennedy and I swapped stories about Las Vegas, as Alter Bridge headlined House of Blues at Mandalay Bay last week, and I worked in Sin City from 2008-2019 before moving to Spokane last April.
· I spotted a few Vegas Golden Knights fans, a bit surprising, and quite a few Gonzaga T-shirts, not so surprising. Well, maybe a bit surprising at an Alter Bridge concert.
· Alter Bridge's lighting setup was really bright and over the top, and others were overheard saying the same thing. It was difficult at times to watch the band because of the lights, and it took away the focus from the talented rockers.
However, the lights were the energetic and celebratory night's only minor misstep. Spokane absolutely loved welcoming home Kennedy at the Knitting Factory, and Alter Bridge and he returned the favor in spades.
Local journalism is essential.
Give directly to The Spokesman-Review's Northwest Passages community forums series -- which helps to offset the costs of several reporter and editor positions at the newspaper -- by using the easy options below. Gifts processed in this system are not tax deductible, but are predominately used to help meet the local financial requirements needed to receive national matching-grant funds.
Subscribe to the Spokane7 email newsletter
Get the day's top entertainment headlines delivered to your inbox every morning.
---