News > Spokane
'A truly kind heart': Doctor who led COVID-19 unit at Spokane VA earns praise from families
Thu., July 2, 2020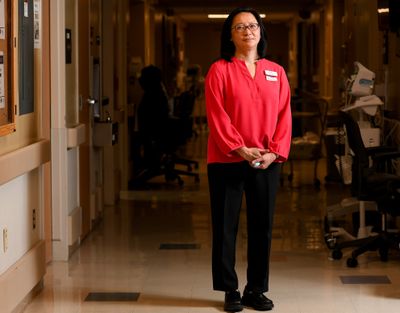 When the time came for Judy Smith to transition her husband, Chuck Smith, to hospice care with COVID-19, she asked his doctor, Dr. Camtu Thai, what she would do if Chuck were her family member.
"I felt like she gave me her honest opinion, which I so much value," Judy Smith said. "So I found her to be professional, caring, compassionate and understanding, because it was a very difficult, painful time."
Chuck Smith, who was infected with the disease during an outbreak at the Spokane Veterans Home before being moved to the Mann-Grandstaff Veterans Affairs Medical Center for treatment, died on April 29 at age 84.
By the time COVID-19 had finished making its way through the Spokane Veterans Home, 46 residents tested positive and eight died.
Seven residents were sent to a local hospital for acute care, and three died. The rest of the residents were treated at Mann Grandstaff VA Medical Center, and five residents died after transitioning to hospice care in the COVID unit.
For Smith, the story of her husband's death is indicative of Thai's commitment to her patients.
The day Thai thought Chuck was taking a turn for the worse, she called his wife, who was worried about her husband being isolated because visitors were kept away.
"I had big concerns about him being alone in that process, and I asked her if there'd be a monitor or something," Smith said.
Thai stayed with Chuck from shortly after they talked, around 4:30 p.m., until midnight. When she left, nurses took shifts staying with him until morning. Chuck died later that day, but he was never alone as it happened.
"I cannot speak highly enough about how he was treated there," Smith said.
She's not the only relative who has praised the care their loved one received from Thai and her staff.
Jerry Pederson described the decision to transition his father, Eldon Walton, to comfort care as "very emotional and fearful."
"You have to make a decision, and you don't want to make the decision," Pederson said. "There's that hope, you're just hoping they could rally one more time. She talked me through it to help me understand it was time to put him into comfort care, to allow him to pass on comfortably. Maybe any doctor would do the same, but with her and her compassionate way, it made it so much easier."
Pederson wasn't just dealing with his father, who died May 8 at 90. His mother, Lois Walton, was also under Thai's care, and in addition to coronavirus, suffered from dementia. Because they were able to stay in the same room while receiving treatment, Eldon died holding Lois' hands.
But then there came a time Lois didn't remember this, and Thai "would reassure my mom that she was there in the room next to him, holding his hand, and that he had gone to heaven."
Pederson said even with the mask, he could tell through her tone of voice and limited body language Thai was a kind, selfless and humble woman.
"I'm big on kindness right now," Pederson said. "There's so much division in our country, whether it be over the COVID and restrictions or the protesting and political. There's so much division. To find someone that has a truly kind heart is a rarity right now. Oh, to have a little more Dr. Thai in me would be a wonderful thing."
Thai was born in Vietnam, and her family moved to Portland when she was 8.
She attended the University of Washington for undergraduate and medical school, and came to Spokane for her medical residency. She made Spokane home, and she now has 14- and 18-year-old sons.
For the first part of her career, she was a family physician in the private sector. Then, 15 years ago, she switched to hospitalist medicine at Providence Sacred Heart Medical Center.
Only in January did Thai make her move to the VA.
"I wanted to spend more time with patients, kind of slow things down a bit," Thai said.
"I realized that I really enjoy connecting with patients and their families and focusing on end-of-life care."
Thai serves as medical director of nursing home and hospice palliative care, and is in charge of the Community Living Center at Mann-Grandstaff.
Thai made a quick pivot to managing the VA's COVID-19 unit when the veterans home had an outbreak and Mann-Grandstaff made the decision to take on those patients.
"Given my background as a hospitalist and the CLC director, it just seemed like a natural thing for me to volunteer to do," Thai said. "So I just jumped in both feet and volunteered to be in the COVID unit."
While Thai worked the COVID unit, she lived in the basement of her house as a precaution against infecting her family.
"Even though our process here is very safe, I just felt like I needed that extra layer of protection for family," Thai said. "And so they lived through COVID unit with me for six weeks as well and just understood that there is a level of risk there."
Pederson said if he could have his way, his mother would still be at Mann-Grandstaff under Thai's care, where examples of kind patient treatment were easy to come by. Once, for example, while on a FaceTime call, he noticed someone on staff had painted his mother's nails a pinkish-red.
"Someone had taken the time to paint her nails," Pederson said. "My mom, in her normal years, always did things like that. She really cared about her appearance. She wasn't vain, but she instilled in her family and her boys that you always look your best."
Pederson said he worries about his mother's quality of life at the Spokane Veterans Home. At Mann-Grandstaff, Lois referred to the doctors, nurses and other staff as her friends and neighbors. At the home, she just talked about a lot of people being around.
"If she could have remained at the VA, under Thai's care, for the rest of her days, it would have just been a blessing," Pederson said, referring to Mann-Grandstaff. "She was just that caring and kind of a person. I couldn't think of anyone better. When I see my own passing or my wife's passing, I would want to be under her care."
Pederson is also nervous about his mother living somewhere that the virus penetrated.
Judy Smith was also upset about coronavirus spreading in the home.
"I'm really angry about that because of how that affected our family," Judy said. "I'm surprised that the COVID unit was closed at (Mann-Grandstaff). I'm glad if there weren't more veterans that needed that service now."
The COVID-19 unit at Mann-Grandstaff closed on June 2 because there were no longer any infections in the veterans home and all patients had recovered.
Thai said the most difficult part of the closure was staff that had been brought in from out-of-town – including from as far away as Tennessee, Alaska, Pennsylvania, Utah and North Carolina – have returned to their homes.
The unit also had a "virtual" doctor who assisted through a telehealth portal. Of 41 people brought in, 11 were respiratory therapists.
"This is just how the VA does things," Thai said. "They're able to tap into personnel resources like that, and it was such a neat experience. It was hard at times, and I had late hours but totally rewarding for me."
Thai emphasized the COVID-19 unit involved a team effort.
"She did an outstanding job," said Rebecca Meiers, Mann-Grandstaff's chief of staff. "She gives a lot of credit to the team, and it definitely was a team effort, but the team effort was also strongly led by her."
The hardest part of the experience was her patients not being able to be with their families.
"We try to do things by video, but it's not the same, right?" Thai said. "You can't hold the person's hand. You can't touch their face, you can't kiss them."
For Thai, one of these video calls stood out to her the most.
"The patient was nonverbal. He was not awake enough to communicate with his wife," Thai said. "The wife was talking to him, but being there, I could actually see the change in his respiration and his response to her. So I shared that with her as being her eyes, because she obviously can't see that."
Shortly after, he died.
For Pederson, the difference in care between the veterans home and with Thai is stark.
Pederson is advocating for his mother through a social worker, but when he recently was allowed to visit – the center was closed for visitors and there was paperwork that required her signature – Pederson said he saw that his mother's room was devoid of any personal possessions.
"I had tears in my eyes," Pederson said. "They said I couldn't hug her, but I reached in and gave her a hug. It was very special."
He asked the staff to return his mother's motorized recliner, which he said he had been told was in storage. Only when he communicated through the social worker were pictures returned to the wall.
For many residents, the return to a familiar building could provide comfort, Pederson said, but for his mother, she has no recognition of her surroundings.
Pederson knows one thing for sure. When it's safer for people to gather, he said, "My wife and I both hope to be able to see Dr. Thai face to face, and give her a hug and express personally how much her care for mom and dad meant in such a difficult time in our life.
"This is something that will forever be etched in our minds, in the compassionate care that she gave our parents," Pederson said. "We will not forget her name."
Local journalism is essential.
Give directly to The Spokesman-Review's Northwest Passages community forums series -- which helps to offset the costs of several reporter and editor positions at the newspaper -- by using the easy options below. Gifts processed in this system are not tax deductible, but are predominately used to help meet the local financial requirements needed to receive national matching-grant funds.
Subscribe now to get breaking news alerts in your email inbox
Get breaking news delivered to your inbox as it happens.
---