News > Crime/Public Safety
Crime reports fluctuate with stay-home orders, law enforcement efforts
UPDATED: Thu., June 18, 2020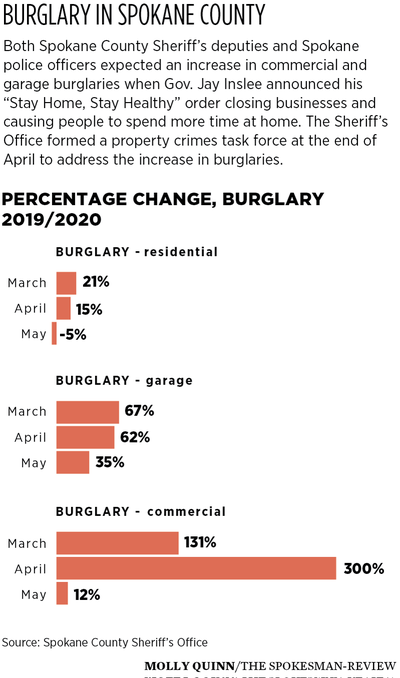 The COVID-19 pandemic has led to significant fluctuations in reports of crime, with local law enforcement claiming some success in discouraging property crimes and suspecting a decrease in sexual assault reports doesn't correspond to an actual drop in those crimes .
Commercial burglaries quadrupled in Spokane County this April compared with the same month last year. The next month, the year-over-year increase was 12%, a decline from the previous month that Spokane County Sheriff's Lt. Jay McNall attributed to a property crime task force created at the end of April.
"When we were seeing an increase in property crimes, my staff was really, really low," McNall said. "We knew with the COVID stay-at-home orders that our property crimes were going to increase, we just didn't know how much."
In April, the first full month under Gov. Jay Inslee's "Stay Home, Stay Healthy" order, there were 48 commercial burglaries, up from 12 in the same month the year before, according to data released by the Spokane County Sheriff's Office earlier this week. There were also 47 garage burglaries in April, up from 29 in the same month the previous year, and 39 residential burglaries, up from 34.
McNall said he was not surprised that burglaries were occurring at businesses and detached garages, with businesses closed and people staying home.
"Burglars tend to be very opportunistic people," he said.
Once some patrol officers and Spokane Valley property crime deputies joined the task force, they focused on targeting garage and commercial burglaries.
In May, there were 28 commercial burglaries and 42 garage burglaries. Residential burglaries decreased slightly, from 38 the year before to 36 in 2020.
"The residential burglaries didn't go up as far as we anticipated because everybody was home," McNall said.
He attributes the decline in burglaries to the task force.
"We basically attribute that to the property crimes task force and targeting the people who commit the majority of the crimes," McNall said. "We have arrested several of the individuals several times over this three-month period, for different crimes."
Many of these repeat offenders were being released on their own recognizance after being booked into jail, but McNall said the task force allowed for increased monitoring of their behavior.
"We always run across new offenders or first-time offenders no matter what we do, because people make mistakes at times," he said. However, for a majority of people committing these crimes, "This is their lifestyle. This is their job."
Commercial burglary rates in the city of Spokane have also dropped over the past 28 days, while garage and residential burglaries increased, according to data released Monday by the Spokane Police Department.
There were 72 residential burglaries in the past 28 days compared with 35 the previous month. Garage burglaries increased 24%, with 57 in the past month, up from 46 the previous month. There were three fewer commercial burglaries over the past 28 days, compared with the month before.
"We did a really significant effort in reducing commercial burglaries," said Sgt. Terry Preuninger.
That emphasis may have acted as a deterrent, Preuninger said. With more businesses reopening in Phase 2 of Inslee's reopening plan, there might be a "trade-off" away from commercial burglaries and toward home and garage burglaries, he said.
The number of reported rapes has decreased overall in 2020 in both the county and the city.
In the city of Spokane, there has been a 31% decrease this year to date, compared with the same period of time last year. In the county, there was been a 20% reduction over the same time period.
The cause of that decrease is a "guessing game" for McNall, but is likely due to a decrease in reporting and not a decrease in actual assaults.
"We are assuming … that the drop is due to nonreporting because everybody is home, everybody is in the same household," McNall said. "They don't have the same outlets that they usually do."
McNall said he expects to see reported rapes increase over the next few months as people are able to reconnect to their support systems at school, work and other activities. Sexual assault is one of the least-reported crimes. According to the Rape, Abuse and Incest National Network, 3 out of 4 sexual assaults are not reported to police.
"We believe, and again we are guessing, but we believe that they don't feel safe reporting," McNall said.
Preuninger said he has heard a similar articulation from partners like the YWCA and other organizations that advocate for survivors of domestic violence and sexual assault.
"It's a huge concern of our partners," he said.
To offer additional resources for domestic violence victims, the YWCA offers a 24-hour text line, phone line and confidential safe house. The Sexual Assault and Family Trauma Response Center also offers a free 24/7 hotline, advocacy for victims and referrals to specialized service providers in the Spokane area. Its hotline can be reached at (509) 624-7273.
Emma Epperly can be reached at (509) 459-5122 or emmae@spokesman.com.
Local journalism is essential.
Give directly to The Spokesman-Review's Northwest Passages community forums series -- which helps to offset the costs of several reporter and editor positions at the newspaper -- by using the easy options below. Gifts processed in this system are not tax deductible, but are predominately used to help meet the local financial requirements needed to receive national matching-grant funds.
Subscribe to the Coronavirus newsletter
Get the day's latest Coronavirus news delivered to your inbox by subscribing to our newsletter.
---