A&E
Getting creative in supporting the arts in the age of social distancing in Spokane
Thu., March 19, 2020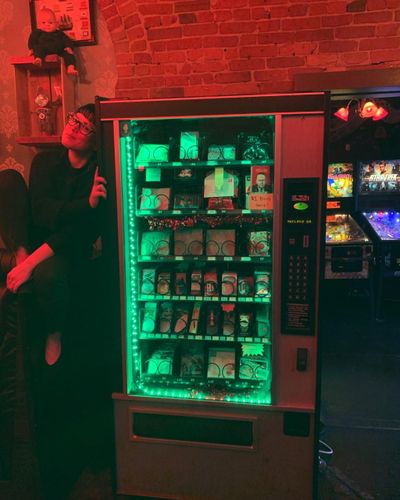 As events are canceled and people practice social distancing, the regular ways of supporting Spokane artists are disappearing for now. Although we won't be able to pop into the From Here store in River Park Square, or slip spare change into the vending machines at Lucky You or Garageland, there are still plenty of surprisingly creative ways to support our favorite local artists.
Renn Francis, an artist and photographer based in Spokane, is experiencing the crisis at the worst possible time. After months of being unemployed and picking up odds and ends jobs, mostly involving child care, she finally landed a full-time job at a preschool.
"This is a loss of possibility of income, routine and opportunity to save money and also just have community again," Francis said of the school shutdowns and social distancing protocols now being made mandatory.
Francis is most worried about the lack of guaranteed income for all artists, most of whom also work in the service industry and are taking a hit to both ends of their financial livelihood.
"I hate it, but we have to have money to survive." Francis suggested asking your artist friends to pre-book a photo shoot or offer to buy a painting they already have.
Looking at the bright side of the situation, Francis said she is grateful to see "the community come together in all of this and really support each other."
Another artist looking to make ends meet is Alexandra Tsuneta, owner of Vintage Vending, a small business that works in collaboration with store fronts and independent artists. Only a week after investing more than $10,000 in her business came the mandatory closing of all restaurants and bars, meaning no foot traffic for any of the five locations housing a vending machine.
Tsuneta put a call out on Instagram asking followers for ideas on how she could continue to sell goods. So the Surprise Care Package was born. Using items from the vending machines, Alexandra is mailing mystery bags full of poems, stickers, notebooks, key chains and more, shipping included, for $25; a creative way to fund her small business, the artists who contribute to the machines and provide "fun, love and happiness" to customers.
"Together, we can get through this. If we keep supporting local artists, then afterward it won't be so dire. We (artists) need you more now than we ever have," Tsuneta said.
Owner of the PNW Dream, Corinna Ren is facing new challenges as she begins home-schooling with her kids now at home full-time.
"The biggest thing is how quickly and constantly things are changing and having the kids home." Ren said she is offering any service she has digitally, including her printable art, coloring book and graphic design, but will be suspending all product sales out of a sense of responsibility to reduce risk for others.
Local journalism is essential.
Give directly to The Spokesman-Review's Northwest Passages community forums series -- which helps to offset the costs of several reporter and editor positions at the newspaper -- by using the easy options below. Gifts processed in this system are not tax deductible, but are predominately used to help meet the local financial requirements needed to receive national matching-grant funds.
Subscribe to the Spokane7 email newsletter
Get the day's top entertainment headlines delivered to your inbox every morning.
---