A&E
Spokane County Library District's Aileen Luppert is named a 'Mover and Shaker' by Library Journal
UPDATED: Mon., May 18, 2020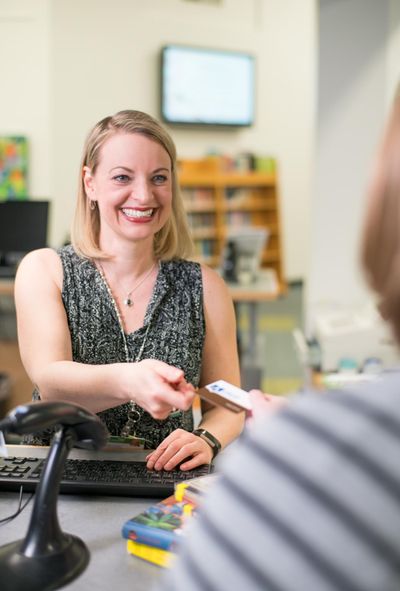 From litigation paralegal to librarian, Aileen Luppert has always found a way to connect people with the information and resources they need. Recently, Library Journal, a trade magazine for librarians, honored Luppert's efforts by naming her as one of the publication's "Movers and Shakers."
The magazine highlighted her work in helping people navigate the health care marketplace when the Affordable Care Act was being implemented. "Most libraries brought in navigators from the outside for drop-in hours," Luppert said. "I thought why don't we just learn it?"
Luppert became the lead of nine health navigators at SCLD, and they enrolled 550 people in health insurance in the first year. She regularly demonstrates the kind of community engagement the district encourages.
"Spokane County Library District was very intentional a few years back in re-orienting our services and programs to be more responsive to community needs," said Patrick Rowe, SCLD executive director. "Aileen's work is a great example of innovative library services through an equity lens."
Luppert made the decision to become a librarian while working as a litigation paralegal in Seattle. "I was involved in a lawsuit that brought me into contact with lots of librarians," she recalled. "I thought these are my people. They had such diverse backgrounds and were interesting and nerdy in the best of ways."
After earning a master's in library science and information at the University of Washington in 2009, Luppert looked for a position in Spokane. "I was pregnant and wanted to move back to Spokane where my parents lived," she said. "I got an internship at Valley Library, and, after my daughter was born, I became a full-time librarian."
Luppert has been the manager of Valley Library for five years. "I feel very fortunate to be hired on at SCLD – it's such a great organization," she said.
Library Journal also highlighted Luppert's involvement with the Spokane Homeless Coalition and Greater Valley Support Network. She connected these coalitions of nonprofit staff, social workers, educators and health care workers to SCLD.
"It's a collection of people and organizations instead of books on a reference shelf," she said. "I'm always looking at making connections and putting pieces together to find the best resources for our customers. SCLD really embraced that idea."
Luppert joined a subcommittee of the Spokane Homeless Coalition in 2018 to help with its annual event, Homeless Connect. The event links in-need people to critical services from 100 providers.
In 2020, more than 1,100 people attended Homeless Connect at the Spokane Convention Center. More than 1,000 were served a hot meal, 800 picked up supplies from a food bank, and 500 received bus passes. Eye exams, haircuts and HIV tests were available. Seventy-five people even scheduled veterinary appointment for their pets.
The event included a Warrant Fest, in which attendees could meet with prosecutors, public defenders and judges from all three branches of Spokane's court system to review outstanding warrants, reschedule missed court dates and take care of other court-related processes – all without fear of arrest. Forty-two people had warrants quashed or recalled.
Luppert was instrumental in launching a similar event in Spokane Valley. "Two years ago, we had 300 attendees at Spokane Valley Connect," she said. "Last year, we had 350."
She said what she enjoys most about her job is it's always changing, offering her new ways to explore librarianship. Recently, she received a grant from the National Network of Libraries of Medicine to facilitate a program for Dishman Hills High School students.
"When the students finished the class, they received a yearlong pass to the YMCA and a summer bus pass," she said.
The thrill of connecting people to the information and resources they need hasn't faded. "I love helping people find not just an answer but the right answer for what they need," Luppert said.
Luppert's colleagues appreciate her innovative ways of engaging the community they serve. "Aileen has demonstrated consistent leadership in putting our mission to work for everyone in Spokane County," Rowe said.
Local journalism is essential.
Give directly to The Spokesman-Review's Northwest Passages community forums series -- which helps to offset the costs of several reporter and editor positions at the newspaper -- by using the easy options below. Gifts processed in this system are not tax deductible, but are predominately used to help meet the local financial requirements needed to receive national matching-grant funds.
Subscribe to the Spokane7 email newsletter
Get the day's top entertainment headlines delivered to your inbox every morning.
---