News > Pacific NW
More than 60,000 lose power in Inland Northwest
Sept. 7, 2020 Updated Mon., Sept. 7, 2020 at 8:39 p.m. More than 60,000 electric customers were without power in the Inland Northwest on Monday afternoon, as high winds blew over trees, snapping power lines.
Avista Utilities initially reported 33,000 customers out about 4 p.m., including 5,200 in Spokane, 4,500 in Sandpoint and 5,600 in and near Coeur d'Alene. That number had fallen to 23,936 by about 7 p.m.
Casey Fielder, spokeswoman for Avista, said crews were still trying to get a handle of the damage. But, customers should expect one to two days without power.
"We are really in assessment mode as wind blew throughout the day," Fielder said. "As we are able to assess more, we will have more information about estimated restoration times."
Inland Power and Light reported 10,300 customers without power, nearly a quarter of all of Inland's customers. However, that number grew to 13,944 by 7:15 p.m. Like Avista customers, Inland Power expected outages to last potentially into Thursday.
"These winds have caused the spread of numerous wildfires and our crews' priority has been responding to emergency situations to make sure that our infrastructure is safe and to de-energize lines as needed by fire personnel," Inland Power wrote on its website. "Winds have started to die dow(n), and our crews are beginning to asses the damage caused by the wind and restore power where it is safe."
Kootenai Electric Cooperative reported 11,200 outages. Areas hit particularly hard were on the western side of Lake Coeur d'Alene and the Athol and Twin Lakes area.
Northern Lights Inc., which serves much of Bonner and Boundary counties and some parts of Western Montana, reported nearly 11,500 outages. That utility had restored some power and listed 10,602 without power as of 7:30 p.m.
At Priest Lake, vacationers and homeowners on the final day of their Labor Day weekend watched as whitecaps formed on the water and trees started coming down around them.
Pecky Cox, who runs several Facebook pages for lake residents and fans, said as many as 50 trees were down in the Indian Creek Campground on the east side. From her place on Kalispell Bay, she fielded reports from all over the lake about unmoored boats, missing dock furniture, downed trees and even stranded campers on Bartoo Island.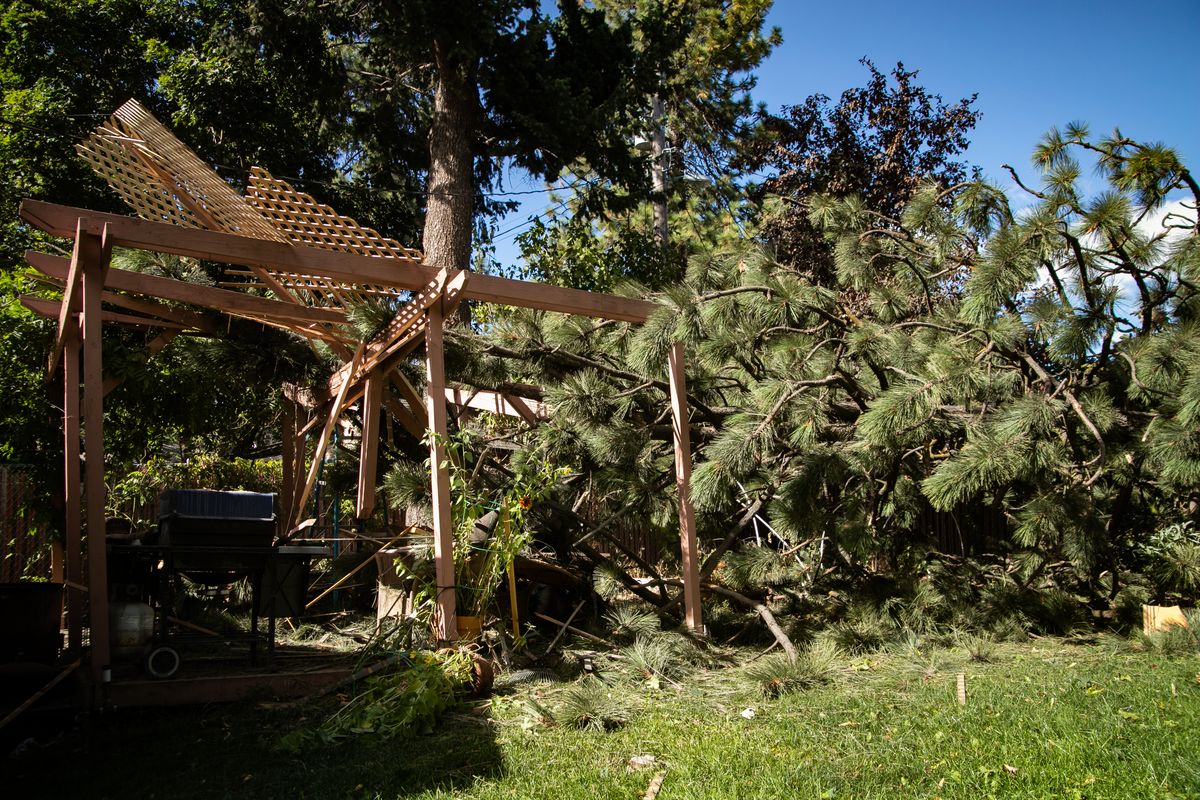 A large tree that cracked in half and fell into 72-year-old Lew Peterson's backyard and brought powerlines with it, is seen near Ninth and Perry in Spokane, Wash. on Monday, Sept. 7, 2020. The Labor Day wind storm brought the tree down and completely ruined Peterson's pergola, but was just short of his house, though he wasn't at home to witness the impact when it occurred. Peterson said he built the pergola six years ago but likely would not be able to rebuild it because he doesn't have the energy at this stage in his life. "There's nothing you can do about it," Peterson said while looking on the bright side, "Guess I'll finally get some sun in the backyard." (Libby Kamrowski)
Even the "flower boat," an old fishing boat moored offshore and planted each spring with flowers, was no match for the storm, and it sank. She promised it would return.
No trees had fallen on her home at Kalispell Bay.
"But my neighbor on the left had a huge tree, a beautiful tree … (fall) but it did not hit his house, and then my neighbor on the right had a humongous tree fall, and it missed his house by a few inches. All in all, we were lucky. We don't have power, and I think that is going to be the problem for now."  
At Twin Lakes, Idaho, just north of Rathdrum, several trees blew down across roads and several homeowners had tree limbs or trees fall onto their structures. It was unknown late Monday about any reports of injuries.
But the carnage started early. 
Outages increased through the day as wind maintained a destructive force.
At 11:20 a.m. Avista Utilities said power outages were affecting nearly 24,000 customers across Eastern Washington and North Idaho.
KHQ reported tree limbs snapped and fallen on power lines near Francis Avenue and Cannon Street, breaking some lines. Firefighters responded and were awaiting a repair crew from Avista.
The wind also knocked out power to Silverwood Theme Park, which closed for the day and offered refunds to those who had purchased tickets.
Local journalism is essential.
Give directly to The Spokesman-Review's Northwest Passages community forums series -- which helps to offset the costs of several reporter and editor positions at the newspaper -- by using the easy options below. Gifts processed in this system are not tax deductible, but are predominately used to help meet the local financial requirements needed to receive national matching-grant funds.
Subscribe now to get breaking news alerts in your email inbox
Get breaking news delivered to your inbox as it happens.
---