Recap and highlights: No. 4 Gonzaga doesn't break a sweat in 93-63 win over North Alabama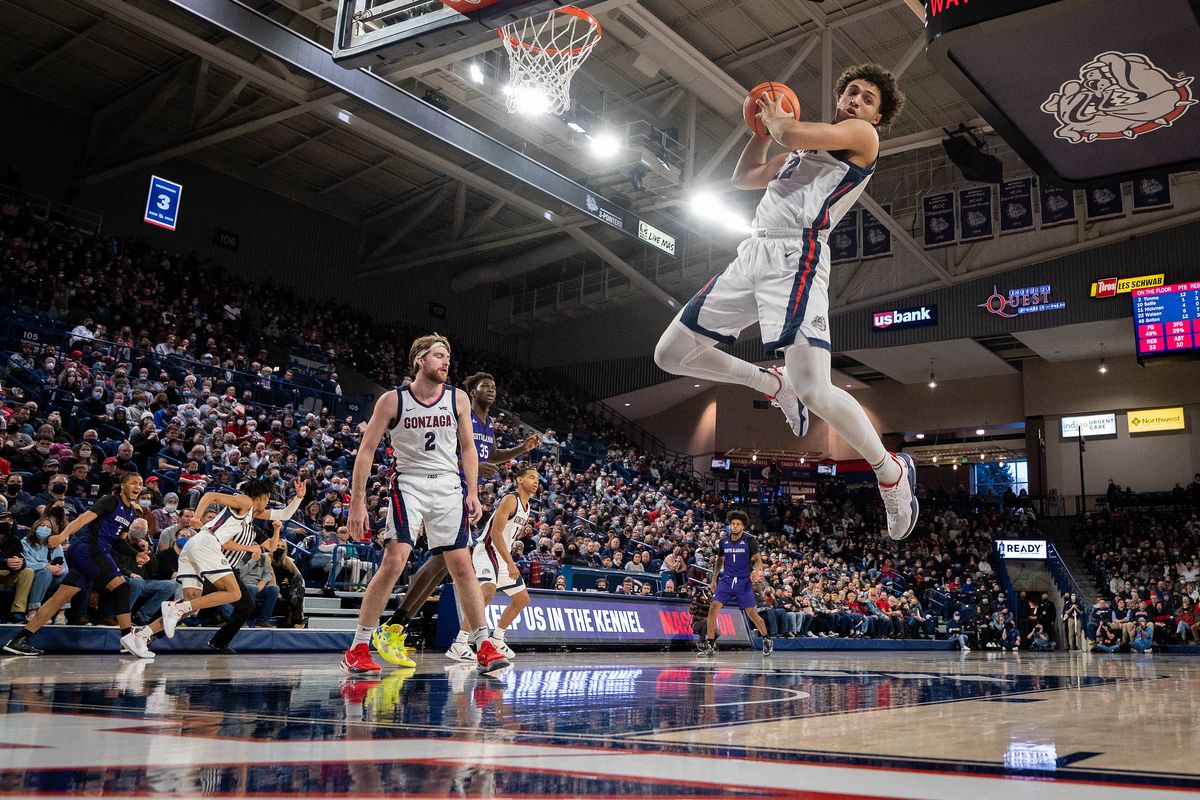 Gonzaga barely broke a sweat in its nonconference finale.
The No. 4 Bulldogs (11-2) cruised to a 93-63 win over North Alabama (7-6), with 11 players scoring and five in double figures.
Julian Strawther led with 15 points, followed by Rasir Bolton (14), Nolan Hickman (13), Drew Timme (12) and Anton Watson (10). Watson was all over the court, recording a double-double with 10 rebounds and had two assists, two steals and a block.
The Bulldogs shot 49.3% from the field, 30.4% on 3-pointers and 58.1% on free throws. Despite playing their best game, a win was never in threat as NAU shot 32.4% from the field and committed 25 turnovers.
The Zags' first WCC game against San Diego, originally scheduled for Thursday, has been postponed and GU will instead open conference play against Loyola Marymount on Saturday at 4 p.m.
First half
15:46 - GU 9, NAU 6: The Bulldogs get out to an early lead, but a scoring drought of over two minutes for both teams slows down the pace.
11:37 - GU 18, NAU 15: The Lions are hanging tough early on, shooting 3 of 5 on 3-poiners, but quickly collecting seven fouls to GU's zero.
The Bulldogs are shooting 7 of 15 from the field and are 0-for-4 on 3-pointers since Andrew Nembhard opened the scoring with a triple.
Timme and Bolton lead the Zags with four points apiece, while Youngblood leads the Lions with six.
8:27 - GU 25, NAU 16: The Lions take a timeout after committing four turnovers and scoring zero field goals in the last 3:25 minutes.
NAU basically giving this one to GU, who has come out sluggish. Strawther's back-to-back baskets broke an over 3-minute stretch without a field goal. He and Timme lead with six points apiece.
3:58 - GU 39, NAU 19: The Zags break away with an 18-3 run over the last 5:05 at a media timeout. 
Strawther taking over with 12 points on 5 of 8 shooting. Meanwhile NAU is up to 11 fouls and 11 turnovers and is on a 4:21 scoring drought.
The Lions are shooting 7 of 24 from the field. 
Halftime
Gonzaga pulled away in the final 10 minutes of the first half, closing on a 26-9 run. 
North Alabama struggled the whole period, shooting 9 of 31 (29%) from the field and committing 11 turnovers, to go with 13 team fouls.
The Zags shot 17 of 36 (47.2%) from the field and 10 of 16 on free throws, but just 3 of 11 on 3-pointers.
Julian Strawther led the team with 12 points, as eight GU players scored. Holmgren and Bolton were second with seven points apiece.
Impact performance
Second half
16:38 - GU 57, NAU 32: Both teams come out slow to start the second half, but the Zags are keeping pace to hold a its over 20 point lead.
11:56 - GU 68, NAU 37: The Zags are yet to cover the -34 point spread in this one, but that shouldn't take much more time.
Bolton has taken over the team high in scoring with 14, as Strawther (13) and Timme (12) join him in double figures. GU is shooting 6 of 10 from the field in the second half and 2 of 5 on 3-pointers.
NAU is still struggling to score, shooting 4 of 14 from the field in the second half, to go with 1-for-8 on 3-pointers. 
7:56 - GU 75, NAU 43: The Bulldogs are getting some good minutes for their bench players. Watson has a double-double with 10 points and 10 rebounds, while Hickman is also into double figures with 10 points.
Expect the entity of GU's bench to get into the final eight minutes.
3:32 - GU 86, NAU 59: Gonzaga has made five of its last seven field goals at the final media timeout. 
Perry entered the game and scored his first points since being injured earlier in the year.
Pregame
The No. 4 Bulldogs return to the Kennel today to host North Alabama at 2 p.m. on KHQ/Root.
The Zags (10-2) enter as large favorites to finish their nonconference slate with a win over the Lions (7-5).
Gonzaga last rolled to a 95-49 win over Northern Arizona on Dec. 20, and will start its conference schedule later this week with games against Loyola Marymount on Saturday, after its scheduled opener against San Diego on Thursday was postponed.
NAU last played Central Florida on Dec. 22, losing 75-64.
Series history
Gonzaga has played North Alabama once before, on the same date in 2018. The Zags cruised to a 96-51 win behind Zach Norvell Jr.'s 20 points and all five starters reaching double figures.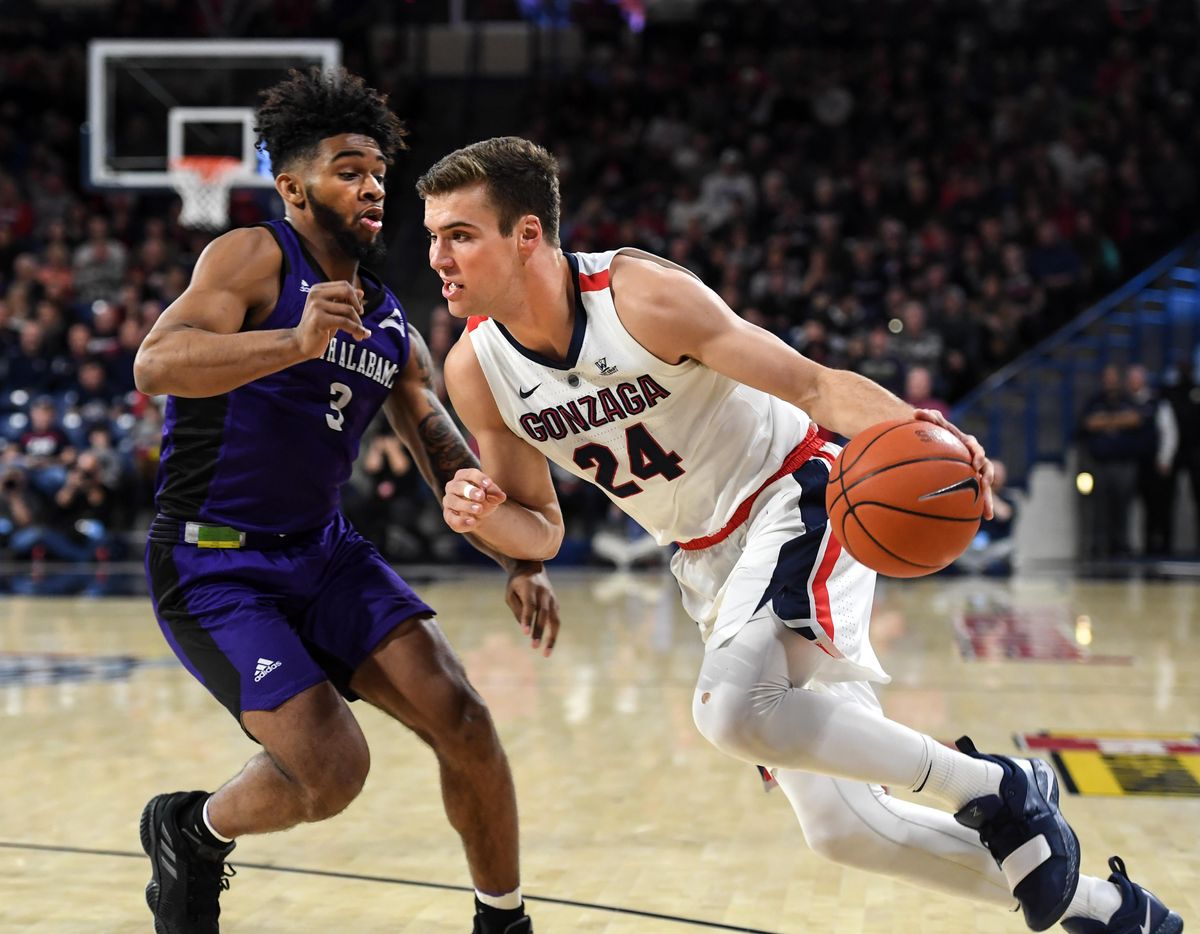 Game preview
More on the Zags
---