News > Weather
Evacuation orders issued for two fires in northern Spokane County
July 25, 2021 Updated Mon., July 26, 2021 at 9:36 a.m.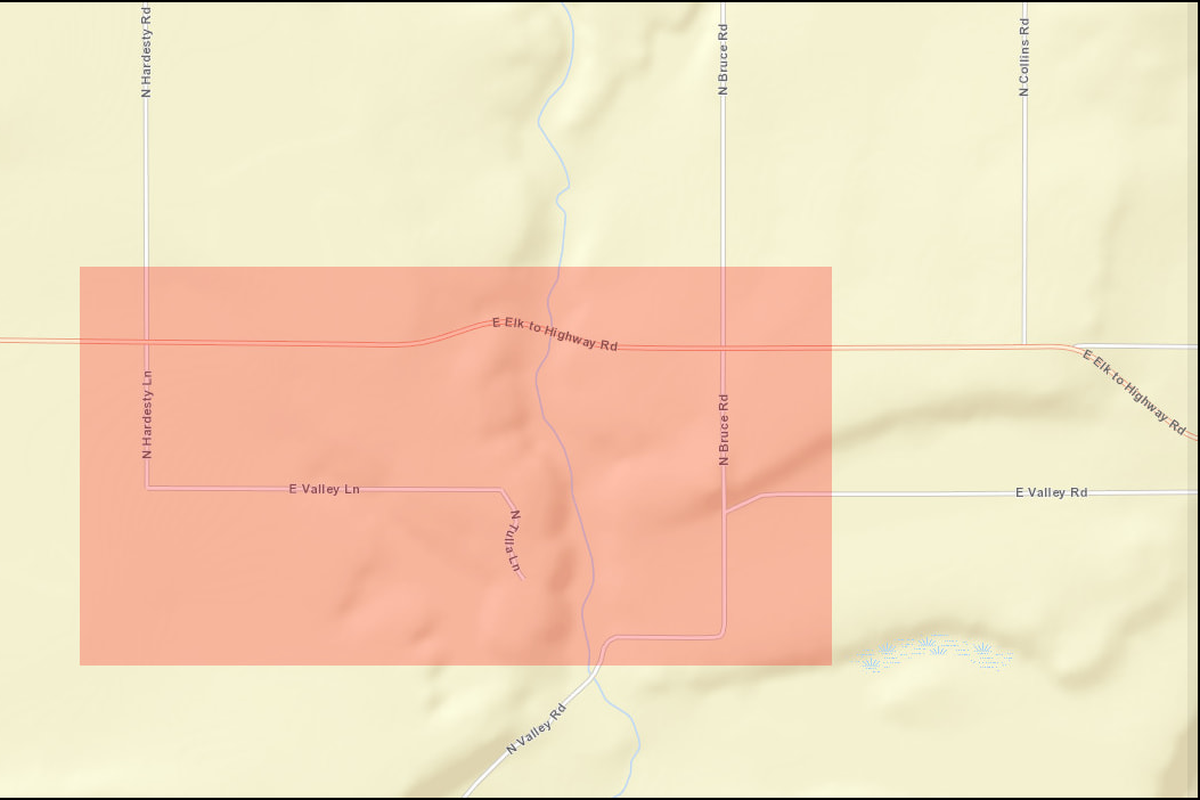 Spokane County Emergency Management has issued an evacuation order for people in the red area shown on this map.  (SPOKANE COUNTY EMERGENCY MANAGEMENT SCREENSHOT)
Firefighters were battling hard Sunday night to save homes in northern Spokane County as two fast-moving fires broke out in northern Spokane County.
The fires were reported within about an hour of each other late Sunday afternoon and soon led officials to evacuate residents.
No structures had burned as of 11 p.m. Sunday.
The Hardesty Valley fire was reported just after 5 p.m. near 6800 E. Valley Lane in Elk, said Spokane County Fire District 4 Capt. Megan Hill. It spread quickly to the northwest, she said. It was mapped at 24 acres late Sunday. The fire is about two miles south of the Pend Oreille County line and a mile east of U.S. Highway 2.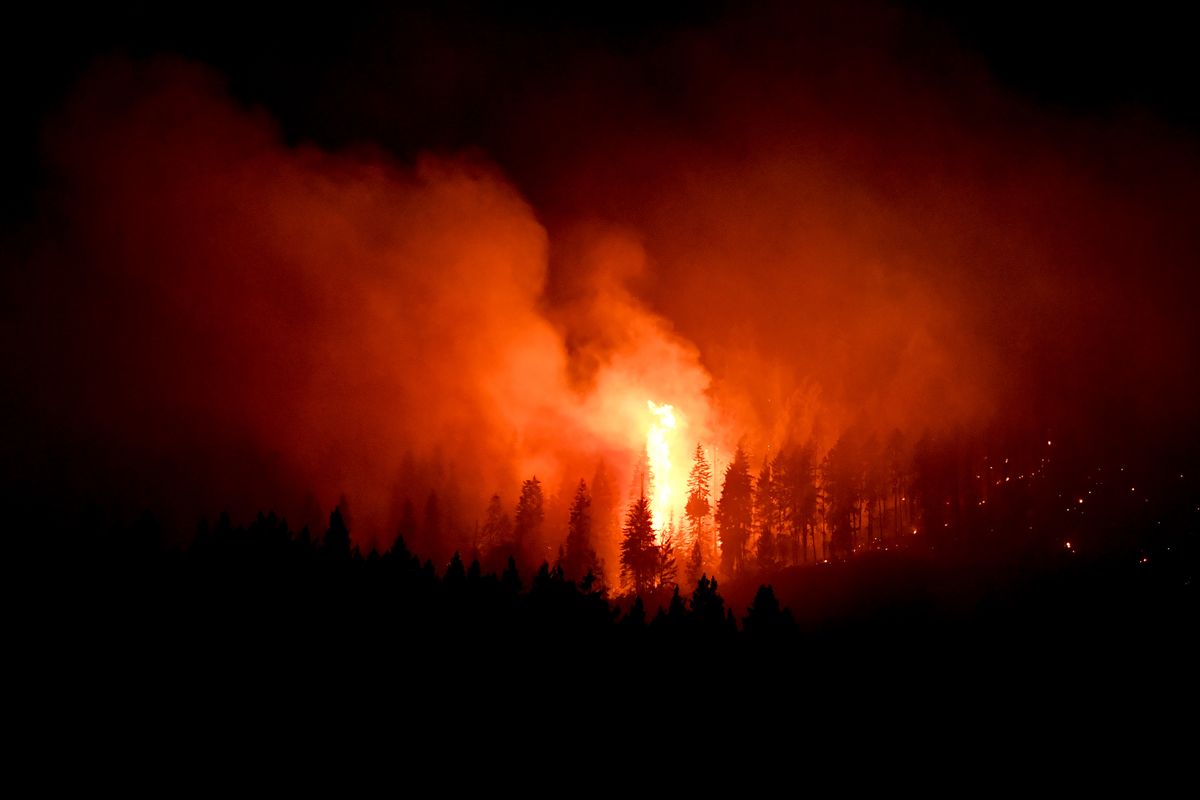 Trees crown as a wildfire burns on Sunday, north of Spokane. Early reports indicate the fire started off of Hazard Road late Sunday afternoon. (Tyler Tjomsland/The Spokesman-Review)
Residents who live south of Elk-to-Highway Road, north of Valley Road, east of Hardesty Lane and west of Bruce Road were placed under a Level 3 evacuation order and asked to leave immediately. That evacuation order, however, was downgraded to a Level 2 order about 10:15 p.m.
The Hazard Hill fire was reported in the 5100-block of West Hazard Road about 5:50 p.m. and grew to about 60 acres, Hill said.
Fire came within a couple trees of at least one home, but crews were on site working to protect it.
Residents north of Hazard Road, south of Ballard Road and west of Austin Road were under an Level 3 evacuation order late Sunday. The order was downgraded to a Level 2 late Sunday, Hill said. The evacuation area is a couple miles west of the Hatch Road exit on U.S. Highway 395.
Both fires were burning timber and grass. The cause of the fires is under investigation.
Three planes and one helicopter were helping battle the Hardesty Valley fire, Hill said. Air support also is being used on the fire near Hazard Road.
A state fire team will take management over the fire Monday morning, Hill said.
Several agencies assisted District 4, including the Department of Natural Resources, South Pend Oreille Fire and Rescue, Spokane County Fire Districts 3, 8 and 9, as well as the Spokane, Spokane Valley and Airway Heights fire departments.
The Brunner Road fire has burned 75 acres near Silverwood Theme Park near Athol and is now 90% contained. Silverwood is open. Residents in the area were evacuated Friday when the blaze began, but all restrictions have been lifted.
The Northrup fire southeast of Electric City has burned 252 acres and is 65% contained. Steamboat Rock State Park remains open. Residences east of state Route 155 between milepost 18 and Osborn Bay Campground Road are at Evacuation Level 1, meaning they should monitor the fire and consider planning or packing in case an evacuation becomes necessary.
The Sherwood fire on the Spokane Reservation two miles northeast of Wellpinit has burned 700 acres. Spokane Tribe of Indians law enforcement evacuated residences Sunday along Cottonwood Road between Drum Road and Wilkinson Road. Residents on Ford-Wellpinit Road one mile east of Joe Sherwood Road to Martha Boardman Road must evacuate as well. The fire is spreading to the south in the Little Tsmikakian/Chamokane drainage.
Residents one mile south of Ford-Wellpinit Road on Martha Boardman Road are in the Level 2 evacuation stage, meaning they should be ready to evacuate. Residents living in Martha Boardman Housing, Tshmikain Meadows, Sockeye and Kokanee should all be prepared to evacuate as should residents east of Martha Boardman Road on Ford-Wellpinit Road up to Cottonwood Road.
The Spruce Canyon fire has burned 90 acres on the north end of the Little Pend Oreille National Wildlife Refuge. The fire is 0% contained. Firefighters estimate the burn will be difficult to extinguish because it's in dense vegetation that hasn't burned in many years.
The Goddard Road fire has burned 815 acres near Rice east of the Columbia River. The fire has been burning since July 16 and is 65% contained. Residents in the area are under Level 2 evacuation orders, meaning they should be ready to evacuate.
The Summit Trail fire 15 miles west of Inchelium on the Colville Indian Reservation has burned 8,853 acres since July 12 and is 5% contained.
The Colville Indian Reservation is closed to the general public and industrial activities. All forest roads on the reservation are closed while county and state roads remain open.
Level 1 evacuations are in place for residents from LaFleur south on Hall Creek Road to Hall Creek Flat (including Lynx Creek Road), and Seyler Valley Road south to Bridge Creek Road. Level 1 evacuations also apply to residents along Bridge Creek Road (including Mollenberg Lane) to the edge of Twin Lakes. The Twin Lakes area is also under a Level 1 advisory.
The Chuweah Creek fire near Nespelem has burned 36,820 acres since July 12 and is 50% contained.
Level 1 evacuation orders are in effect for residents of Nespelem, Keller, Buffalo Lake, McGinnis Lake, the Highway 21 corridor from South Nanamkin to the Keller Ferry, Owhi Flats, east of Owhi Lake and along Cache Creek Road. Road closures include Cache Creek Road, Buffalo Lake Road between Manila and Cache Creek Road and Cache Creek (Agency) Cut off Road.
The Steptoe Canyon fire has burned 2,605 acres northwest of Lewiston and is 80% contained. No evacuation orders are in effect, but Steptoe Canyon Road is closed Rimrock Road to the Snake River.
Hot and dry conditions are expected to last throughout the week in the region. An Air Quality Alert remains in effect for areas of Okanogan, Stevens and Ferry counties due to wildfire smoke in the region.
Jonathan Brunt contributed to this report.
Local journalism is essential.
Give directly to The Spokesman-Review's Northwest Passages community forums series -- which helps to offset the costs of several reporter and editor positions at the newspaper -- by using the easy options below. Gifts processed in this system are not tax deductible, but are predominately used to help meet the local financial requirements needed to receive national matching-grant funds.
Subscribe now to get breaking news alerts in your email inbox
Get breaking news delivered to your inbox as it happens.
---