Sports > Gonzaga basketball
Recap and highlights: No. 18 Gonzaga surges in final minutes to edge Kent State 73-66
Dec. 5, 2022 Updated Mon., Dec. 5, 2022 at 9:59 p.m.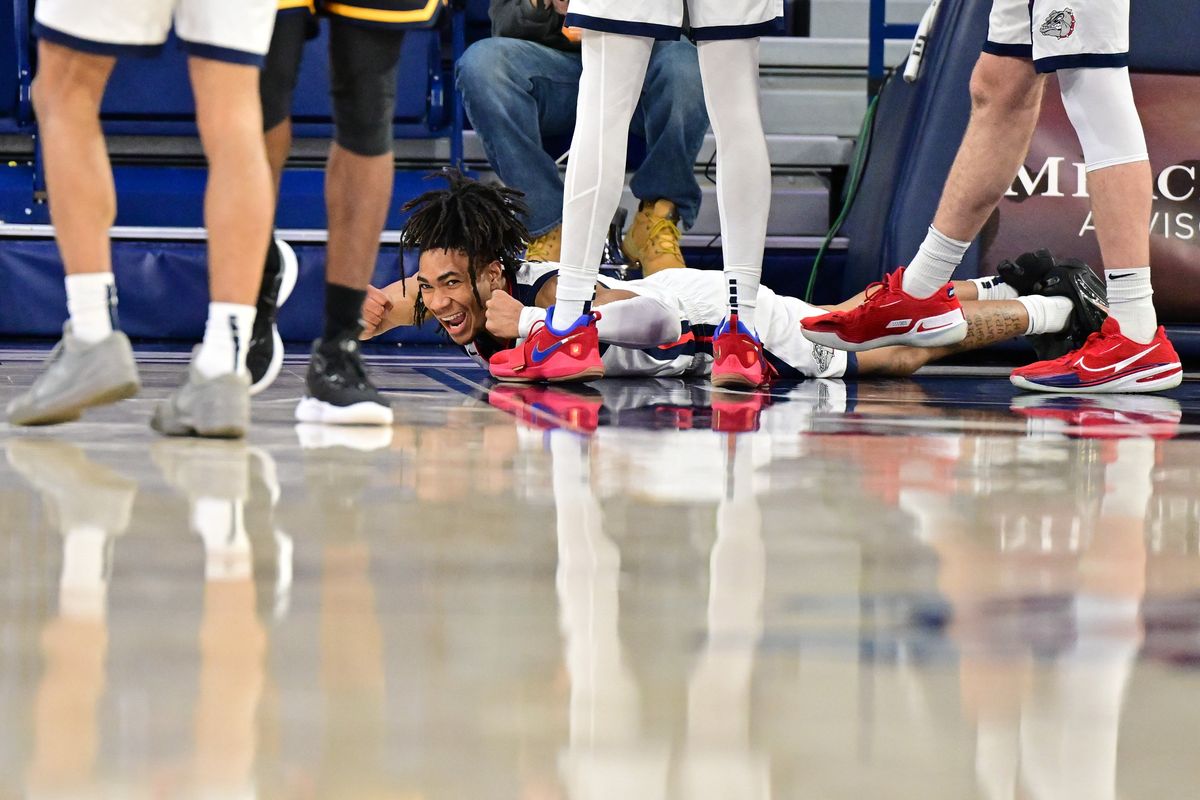 Gonzaga Bulldogs guard Hunter Sallis (5) reacts after landing on the floor while guarding the Kent State Golden Flashes during the second half of a college basketball game on Monday, Dec. 5, 2022, at McCarthey Athletic Center in Spokane, Wash. Gonzaga won game 73-66. (Tyler Tjomsland/The Spokesman-Review)
The nation's longest home winning streak was on the brink in the final minutes.
Gonzaga wouldn't let end. The Zags finished on an 11-point run to edge Kent State 73-66 on Monday at the McCarthey Athletic Center.
Miryne Thomas made a 3-pointer at the 3:39 mark, forcing the Bulldogs (6-3) to call for a timeout, trailing by four points.
Julian Strawther answered with a 3 of his own out of the break, Drew Timme recaptured the lead with a layup and followed that with a block at the other end.
Malachi Smith assured the home fans they would not leave disapointed on their first night inside the Kennel since Nov. 7.
Smith grabbed a contested rebound on a missed free throw and finished a layup through traffic to give Gonzaga a 5-point lead with 1:52 left.
The Golden Flashes (6-3) wouldn't make another shot.
Timme, already one of the best forwards in Gonzaga history, added another memorable game to his resume, as Kelly Olynyk watched from the sideline with his number freshly hung from the rafters.
Timme scored 29 points with 17 rebounds.
It was hardly a stress-free win for Gonzaga.
Kent State went on a 17-4 run from the 15:45-9:33 marks in the second half.
Thomas led the visitors with 16 points.
Gonzaga will host Washington on Friday at 6 p.m.
Gonzaga Basketball / Youtube
First half
20:00 – GU 1, KSU 0: Gonzaga wins the tip and Timme makes 1 of 2 free throws to take the first lead of the night.
Kelly Olynyk was honored pregame.
14:59 – GU 14, KSU 11: Gonzaga leans on its 3-point shooting, 3 of 3 to start the game, with Strawther, Hickman and Bolton making outside shots.
Gonazga 5 of 8 from the field at the U16 media timeout. KSU is hanging, shooting 4 of 10 with a pair of offensive rebounds.
11:15 – GU 17, KSU 17: Both offenses struggle, going about 2:30 without a field goal and the score is tied at the U12 media timeout.
Watson leads the Zags with five points, but is 2 of 6 from the field. Bulldogs have missed their last three 3-pointers after making their first three.
Kent State doing a good job of making the Zags uncomfortable on the offensive end early on.
7:03 – GU 21, KSU 21: Gregg is called for a foul at the U8 media timeout.
Not the sharpest offense on either side. KSU missed a gimme breakaway off of a steal and are 1 of its last 7 from the field, shooting 34.8% in total.
3:51 – GU 31, KSU 25: Shots starting to fall for Gonzaga at the U4 media timeout, as Timme converts an and-1 and will shoot a free throw when play resumes.
Gonzaga's lead would be greater if they converted its free throws, just 3 of 7 to start the game.
0:05 – GU 40, KSU 34: Carry gets a layup to go with 5 seconds remaining and Gonzaga takes a 6-point lead into halftime.
Halftime
Gonzaga started to pull away from Kent State late in the first half, but the Golden Flashes hung tough, keeping the lead to six points at halftime.
Gonzaga's 40-34 lead could be more though, if not for poor free throw shooting. The Bulldogs are 4 of 10 from the free throw line, while the Golden Flashes are 7 of 9.
Gonzaga has leaned on Drew Timme to carry the offense, scoring a team high 14 points on 6 of 10 shooting and adding nine rebounds.
Kent State made just 1 of 9 3-point attempts and shot 40.6% from the field, both numbers it will need to improve upon to come away with an upset in the second half.
There were six lead changes and seven ties in the first half.
Second half
19:22: GU 42, KSU 34: Strawther improves on GU's free throw shooting, making a pair to start the second half.
16:23 – GU 49, KSU 42: Gonzaga's lead grows to nine, but Kent State cuts into it with a layup and call a timeout.
Timme up to 20 points on 8 of 12 shooting. Bulldogs aided by four fouls and six free throw attempts in the second half, making five.
Kent State made a pair of 3-pointers, which was more than its first half total.
14:54 – GU 51, KSU 45: Flashes not going away, as they make another 3-pointer and Hickman is called for a foul at the U16 media timeout.
No Bulldogs in foul trouble. Kent State's Jacobs, Thomas and Hornbeak all have three apiece.
12:34 – KSU 52, GU 51: Kent State on a 10-0 run and Gonzaga calls a timeout.
Gonzaga up to six turnovers after having two in the first half and Davis capitalizes, taking a steal for a dunk.
3:32 minute scoring drought for the Zags.
10:56 – GU 55, KSU 52: Watson and Timme both make a layup to put the Bulldogs back in front.
Kent State calls for a timeout, missing its last three shots.
7:47 – KSU 59, GU 57: Sullinger is called for a foul and the Zags will have a bonus free throw when play resumes.
Turnovers piling on for Gonzaga, up to six in the half. Timme doing everything to keep GU in it, with 26 points and 13 rebounds. 
4:27 – KSU 63, GU 62: Jacobs makes a pair of free throws to retake the lead for Kent State. Worse yet for Gonzaga, Watson fouls out on the play.
3:39 – KSU 66, GU 62: Thomas makes a 3-pointer and Kent State is fired up going into the final media timeout. 
Nation's longest home winning streak is at risk going into the final three minutes.
1:55 – GU 67, KSU 66: Timme give the Zags the lead, comes up with a block on the other end and then is fouled and will shoot a pair of free throws.
1:52 – GU 70, KSU 66: Smith makes the biggest play of the night for Gonzaga, grabbing a contested rebound on a missed free throw and finishing a layup through contact to extend GU's run to eight points over the last 1:27.
Kent State calls for a timeout.
Pregame
Gonzaga hasn't played on its home court in nearly a month. That changes tonight.
The Bulldogs host Kent State at the McCarthey Athletic Center – Gonzaga's second true home game of the season – tonight at 6 p.m. The game will be broadcast on KHQ and Root Sports.
Gonzaga great Kelly Olynyk will be honored and become the fourth player to have his jersey displayed in the Kennel.
The Bulldogs (5-3) open a three-game homestand tonight, hosting Washington on Friday and Northern Illinois next Monday.
The Golden Flashes (6-2) are capable of playing spoiler.
Kent State has won six games by double figures, including Portland and South Dakota State. It took the country's top-ranked team, Houston, to the wire during a 49-44 loss on Nov. 26.
The Golden Flashes also lost to College of Charleston 74-72 on a late 3-pointer. Charleston is no push over in their own right, beating Davidson, Colorado State and Virginia Tech at a tournament in late November.
Gonzaga will be aptly prepared, in the midst of one of the strongest nonconference schedules in the country. The Bulldogs lost to No. 12 Baylor 64-63 on Friday and have a win over No. 16 Kentucky.
Series history
Gonzaga has never played Kent State, but holds a 5-1 all-time record against teams from the current Mid-American Conference.
Gonzaga's only loss was against Toledo on Dec. 21, 1964.
Team stats
Individual leaders
Game preview
More on the Zags
Local journalism is essential.
Give directly to The Spokesman-Review's Northwest Passages community forums series -- which helps to offset the costs of several reporter and editor positions at the newspaper -- by using the easy options below. Gifts processed in this system are not tax deductible, but are predominately used to help meet the local financial requirements needed to receive national matching-grant funds.
Follow along with the Zags
Subscribe to our Gonzaga Basketball newsletter to stay up with the latest news.
---