Sports > Gonzaga basketball
Recap and highlights: Chet Holmgren, Drew Timme shine as No. 1 Gonzaga outpaces San Francisco 89-73
Feb. 24, 2022 Updated Thu., Feb. 24, 2022 at 9:08 p.m. Another double-digit West Coast Conference win and another stat sheet stuffed by Gonzaga's Chet Holmgren.
Holmgren led the No. 1 Bulldogs (24-2, 13-0 WCC) to a 89-73 win over the Dons in San Francisco on Thursday, scoring 21 points with 15 rebounds, six blocks and three steals.
Frontcourt counterpart Drew Timme wasn't making high flying dunks, but brought the flash with the return of his handlebar moustache in a near-triple double effort with 20 points, nine rebounds and eight assists.
The Dons (22-7, 9-5) were resilient, shooting 41.5% from the field and 11 of 22 on 3-pointers, but couldn't keep up with the Zags' efficiency. Gonzaga shot 54.8% from the field and 10 of 20 on 3-pointers.
Khalil Shabazz led USF with 17 points, while Jamaree Bouyea and Yauhen Massalski added 14 apiece.
The loss guaranteed Saint Mary's the No. 2 seed in the WCC Tournament and an automatic bid into the semifinal. USF will have either the three or four seed if it is able to beat San Diego on Saturday.
Gonzaga will play at the No. 22 Gaels on Saturday at 7 p.m. on ESPN, looking to sweep its conference schedule for the second consecutive season.
First half
15:43 - GU 18, USF 11: Perfect start for Gonzaga on the offensive end making its first six attempts from the field, including three 3-pointers and scoring on every possession at the U16 media timeout.
San Francisco trying to keep pace at 4 of 8 from the field.
Timme, back to rocking his signature handlebar moustache from last March, has two points with three assists in the early going. Holmgren and Strawther each have five points apiece. Massalski leads the Dons with six. 
10:58 - GU 25, USF 23: Four Gonzaga turnovers spark an 8-0 Dons run that is stopped by a layup from Timme. A fifth turnover gives USF the ball leading into the U12 media timeout.
Bouyea is a perfect 4 of 4 from the field and leads the Dons with nine points. Strawther leads the Zags with eight, while Timme has six points and four assists.
6:57 - GU 33, USF 31: Gonzaga holds its slight advantage at the U8 media timeout, as the Dons are called for a foul.
Zags shooting 74% from the field and are 5 of 8 on 3-pointers, but have allowed seven points from their six turnovers. 
3:04 - GU 43, USF 37: Gonzaga finally gets its first free throw attempt of the game as Holmgren converts an and-1 with a spin move in the post. Dons are 6 of 10 from the free throw line.
Strawther took a scary fall, being upended while jumping to contest a shot fake. He went to the bench, but checked back in shortly after.
Strawther and Timme lead the Zags with 10 points apiece, while Holmgren adds eight.
Halftime
Gonzaga played one of its most impressive halves of basketball this season, capped by an emphatic dunk from Chet Holmgren, to take a 10-point lead over San Francisco at halftime.
The Bulldogs shot 66.7% from the field, including 7 of 11 on 3-pointers, but committed eight turnovers and had just one free throw.
Holmgren scored 12 points with eight rebounds, two blocks and two steals, while Julian Strawther shared the team high with 12 points. Drew Timme scored 10 points with six assists.
Khalil Shabazz led USF with 15 points. The Dons shot 42.9% from the field and 6 of 12 on 3-pointers.
Second half
15:36 - GU 63, USF 44: Gonzaga opens the second half on an 11-2 run led by six points from Nembhard and five from Holmgren.
The Zags' star freshman keeps getting better as the season goes on. Holmgren has 17 points with nine rebound and four blocks.
11:50 - GU 68, USF 54: San Francisco strikes back, as the Zags are without a field goal in the last 2:59.
Watson loses the ball on a drive right before the U12 media timeout, not playing with much confidence 0 of 3 from the field with two turnovers.
8:15 - GU 75, USF 62: Stefanini makes a 3-pointer in transition and Gonzaga calls for a timeout.
Dons on a 7-2 run over the last 2:34.
3:29 - GU 81, USF 70: San Francisco making a final push at the U4 media timeout.
The Dons have a burst after Nembhard is called for a flagrant 1 foul for elbowing Shabazz in the nose.
Shabazz was bleeding badly and has not returned.
Pregame
Gonzaga is two games away from going undefeated in the West Coast Conference for the second straight year.
The No. 1 Bulldogs (23-2, 12-0 WCC) close their regular season with a California road trip, tonight at San Francisco (22-7, 9-5) at 6 p.m. on ESPN2, then a Saturday game at No. 22 Saint Mary's.
The Zags won the WCC regular season title with its win over Santa Clara last Saturday and will have the No. 1 seed for the conference tournament, advancing them to the semifinals on March 7 at 6 p.m.
The Dons and Gaels are fighting for the No. 2 seed, though Saint Mary's can earn it and the other automatic bid into the semifinals with a win over San Diego tonight or a USF loss.
USF can still fall behind Santa Clara, who is a game behind the Dons and finishes its season at Pepperdine and versus Santa Clara.
ESPN's Joe Lunardi has USF as a No. 11 seed in his NCAA Tournament Bracketology, while SMC is a No. 8 seed.
Series history
Gonzaga beat San Francisco 78-62 in Spokane earlier this year, as only the Dons, Saint Mary's and Santa Clara have kept a conference game with the Bulldogs within 20 points.
The Zags are 66-22 all time against the Dons, last losing at San Francisco on Feb. 18 2012.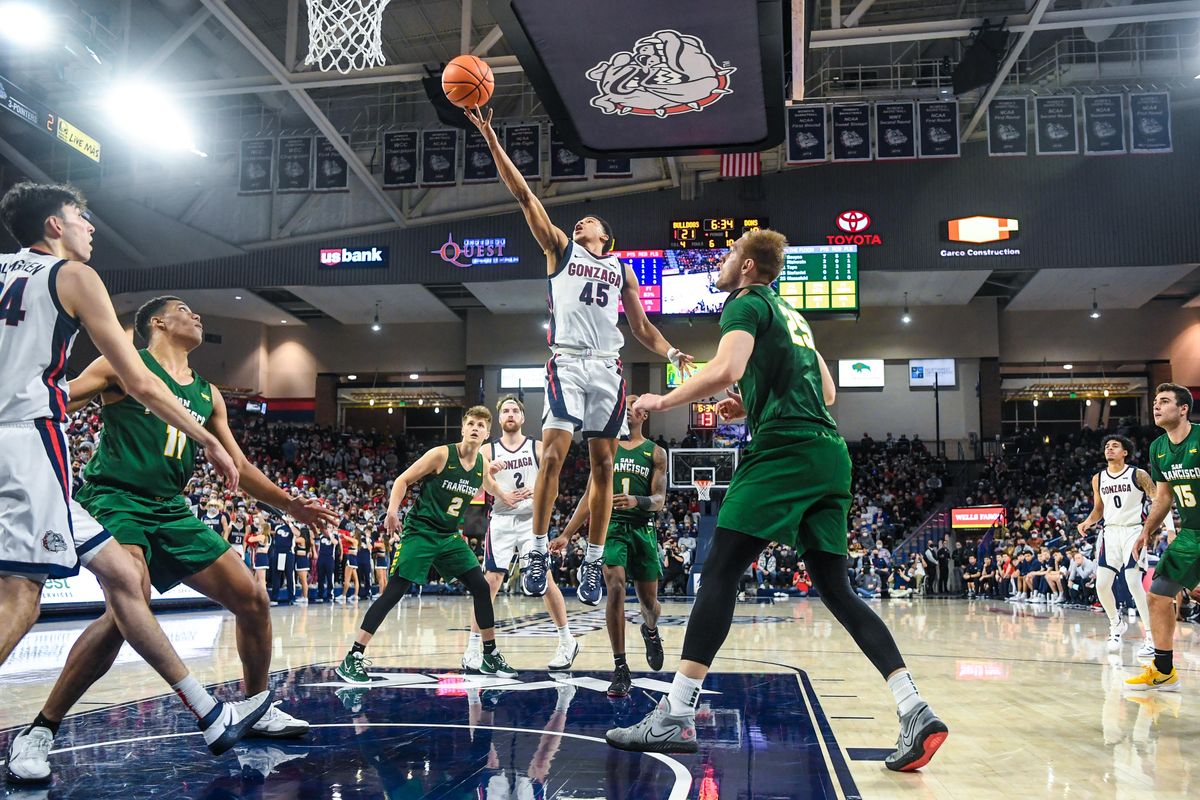 Gonzaga guard Rasir Bolton launches a finger roll down the lane against San Francisco, Thursday, Jan. 20, 2022 in the McCarthey Athletic Center. (Dan Pelle/THE SPOKESMAN-REVIEW)Buy a print of this photo
Team stats
Individual leaders
Game preview
More on the Zags
Local journalism is essential.
Give directly to The Spokesman-Review's Northwest Passages community forums series -- which helps to offset the costs of several reporter and editor positions at the newspaper -- by using the easy options below. Gifts processed in this system are not tax deductible, but are predominately used to help meet the local financial requirements needed to receive national matching-grant funds.
Follow along with the Zags
Subscribe to our Gonzaga Basketball newsletter to stay up with the latest news.
---