Washington State receivers pile up yards after catch, Coug defense shows progress in deep-ball coverage during second spring scrimmage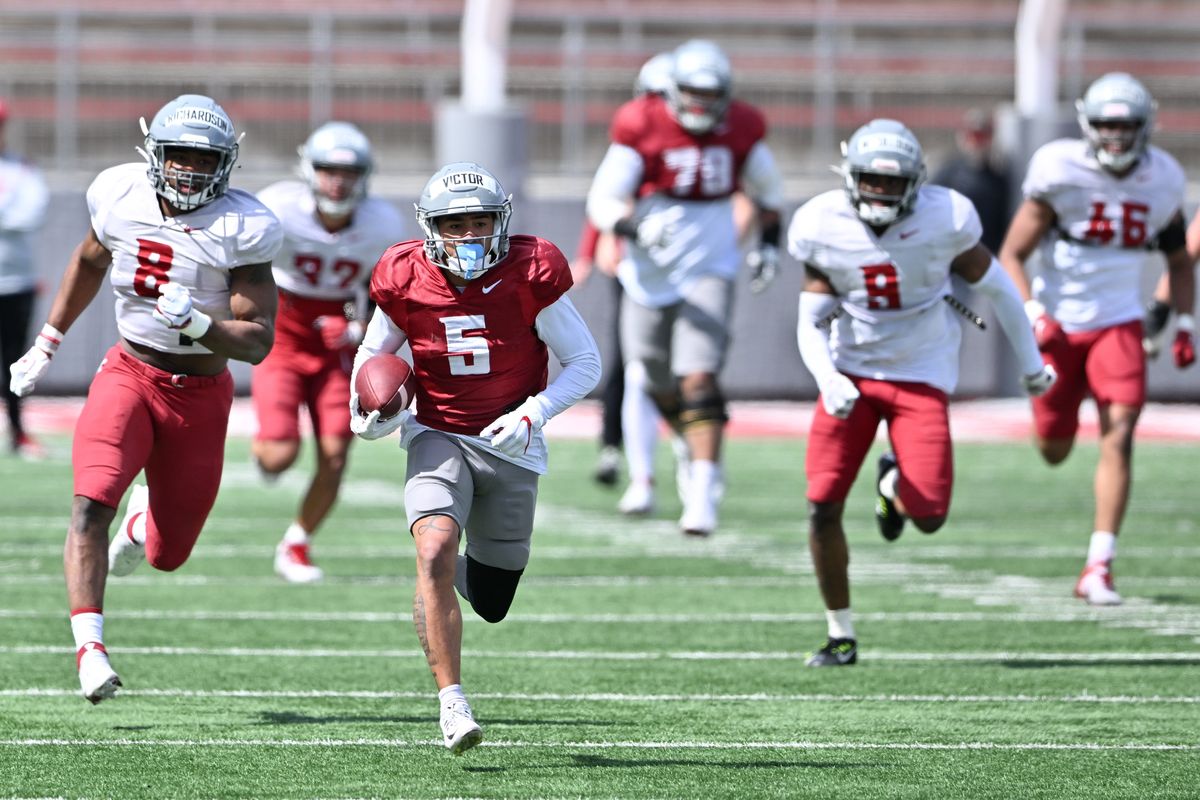 PULLMAN – An up-and-coming wide receiver, a veteran slotback and a young tailback headlined Washington State's offensive performance Saturday during the team's second scrimmage of spring camp.
Sophomore wideout Tsion Nunnally shook off tacklers on short receptions and piled up yards after the catch. Senior slot Lincoln Victor broke free into the open field for a long touchdown. Redshirt freshman running back Djouvensky Schlenbaker shouldered a heavy workload and came up with three red-zone touchdowns.
On defense, the Cougars showed progress in their deep-ball coverage and got a strong effort in the run game from their linebackers.
In all, WSU coach Jake Dickert was pleased with the "balanced" nature of the mock game. The Cougars' offense and defense traded blows across approximately 15 possessions and 95 snaps on a sunny morning at Gesa Field.
Numbers and notes on WSU offense
Nunnally, who appeared sparingly last season, is one of several players competing for playing time at outside receiver. The sophomore had perhaps his best showing in a Cougar uniform.
The 6-foot-3, 220-pounder recorded four receptions for 148 yards. He produced more than 100 yards after the catch. Nunnally took home offensive player of the day honors from Dickert.
Early in the scrimmage, Nunnally broke two tackles on a screen pass and raced ahead for 25 yards. Later on, he ran a short hitch route, caught the ball 7 yards beyond the line of scrimmage, then spun out of a tackle and bolted down the sideline for a 72-yard gain. Nunnally added another big play during one of the final drives, catching a quick pass and sprinting downfield for 43 yards.
"We need a big-body 'X' receiver that can go down the field and make some plays, and I thought he did that today, especially after the catch," Dickert said of Nunnally.
Victor had four receptions for 90 yards. Backup quarterback John Mateer faked a handoff and fired a pass over the middle to a wide-open Victor, who turned upfield for a 69-yard touchdown.
"I haven't had an untouched touchdown like that in a while, so it felt good to run out there in space, show off the speed a little bit," Victor said. "It felt amazing to be out there in open space, run into the end zone and seeing the boys come into the end zone and celebrating.
"That's what football is all about. You dream about those moments, you dream about those plays."
Victor had a down year last season. Expected to be one of the Cougars' top receivers, he finished with 245 yards and failed to score a touchdown. But Victor "has been probably our most consistent offensive player through the first 12 practices" of spring camp, Dickert said.
"Lincoln Victor is playing the best ball since I've been here," Dickert said.
Starting quarterback Cameron Ward led two scoring drives in five possessions. He stuck with safe, short throws and completed 10 of 14 passes for 57 yards and a 13-yard touchdown – a pinpoint, over-the-shoulder pass to wideout Josh Kelly during a red-zone period.
"Josh has been a big-boy receiver," Dickert said of the Fresno State transfer, who seems to be locked into the starting lineup.
Mateer completed five of his first 11 passes, but finished 8 of 15 for 249 yards. His numbers were boosted by the yards after catch from Nunnally and Victor.
True freshman receiver Carlos Hernandez, playing primarily with the reserve teams, had four catches for 52 yards.
The Cougars' tight ends had a productive day earlier this month in the team's first scrimmage, but they combined for just three receptions for 6 yards. Junior college transfer slotback DT Sheffield totaled more than 100 yards in the first scrimmage, but managed one catch in the second mock game.
Slot receivers Orion Peters and Isaiah Hamilton sat out with minor injuries, Dickert said.
Backup tailbacks Jaylen Jenkins and Dylan Paine did not participate, so starter Nakia Watson and Schlenbaker stayed on the field for extended periods as the Cougars used plenty of inside runs – to mixed results.
"I still want to run the ball more effectively, because I feel like we've been streaky with it," Dickert said. "We've done it at times, but we've gotta be more consistent because it opens up everything else."
Watson had nine carries for 37 yards. Schlenbaker, who is vying for the No. 3 spot on the depth chart, had 12 carries for 52 yards. He exhibited power in the red zone with three goal-line TDs.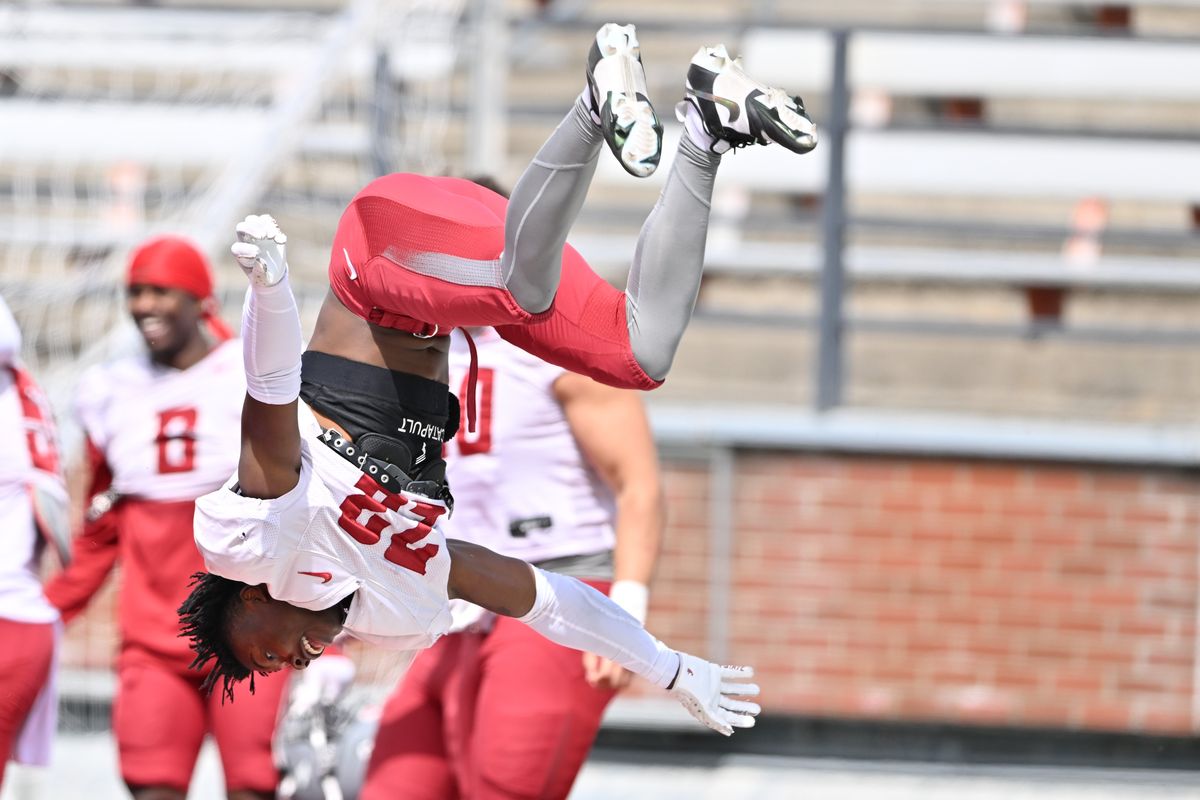 "I liked how aggressive we were up front," Schlenbaker said. "Instead of getting pushed back, we were pushing forward and (the offensive line) was opening holes."
WSU's first- and second-team offensive line surrendered seven sacks April 1 in the first scrimmage, but allowed four sacks this time. Most of the starting O-linemen stayed on the field for Mateer's possessions.
"The difference from the first scrimmage to the second scrimmage – the O-line protected a lot better today," Dickert said. "A big difference between Practice 6 and Practice 12."
The Cougars' offense came away with points on seven of 15 possessions. Mateer led two 70-yard TD drives. WSU settled for field goals on three drives. Kicker Dean Janikowski missed a 53-yarder and converted a 38-yard attempt. Backup kicker Colton Theaker misfired on a 40-yard try.
"We started off a little slow. The defense held us up a little bit on the first couple of drives, but I think we responded well," Victor said of the offense.
Defense starts well, finishes strongly
The unit stopped WSU's offense on each of its first four possessions. Two of the drives ended in three-and-outs.
The offense responded with six consecutive scoring drives, but WSU's defense recorded interceptions on three of the last four series.
Backup safety Reece Sylvester intercepted Mateer in the red zone.
Redshirt freshman linebacker Hudson Cedarland, a second-teamer, got a hand on a short pass from third-string QB Emmett Brown on the ensuing possession. Cedarland tipped the ball in the air for an interception. On the final drive, reserve linebacker Joseph Roback picked off Brown.
Cedarland earned the defensive player of the day nod. The Gig Harbor, Washington, native recorded seven tackles, two of them hard hits in the backfield on rushing plays.
"(Coaches) have just been pushing me to break out of my comfort zone and really step into a leadership role, and play with that confidence I know I can play with," Cedarland said. "Today, I finally felt a little more free than usual."
Maryland transfer linebacker Ahmad McCullough impressed in the ground game. He burst through gaps for two hits on ball-carriers at the line of scrimmage. The senior earned the start at outside linebacker.
"I thought Ahmad McCullough jumped out to the naked eye, just making some great run-throughs and playing physical," Dickert said. "I was happy with the way the front seven performed. I thought we did a good job of limiting the run."
First-team middle linebacker Devin Richardson, a Texas transfer, had two tackles for loss. Veteran linebacker Kyle Thornton and defensive tackle Ty Garay-Harris added TFLs. Rotational edge rushers Andrew Edson, Lawrence Falatea and Raam Stevenson broke through for sacks. Reserve cornerback Stephen Hall blitzed around the edge for a sack. Hall, a JC transfer, forced a third-down incompletion with a hard hit on the second possession of the scrimmage.
"Another one that jumped (out) was Stephen Hall," Dickert said. "He's starting to look like a Pac-12 football player."
Dickert kept a close eye on the secondary, which had surrendered "way too many explosive plays" downfield at recent practices and during the first scrimmage. The Cougars' defensive backs deflected four deep balls and allowed only one reception on passes that traveled 20 or more yards .
"I thought we did a solid job with the vertical pass game," Dickert said. "Now, it's just tackling the short stuff."
WSU's hurry-up offense gave the secondary fits in the first scrimmage. But the Cougars' DBs "didn't get beat by tempo" this time, Dickert added.
The Cougars' defense was missing several players in the mix for roles this season – edge Quinn Roff, nickel Kapena Gushiken, and tackles David Gusta, Rashad McKenzie and Ansel Din-Mbuh.
Some of the team's more established defenders watched most of the scrimmage from the sideline. Cornerback Chau Smith-Wade and safety Jaden Hicks participated in only two or three drives. All-Pac-12 edge rushers Brennan Jackson and Ron Stone Jr. appeared on the first two possessions.
"They're a joy to have around and they bring energy," Dickert said of the edges. "They know this is going to be a day where they only play like 10 snaps, but leadership is more than just making plays."
---