Orioles' Cedric Mullins robs Mariners of series win in extra innings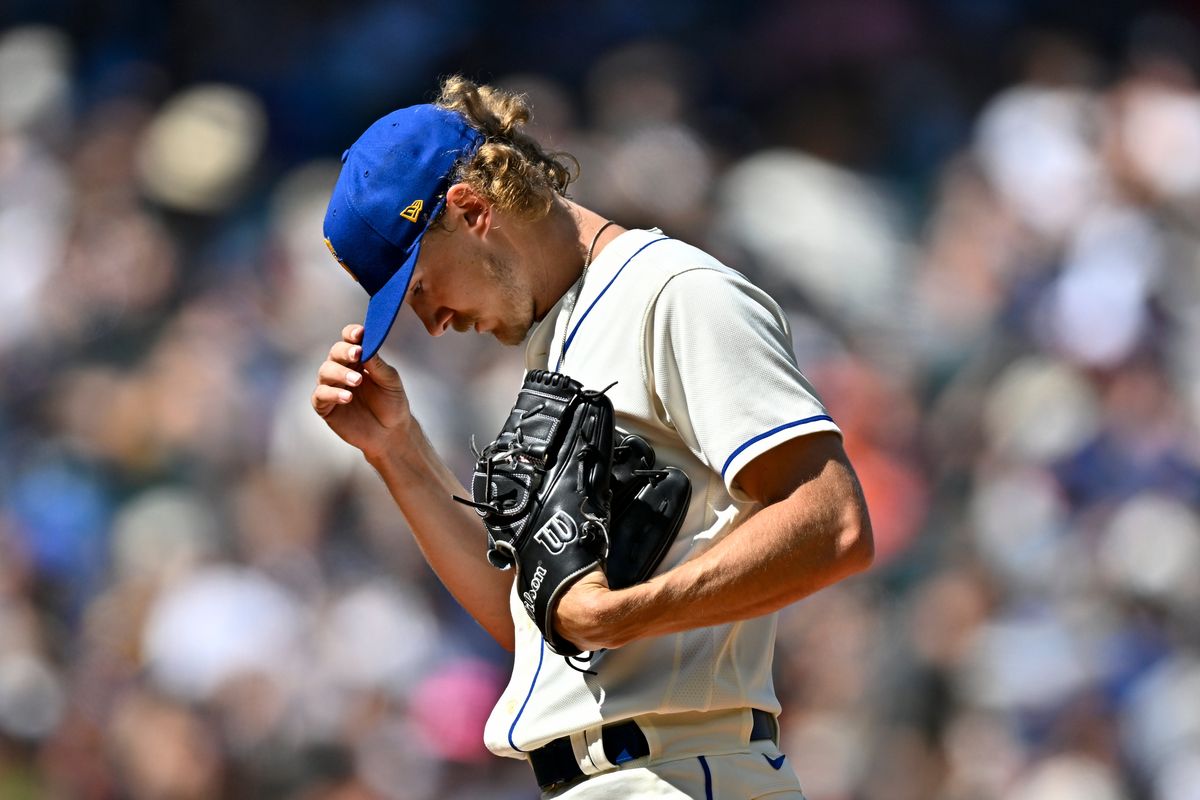 SEATTLE – After seeing their eight-game win streak come to an end less than 24 hours earlier in frustrating fashion, failing to score a single run in 10 innings, the Mariners' streak of six consecutive series wins came to an end in the Sunday afternoon sunshine of T-Mobile Park with another disappointing defeat in 10 innings.
With a 5-3 loss to the Orioles, the Mariners lost consecutive games for the first time since July 23-24. It was their first series loss since dropping two of three to the Tigers coming out of the All-Star break.
"Two very evenly matched teams, I think, is the best way to describe that series, obviously the last couple nights with the extra inning games," Mariners manager Scott Servais said. "It hurts when you don't win them and get the big play at the end. We haven't lost a series in quite a while."
The Mariners (63-54) fell to 1.5 games back behind the Blue Jays (66-54) for the third American League wild-card spot. Toronto avoided being swept at home by the Cubs with an 11-4 victory. The Mariners will start a 10-game road trip with a four-game series in Kansas City that begins Monday.
After eight innings of relatively nondescript baseball where both starters — Seattle's Bryce Miller and Baltimore's Kyle Bradish — each allowed two runs in their respective outings, the game turned chaotic in the final two innings.
In the top of the ninth, the Orioles were able to take grab a 3-2 lead off Andres Munoz with a fair amount of controversy. With one out, Jordan Westburg bounced a double over the wall in deep left-center to put the go-ahead run in scoring position. He was replaced by pinch runner Jorge Mateo, who is one of the fastest base runners in MLB.
Mindful of Mateo's presence at second base, Munoz walked No. 9 hitter James McCann on five pitches. The situation went from bad to heated when third-base umpire Adam Beck made a late balk call on Munoz on his first pitch to Adley Rutschman, allowing both runners to move up 90 feet.
Servais wasn't sure why a balk was called and made a waving-off motion toward Beck. In his first year as a full-time umpire at the MLB level, Beck took exception to Servais' gesture and ejected him.
As they say in baseball, the Mariners' manager got his money's worth for the upcoming fine. He was in the face of Beck and even fired his hat onto the infield grass.
"To call that in that situation, you're looking to make an impact in the game, Servais said. "And he made an impact in the game. The umpire did for sure. So again, you don't see it called in that spot. I haven't looked at the replay. Did he balk, did he not balk? I didn't think he did, but I got ejected from a guy 150 feet away and never said a word. I made one hand gesture and get thrown out of the game. That's ridiculous."
Servais said Beck provided no explanation for the balk. It was thought that Munoz didn't come set with runners on base. It's something he's been called on before this season.
"Like I said last night, every 90 feet really matters in those tight games in the eighth, ninth or extra innings," Servais said. "Ninety feet is a big deal and changes the course of the inning for sure."
Indeed, Rutschman hit a dribbler back to the mound. Munoz flipped it home to Cal Raleigh but with Mateo running on contact, he was able slide in head first just ahead of the tag for the go-ahead run. The Mariners were able to escape the inning with only run allowed as Munoz got Gunnar Henderson to ground into an inning-ending double play.
Down 3-2, the Mariners thought they had tied the game when Ty France crushed a deep fly ball to right-center. Orioles center fielder Cedric Mullins, who didn't start the game but was inserted as a defensive replacement, made a ridiculous leaping catch, snatching the game-tying homer at the last possible second before it was out of reach over the wall.
"Catch of the year," Orioles manager Brandon Hyde said. "I saw that replay on the JumboTron. … When he came down and pumped his fist, that was an amazing feeling in our dugout. He's just such a good player and a great defender."
But with replays of his catch still being shown on the broadcast, Mullins and his superior defensive skills could only watch as Dominic Canzone tied the game two pitches later. Looking for a "heater" on a 1-0 count, Canzone destroyed a 96-mph fastball, sending a missile off the top of the old "Hit It Here Cafe" for his first homer as a member of the Mariners.
"It was just one of those hollow feelings that you don't feel too often," he said. "When it's that hollow, you know you got it."
Upon impact, Canzone didn't move from the box, watching it carry and flipping the bat almost instantly.
"I wasn't planning that," he said. "It just happens. Mostly adrenaline is the best way to put it."
The euphoria of Canzone's game-tying homer didn't have much shelf life.
In the top of the 10th with one out and the automatic runner on second, Mullins crushed a two-run homer off Mariners reliever Trent Thornton into the right-field seats, one pitch after just missing a homer to the right of the foul pole.
The Mariners had no answer in the bottom of the 10th.
"I wish they would have left Cedric Mullins on the bench today," Servais said.
Miller allowed two runs — one of them earned — on five hits in 5 2/3 innings.
The Orioles grabbed a 1-0 lead in the third inning, taking advantage of an error by Dylan Moore.
With one out, backup catcher James McCann and No. 9 hitter hit a routine ground ball to Moore, who is filling in at shortstop for the injured J.P. Crawford. Moore fielded the ball cleanly, but his throw pulled France off first base.
Rutschman followed with a single to right field that allowed McCann to race to third. Henderson drove in the first run of the game with a sac fly to right field.
The Mariners answered in the bottom of the inning. Josh Rojas worked a one-out walk off Bradish. He advanced to second on Julio Rodriguez's ground out to third and scored on Eugenio Suarez's line-drive single to center to tie the game.
The Mariners took a brief 2-1 lead in the fifth inning. With two outs, Josh Rojas singled to center off Bradish. Rodriguez took advantage of a slider up and over the middle of the plate, yanking a line drive into left field. The double allowed Rojas to score from first base.
But the lead would be short-lived.
With one out, Miller gave up a soft infield single to Ryan Mountcastle. With two outs, Austin Hays hit a line drive just out of the reach of a leaping Moore at shortstop that scored the tying run.
Hays' hit ended Miller's outing. Justin Topa entered the game and got Anthony Santander to ground out to first to end the inning.
---