A&E
Rihanna plays the hits during halftime show
Feb. 12, 2023 Updated Sun., Feb. 12, 2023 at 8:19 p.m.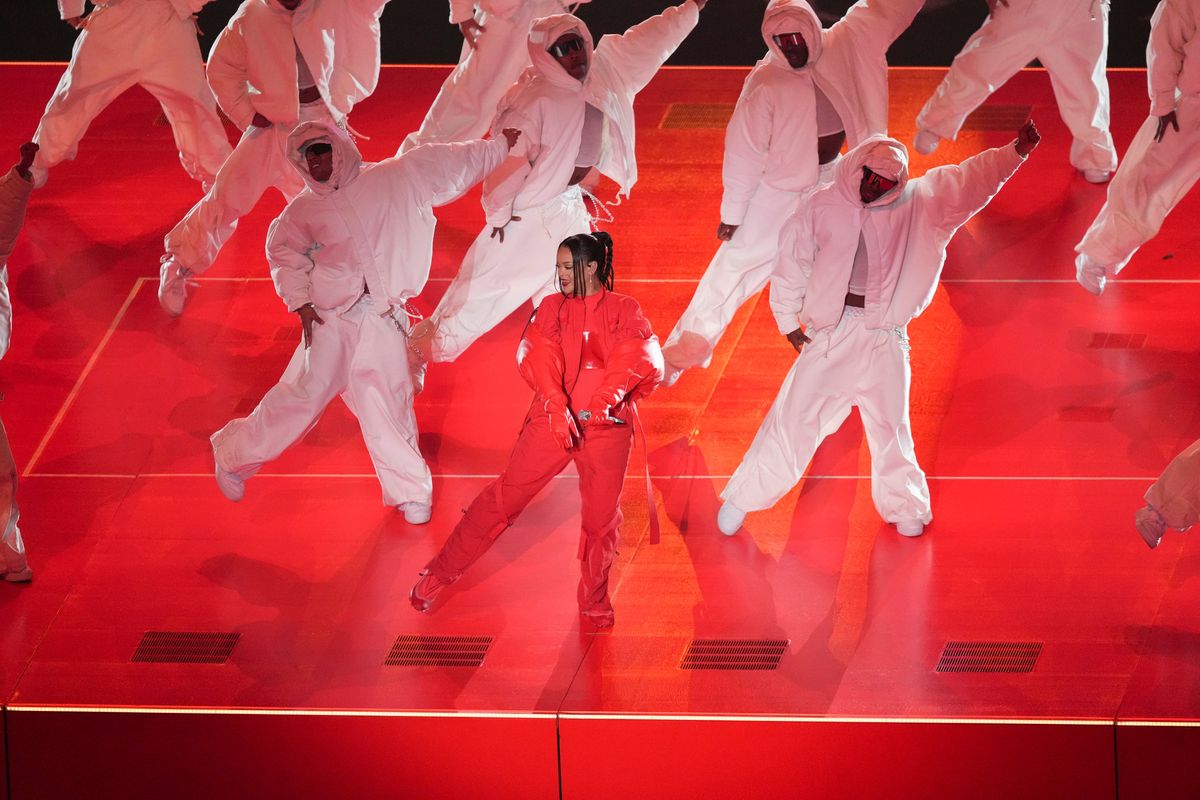 Singer Rihanna performs during halftime of the Super Bowl LVII football game between the Philadelphia Eagles and the Kansas City Chiefs at State Farm Stadium in Glendale, Ariz., on Feb. 12, 2023. (AJ Mast/The New York Times) (AJ MAST)
Rihanna made her long-awaited return to the stage — on the biggest stage in all of pop music — with her fiery halftime performance at Sunday's Super Bowl LVII.
Thirteen minutes or so of quick-cut pop bangers minus the type of special guest that halftime typically features, Rihanna's show also raised immediate speculation on social media that the 34-year-old superstar — who appeared in a billowing red jacket over a form-fitting vinyl-ish bodice — is pregnant for the second time, less than a year after she gave birth to her first child with rapper ASAP Rocky.
A representative for the musician confirmed the pregnancy to the Los Angeles Times shortly after the halftime show.
Rihanna opened the show, her first in years, on a suspended platform high above the field at State Farm Stadium in Glendale, Ariz., with the throbbing rap track "Bitch Better Have My Money" before segueing into a series of her uptempo EDM cuts: "Where Have You Been," "Only Girl (In the World)" and "We Found Love." Backed by an expansive cast of dancers in white hooded coats, she also performed parts of "Rude Boy," "Work," "Wild Thoughts," "Pour It Up," "All of the Lights," "Run This Town," "Umbrella" and "Diamonds."
Despite her huge success and her obvious star power, Rihanna was in some ways an unexpected choice for the halftime show. When the NFL asked her to headline, she recalled last week in an interview, she'd given birth a mere three months earlier. And before that she'd largely kept clear of the music scene since the release of her most recent album, 2016's "Anti," focusing instead on the fashion and beauty brands said to have made her a billionaire.
In November, she contributed a pair of low-key ballads — including "Lift Me Up," which is nominated for an Oscar for original song at next month's Academy Awards — to the soundtrack of "Black Panther: Wakanda Forever." But for much of the last decade, music has seemed of secondary importance to Rihanna, so much so that the protracted wait for the singer's ninth studio LP has become a kind of meme among fans who gently mock her shrugging attitude toward finishing R9, as the album is known.
More specifically, her selection — or at least her acceptance of the gig — came as a surprise because of her past statements about the NFL. In 2019, she said she'd passed on an offer to play the halftime show because of the league's treatment of Colin Kaepernick after he began taking a knee during the national anthem in protest of police violence toward Black people. "I just couldn't be a sellout," she told Vogue magazine, adding that there were "things within that organization that I do not agree with at all, and I was not about to go and be of service to them in any way."
Four years later, it's unclear what's changed in regards to racial equity in the NFL — Sunday's game was the first Super Bowl to feature two Black starting quarterbacks — though a 2020 takeover of the league's high-profile musical offerings by Jay-Z's management firm and record label, Roc Nation, has inarguably shaped the halftime show. Rihanna's performance was the fourth in a row to be headlined by an artist of color, following Shakira and Jennifer Lopez in 2020, the Weeknd in 2021 and an all-star hip-hop dream team led by Dr. Dre in 2022.
In her pre-game interview last week, Rihanna stressed the importance of representation in popular culture, saying she was proud to represent Black women and Caribbean people at the Super Bowl. "I think that's really important," she said. "That's key for people to see the possibilities, and I'm honored to be here."
Before kickoff Sunday, country singer Chris Stapleton performed a stark and bluesy national anthem, accompanying himself only on electric guitar, and longtime R&B hitmaker Babyface strummed a stars-and-stripes-emblazoned acoustic as he sang a tender-soulful "America the Beautiful." (Big night for guys wearing sunglasses and playing fancy chords.) Sheryl Lee Ralph, the veteran actor and singer who won an Emmy in September for her role in "Abbott Elementary," performed a regal rendition of "Lift Every Voice and Sing," the century-old hymn often referred as the Black national anthem.
Local journalism is essential.
Give directly to The Spokesman-Review's Northwest Passages community forums series -- which helps to offset the costs of several reporter and editor positions at the newspaper -- by using the easy options below. Gifts processed in this system are not tax deductible, but are predominately used to help meet the local financial requirements needed to receive national matching-grant funds.
Subscribe to the Spokane7 email newsletter
Get the day's top entertainment headlines delivered to your inbox every morning.
---