Sports > Gonzaga basketball
Drew Timme's '94 feet' segment, Mark Few interview highlight ESPN College GameDay's visit to Gonzaga
Feb. 25, 2023 Updated Sat., Feb. 25, 2023 at 5:43 p.m.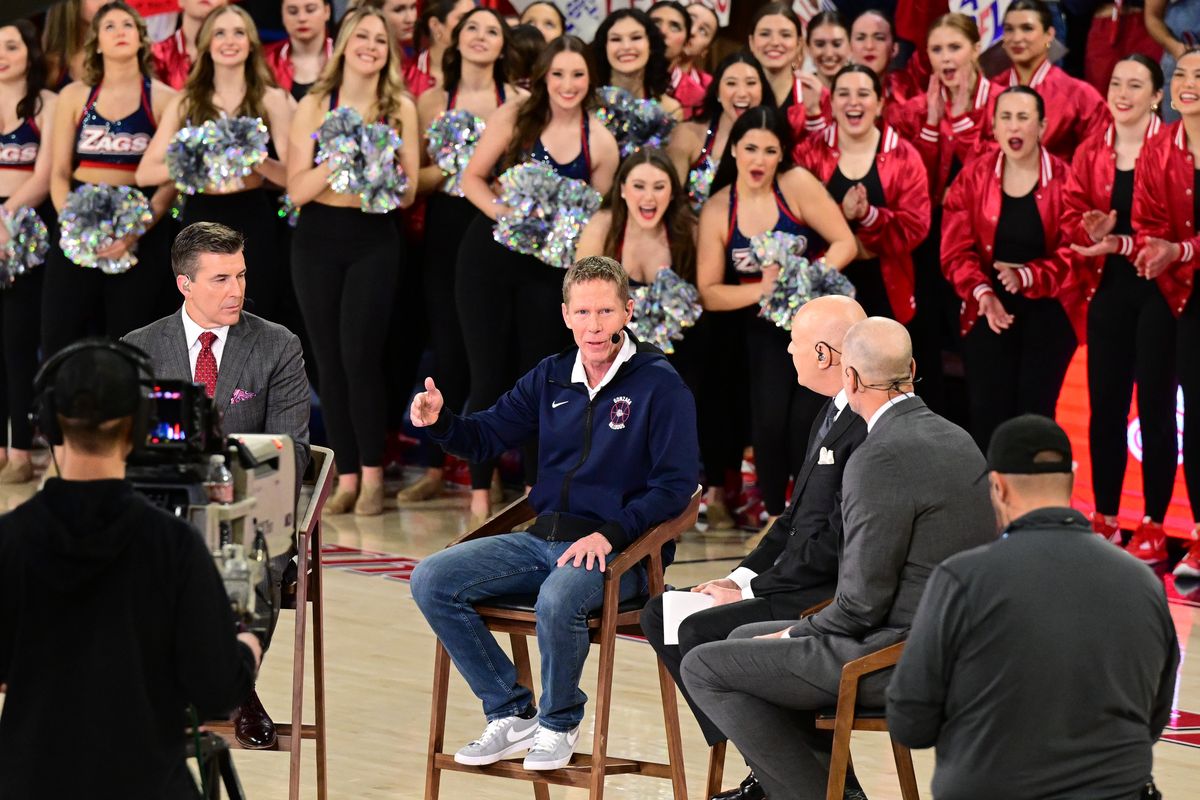 From left, ESPN's Rece Davis interviews Gonzaga head coach Mark Few with fellow GameDay hosts Seth Greenberg and Jay Billas during College GameDay on Saturday. (Tyler Tjomsland/The Spokesman-Review)Buy a print of this photo
With Jay Bilas and Seth Greenberg trailing behind, Rece Davis opened College GameDay's two-hour segment Saturday morning by descending a narrow stairway at McCarthey Athletic Center – Gonzaga students aggressively crowding the space on either side of him.
Upon completing a climb down to the hardwood floor where No. 12 Gonzaga and No. 15 Saint Mary's would be playing for West Coast Conference supremacy later that night, the popular host of ESPN's award-winning morning show pronounced, "Early in the morning in the Pacific Northwest and they are wide awake."
"The ground has been moving underneath our feet in Spokane for this West Coast Conference showdown," Davis said. "The pre-eminent program in the West has been the Gonzaga Bulldogs."
For the better part of two hours, ESPN tailored its weekly GameDay program to a wide base of Gonzaga fans that rose out of bed early to catch Saturday's show, either on television or as a live audience member at McCarthey Athletic Center.
"Nothing warms the soul around here like Gonzaga basketball," Davis said as part of the opening monologue. "… When they start jumping up and down, when they start pounding their chest, there's not a better place in college basketball than the Kennel."
Students bounced and swayed to the tune of Gonzaga's popular "Zombie Nation" anthem, normally played before Bulldogs home games. Davis eventually caught on, performing his own jig near the end of the song.
It wouldn't be a stretch to say ESPN covered all its bases in gathering pertinent information about Gonzaga and its rabid fanbase. At one point, cameras panned to a female student with black "Zags" script inked to the inside of her bottom lip.
"She has 'Zags' tattooed inside her lip," Davis said.
"How did we find that out?" Bilas posed.
"Because we have a crack research staff that leaves no stone unturned at this point," Davis responded.
Later in the program, ESPN aired Bilas' "94 feet" interview with Gonzaga standout forward Drew Timme, who'd been nudging the analyst to invite him on the short segment Bilas hosts with various college basketball stars.
ESPN / Youtube
"Congratulations on this Drew, tell me about your favorite mustache look," Bilas opened.
"I'm a fan of just the straight 'stache," Timme said. "Maybe with a little hang over the lip, but that's my favorite one."
When Bilas asked who'd play Timme in a movie, Timme chose the villain played by Ben Stiller in "Dodgeball:" "It would have to be White Goodman."
Bilas also brought up Timme's large, eclectic collection of boxer briefs.
"I've got 'South Park,' 'Star Wars,' 'Spongebob,' " Timme said. "I've got it all."
"I shouldn't have went there," Bilas replied. "94 feet."
During an edition of the "GameDay grab bag," in which analysts are quizzed on a variety of topics, ESPN sideline reporter Sean Farnham tackled the all-important question, "Better facial hair: Adam Morrison, Przemek Karnowski or Drew Timme?"
Farnham, a regular on Gonzaga broadcasts over the past decade-plus, stayed in the modern era and selected Timme.
"Whether it's the handlebar mustache, whether it's the full thing, my man rocks it and he has an NIL deal from it," Farnham said. "So let's roll with it."
Another question posed to Bilas asked for the "best fly-fishing coach" in college basketball.
"That was clearly a planted question because in the history of the game, there would be two," Bilas said. "One was Bob Knight, who is not an active coach anymore. The best active fly fisherman coach is Mark Few."
Cameras then panned to the Gonzaga coach, who was already standing on the court with a selfie stick in his left hand. Few, who's made jokes at his own expense regarding his experience with modern technology, was a good sport and smiled as he took footage of the GU students standing behind him.
ESPN / Youtube
Davis, Bilas, Greenberg and LaPhonso Ellis, who participated remotely after attending his son's final home game at Grand Canyon University Friday night, then interviewed Few, who's compiled 677 wins in 24 seasons at the school
Bilas referenced a conversation he had with Few more than a decade ago, at a point when colleagues in the coaching world suggested he move on from the Bulldogs to improve his chances of winning a national championship. Few's Zags have since appeared in two national championship games and the coach elaborated on why the program's managed to have so much success.
"Just the special thing we have here," he said. "The ability to get great players, not only great players, but the camaraderie and the chemistry and everybody in the entire – from our administration, to the athletic department, to the staff, to the players pulling the rope in the same direction.
"I think that's been the whole key to this deal and I just always thought, 'Why not here?' We've came incredibly close to it and still trying."
As is custom, the analysts offered predictions for the nightcap between Gonzaga and Saint Mary's. As the game's color analyst, Bilas opted out of participating, but Ellis and Greenberg both picked the Bulldogs to win.
Ellis was holding his baby granddaughter, who was wearing a Gonzaga onesie, as he made his selection.
"Spokane-born and raised here," Ellis said of his granddaughter. "I've got Gonzaga winning this week. Julian Strawther, 0 for 4 last game, but 27 points per game over his last three. Go Zags!"
"(LaPhonso) , you are 100% right," Greenberg said. "I can never go against that pretty girl. Zags, too much Timme, too much shot-making, too much crazy fans."
After the program ended, Farnham and Davis both praised Gonzaga for creating a memorable GameDay atmosphere.
"I just think it's great for the nation to just get another example of what I've known for the last 13-plus years covering this program," Farnham said. "The student section's the best in the country and they get as loud as anybody in the country. There may be bigger student sections, but they're nuts."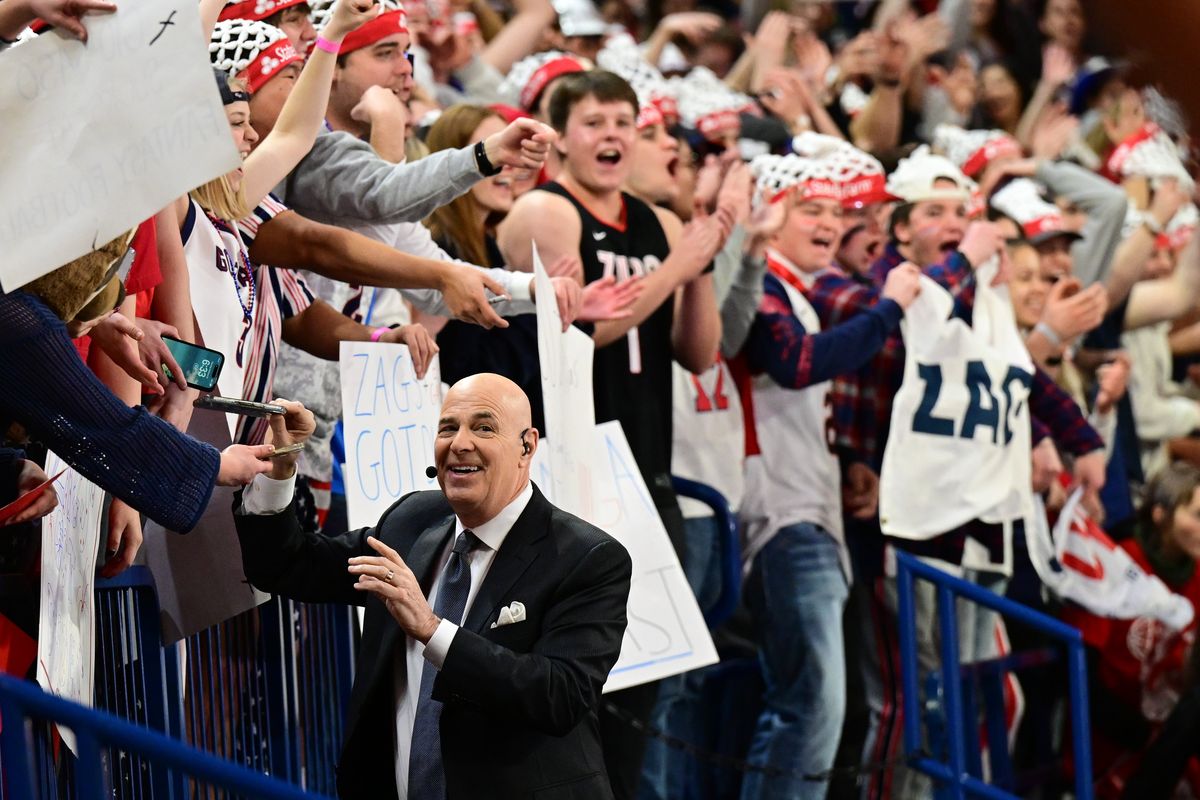 ESPN's Seth Greenberg smiles as he visits with GU fans during a fliming of ESPN's College GameDay on Saturday, Feb. 25, 2023, at McCarthey Athletic Center in Spokane, Wash. (Tyler Tjomsland/The Spokesman-Review)Buy a print of this photo
Davis said Saturday's show stacks up with the best he's been a part of in nearly a decade on the GameDay crew.
"The best one of the year," he said. "Best one of the year and probably the best one of the past several years, to be honest. The noise, the energy, the fact they cared enough to come out so long before the game. It's still a long time until the game."
Local journalism is essential.
Give directly to The Spokesman-Review's Northwest Passages community forums series -- which helps to offset the costs of several reporter and editor positions at the newspaper -- by using the easy options below. Gifts processed in this system are not tax deductible, but are predominately used to help meet the local financial requirements needed to receive national matching-grant funds.
Follow along with the Zags
Subscribe to our Gonzaga Basketball newsletter to stay up with the latest news.
---