Sports > Gonzaga basketball
'The best atmosphere we've had': Gonzaga fans unleashed for ESPN College GameDay and national TV audience
Feb. 25, 2023 Updated Sat., Feb. 25, 2023 at 9:42 p.m.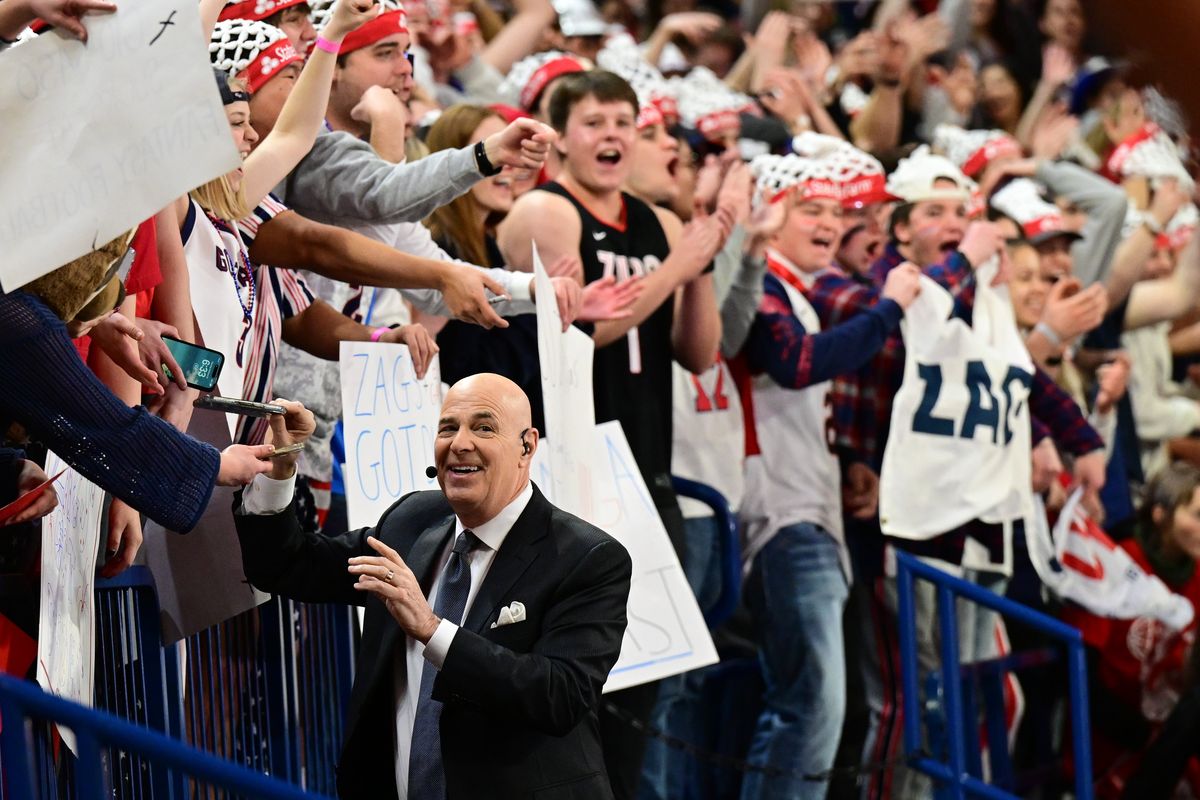 ESPN's Seth Greenberg smiles as he visits with GU fans during a fliming of ESPN's College GameDay on Saturday, Feb. 25, 2023, at McCarthey Athletic Center in Spokane, Wash. (Tyler Tjomsland/The Spokesman-Review)Buy a print of this photo
Was Saturday the best College GameDay over the past few seasons?
ESPN hosts believe that to be true.
The renowned college basketball morning show went live at 7 a.m. Saturday from the floor of the McCarthey Athletic Center to the joy of a raucous Gonzaga crowd.
First it was ESPN Senior Director of Communications Bill Hofheimer, who tweeted 15 minutes into the program that it was, "Hands down, the best College Gameday basketball crowd of the year."
Two hours later, that theme continued after the show when GameDay host Seth Greenberg grabbed the microphone and applauded the students for showing out.
"The best atmosphere we've had. You guys were tremendous," Greenberg said.
Rece Davis followed that by echoing the same sentiment after he took a few photos with students and fans.
"It was the best crowd of the season by far," Davis said. "Not to disparage the others, but it was the biggest and the loudest. And it's the best one in the last several years. I mean, we're appreciative to everybody that comes out. They really come out in support and show out, and that's what these guys did."
A week leading up to the event, GameDay host Jay Bilas teased a few times that Spokane would be the next stop on the GameDay tour.
Twitter and other social medias responded to the possibility of GameDay choosing to feature the perennial West Coast Conference champions.
According to Davis, the decision had been made a couple of weeks before the official announcement, with input and suggestions from himself, Bilas, Greenberg and LaPhonso Ellis.
Ellis, the fourth member of the show, was unable to make the trip due to his son's Senior Night for Grand Canyon University on Friday night. He participated remotely.
This was the third time GameDay has appeared in Spokane. The show's final stop of the season will be at UCLA next week for its game against Arizona.
After the location declaration, the College GameDay crew challenged Bulldogs fans to show up leading up to the main event. The fans answered the call in rousing fashion.
The crowd began to take shape at 6 a.m. when the doors opened for hundreds of students who had been in line for more than an hour.
As they began to pour in, the first couple of dozen flocked to the front row behind the GameDay desk.
The student section overflowed into neighboring sections before the general public piled around the students 15 minutes later.
One of the students, who was one of the first few in line, set up shop at midcourt in Row 1. Her face and sign were a constant on the broadcast, but her claim to fame happened after the cameras turned off and the Kennel was being transformed into basketball-playing shape.
Bilas walked up to her and took off his oversized shoe before signing it and presenting it to sophomore Grace Hammers.
"It's only like six sizes too big," she said.
Her plan to get Bilas' shoe was crafted on the fly and she never believed that it was a possibility.
The San Jose, California, native and her friends were joking with Bilas when he came to talk with them pregame.
She told Bilas that they have the same shoe size – the furthest thing away from the truth considering Hammers is 5-foot-2.
Unfortunately, her original sign had nothing to do with her new goal, so she flipped it over, grabbed a pen and wrote, "Jay, can I have your shoes?"
It hit its mark. Hammers came to the Kennel with two shoes and left with three, one that almost doubles the size of her own.
"I'm either going to put it on the mantel, because it seems like it should go there," she said, "or my little brother's a huge GameDay fan, so he might get the shoe."
Even if she gifts away the shoe, Hammers said the memories of GameDay with stay with her .
"It was incredible to see it so up-close and it felt like we were like really a part of this," she said.
Former GU player Steven Gray was a sophomore when the Bulldogs were last featured on GameDay in 2009.
Unfortunately for him, he did not participate – nor did he quite remember when the show was last here – as he had other pressing responsibilities like prepping to play Memphis in the Spokane Arena that night.
But seeing the crowd full-throated in this moment revitalized his memories.
"It's amazing; I love it," Gray said. "It is great to see it from this perspective and it gives me chills just hearing and being a part of it and feeling that energy again."
Gray said it's great for the city and the school as it adds another notch, another milestone, in what the Zags have achieved in the past two-plus decades.
Leah Gentry and her two kids, daughter Svea and son Gunnar, sat a few seats away from Gray.
Gunnar was a top target for the media and other fans. He had an entourage of photographers and TV cameras wanting to get a peak at his getup.
Gunnar said his favorite player is Drew Timme, and he was dressed as a mini version with a mustache and white headband to match.
His uncle – Gentry's brother – is a graphic designer and sent a double-sided sign that said, "Zags Got This Dude," to reference Timme. The other side said, "Tiny Timme."
"I think he was in a little bit of shock; he's like on top of the moon," Gentry said of 3-year-old Gunnar.
Gunnar was taken to the Kennel Club and made his way to the front row, where the students cheered for him and held his sign high up in the air. GU mascot Spike saw him and went wild for him.
"It's so much fun and such a fun great memory to create with our kids," Gentry said.
Gentry is the wife of Gonzaga assistant coach Stephen Gentry, who was a walk-on for the Bulldogs between 2002 and 2006.
"I think – and of course I am biased – but we have the best fans, arena and environment," Gentry said.
Another GU assistant, Brian Michaelson, slid into a seat in the lower bowl across from the students, absorbing the emotions from the same students who cheered on as the No. 12 Bulldogs defeated rival and No. 15 Saint Mary's on Saturday night.
"College GameDay is a big deal and to have them here is huge," Michaelson said. "And then to see the turnout – you appreciate it on game nights – but to walk in at 6:45 a.m. and see 1,000 college kids is pretty cool. I know how special this place is."
He compared the Kennel to a few other GameDay stops – many historical, with generations-more of success – and said although his frame of reference is limited on TV, he knew Saturday had to be a special turnout
.
Local journalism is essential.
Give directly to The Spokesman-Review's Northwest Passages community forums series -- which helps to offset the costs of several reporter and editor positions at the newspaper -- by using the easy options below. Gifts processed in this system are not tax deductible, but are predominately used to help meet the local financial requirements needed to receive national matching-grant funds.
Follow along with the Zags
Subscribe to our Gonzaga Basketball newsletter to stay up with the latest news.
---