Mt. Spokane plays "underdog," knocks off Mead to force three-way tie for first in Greater Spokane League wrestling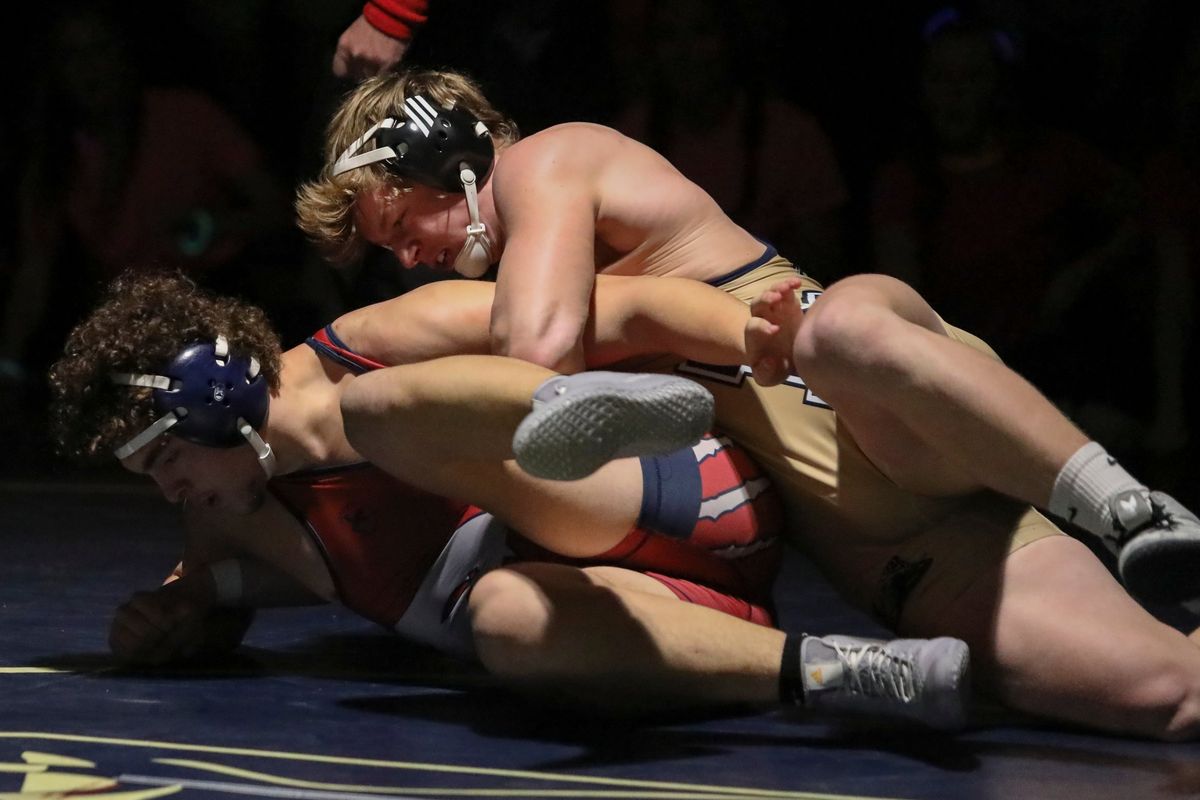 As it has been so many times in the recent past, the Greater Spokane League wrestling team champion came down to Mead against Mt. Spokane.
Mead entered the battle ranked first in the state, Mt. Spokane second. And with a state title contender – or two – in every match, you never know which result will be the momentum-changer – or the decision-maker.
In that tradition, Thursday's showdown at Mead lived up to the billing. Much like a heavyweight title bout, the perennial state powerhouses traded punches throughout the match, with the score never more than a few points apart the entire way.
In the end, the "underdog," if you can call the second-ranked team in the state an underdog, came out on top.
Freshman Brendan Hughes pinned fellow freshman Ethan Harvey with 2.8 seconds left in the second period of the last match of the evening, and Wildcats outlasted the defending State 3A champion Panthers 39-31.
The Mt. Spokane win forces a three-way tie atop of the league standings at 8-1 with Mead and University – which edged the Wildcats earlier in the season.
The atmosphere was as electrifying as the action on the mats, with a beyond-capacity crowd and students from both schools dressed in neon and glowsticks for the annual "Glowdown Showdown."
"We don't have enough of these like this anymore," Mt. Spokane coach Todd Slatter said. "Ten years ago, we had like four or five a year with East Valley and (Central Valley) and (University), but we just don't have enough of these. So, this is really good for the sport."
"It's great, great event," Mead coach Phil McLean said. "They wrestled well. Some of their kids stepped up and then, you know, they had a couple of big wins I wasn't expecting. And we had a couple I didn't know about. I told everybody, I'm like, 'Hey, it's gonna be a donnybrook. It's gonna be really good.' "
Mead trailed by five points with three matches to go.
A pair of seniors went at it at 160 pounds, with Mead's Austen Justice, the state runner-up last year and ranked No. 3, earning two early takedowns of Christian Martin to lead 4-1 after one period. Justice made quick work of Martin in the second with a pin, giving Mead a one-point lead.
Mead's Mason Knigge took on Hunter Osso at 170, seniors ranked third and fourth, respectively, in the state.
Neither could find an opening in a scoreless first period. Knigge had advantage to start the second and Osso escaped with a minute in the period for a 1-0 lead after two. Knigge got the point back quickly in the third and with both looking for advantage, Osso got leverage and threw Knigge for a 6-1 win and a 33-31 lead for the Wildcats.
That set up the freshmen at 182.
Hughes got a takedown 30 seconds in and worked on Harvey from on top for the rest of the period. Hughes started the second period down but quickly escaped into a turnaround for two more points. Hughes rode Harvey again, and the Mt. Spokane wrestler was issued a warning,
Hughes took advantage, got Harvey on his back, and got the pin with 2.8 seconds left in the second to preserve the win for the Wildcats.
"I just wore him out," Hughes said. "Once I got him on his back, I knew it was over."
"That was awesome," Slatter said. "When we drew, it wasn't necessarily a great draw for us because we were not quite as strong through the middle as we are up top. But we knew we were in good shape at 182 and 195. So, once they got to that last match, we were happy with where it was at."
"They're both tough," McLean said of the pair of ninth-graders. "And you know, they don't even know that yet. That's pretty exciting for our league."
The match started with the heavier weights, with the 195-pounders going off first. Mead's Braeden Harvey took on Jarom Liljenquist, ranked No. 1 in state according to WashingtonWrestlingReport.com.
Harvey got the early advantage, but Liljenquist was able to turn him toward the end of the first, working hard on Harvey's left arm. Harvey flipped, and Liljenquist got him on his back for the pin in the first period.
Mead's Chris Grosse, a state participant last season, was the aggressor in the 220-pound match with a quick takedown, but the Wildcats' Daren Airey, ranked fifth in state, escaped to half the deficit. Grosse scored a second takedown just before the end of the first period.
Grosse made it 8-2 after two. He immediately escaped at the start of the third to make it 10-2 and another takedown late made the final 12-5 for a major decision.
The heavyweights followed. Mead's all-league offensive lineman Jacob Gatlin and Mt. Spokane's Jesse Weiland sparred scoreless in the first, but Gatlin came out in the second to throw Weiland and earn a quick pin.
"We came in not sure how we'd do with all the matchups – we had to juggle some things around," Liljenquist said. "When we lost the two top weights, it was pretty sketchy there on the lineup for sure. I mean, at that point it was real close."
Last year's state runner-up at 106 and current state No. 1, Mt. Spokane junior Tanner Crosby, outlasted freshman Kaysic Lundquist 12-11 and Mead held a 10-9 lead after four matches.
Mead freshman Billy Weisgerber (113) earned three points, then Mt. Spokane senior Kaleb Nelson (120) won by pin to put the Wildcats up 15-13 through six matches. Jason Bonnett's decision in the 126 match pushed the lead to five.
Mead junior Braxton Smith, ranked fifth in state at 132, got a quick takedown on sophomore Blake Falkner then a near fall at the end of the first period. Falkner returned the favor with a takedown at the start of the second and he tied the match with a near fall 30 seconds later.
Falkner held an 11-7 lead entering the third. He got Smith on his back and with 52 seconds left in the period got the upset pin for a 24-13 lead.
Mead's Sam Arai got those six points back with a fast pin of Nathan Akers at 138 and Josh Neiwert, No. 1 at 138 but wrestling up, did the same at 145 to put Mead up 25-24.
Mt. Spokane's Hudson Buth, the state runner-up at 145 and ranked No. 2, pinned Tyler Vanderventer with 2 seconds left in the first period to make it 30-25. He was wrestling up at 152.
"That was great," Buth said, "Just such a great feeling to win on my last match, and when we're the underdogs, it's even better."
---