Kellogg High's Stephen Paul puts his back and his golf game to the test at U.S. Junior Amateur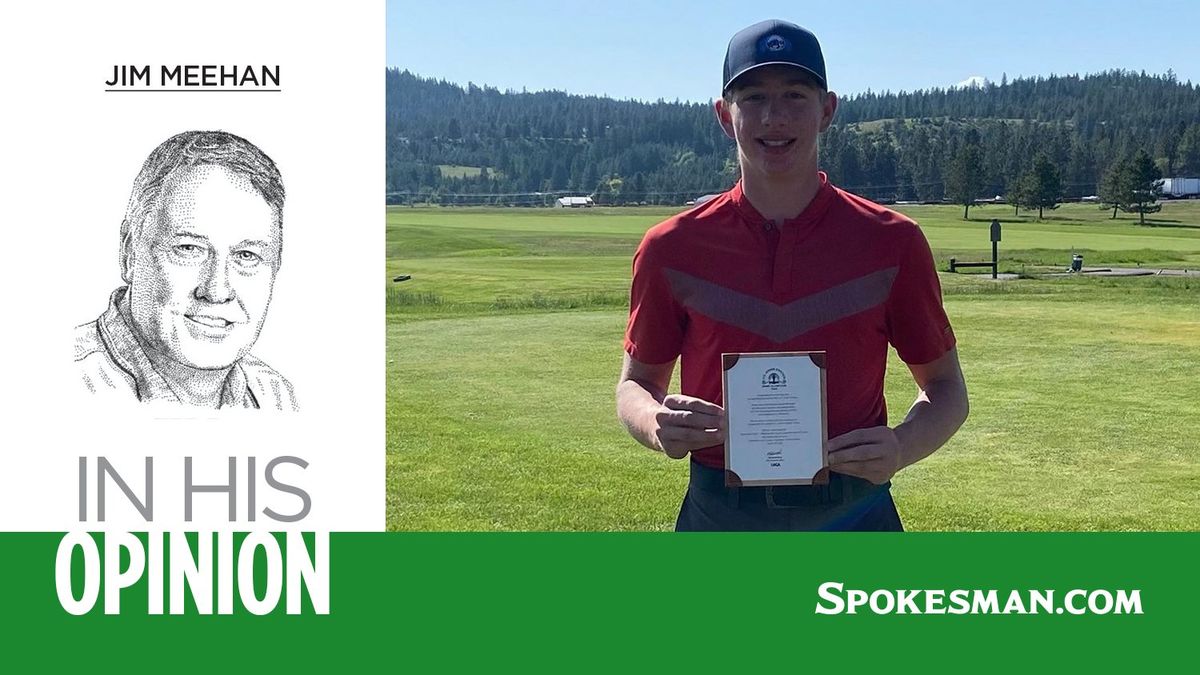 Stephen Paul left for the prestigious U.S. Junior Amateur likely with more questions about his back than his game.
Both are directly connected, but Kellogg High's two-time state champion has shown what he's capable of when healthy with an exceptional couple of months on golf courses in Idaho and Washington.
At an entertaining shootout at The Links in Post Falls, Paul drained a lengthy eagle putt on No. 18 for an 8-under 65 – yes, par was 73 – for a one-shot win over Seth Swallows of St. Maries to earn district medalist honors in May. Paul was 9 under over the last 12 holes.
"Playing the last three holes I was three shots back," he said. "I finished birdie-birdie-eagle. Seth played amazing."
A week later, Paul opened with an 8-under 62 at Sage Lakes Golf Course in Idaho Falls. He closed with a 70 to bring home his second state title. He won as a freshman in 2021 with scores of 73-74.
"Being completely honest, the 8 under at The Links was a million times better in my opinion," Paul said. "The course was not easy, but The Links is a lot tougher because it gets windy out there."
In early June, Paul returned to The Links and snagged a spot in the 75th U.S. Junior Amateur. Billy Davis, who spent summer months in Chewelah as a youngster with twin sister Anna playing in regional events, was medalist with a 66. Billy and Anna, No. 4 in the World Amateur rankings, have committed to Auburn.
Paul, who shot a 69, was in a 3-for-2 playoff with Max Herendeen and Coeur d'Alene's Trey Lambert. All three birdied the first extra hole. Herendeen, 2022 Washington 3A state champ and Illinois commit, advanced with a par on No. 2. Paul qualified with a birdie on No. 3 when his approach from 115 yards out of the rough stopped within a foot from the cup.
"I was pretty much in disbelief because I hadn't qualified for anything that big," Paul said. "I've played in a lot of smaller events, junior tournaments and state, just nothing at the national level."
Right around the same time, Paul's back began acting up. The timing is less than ideal, cutting into his daily routine of playing and/or practicing at Shoshone Golf Club. He had to withdraw from a recent tournament and he was still feeling some discomfort last week when he took a full swing.
He's experienced back pain before, but the issue this time is "muscle tightness." He's optimistic a combination of medicine, physical therapy and reduced practice sessions will have him ready to take his place among 264 of the planet's finest golfers under the age of 19 in Charleston, South Carolina.
Paul and caddie Trevor Fedele were scheduled to arrive Friday. Paul said he'll scale back on practice rounds Saturday and Sunday if necessary and focus on short game/putting to make sure he's ready to go for Monday's 5:54 a.m. PT tee time.
He's traveled an interesting path to arrive at perhaps the biggest stage in junior golf. Paul's introduction to golf came at age 7 when his father, Martin, brought him along to the course. Stephen's initiation was hitting balls on the range and putts on the practice green.
Roughly two years later, he qualified for a Drive, Chip and Putt in Utah, one step from making the finals at Augusta National.
"From what I remember, I always swung it pretty good and I credit a lot of that to my dad," Paul said. "He's from Scotland and when he was younger he wanted to be a pro golfer. My dad was a good starting coach for me."
Paul became more interested in golf and began competing in area junior tournaments. He spent long hours at Shoshone Golf Club working on his game.
He helped Kellogg capture a state title as a freshman. He spent his sophomore year at Premier Golf Academy in San Marcos, California, splitting time between school and golf.
"It was interesting being away so long from home, about seven months," Paul said. "It's definitely one reason I can shoot better numbers."
Prior to capturing his second individual state title in May, Paul went to Scotland last winter and his game took another step forward. He didn't play particularly well, but he improved on the greens after working with instructor Oliver Martin.
"I relied on timing instead of technique. It was so bad," Paul said. "From then on, my good putting days are a million times better than they used to be."
Paul also made big gains by hitting the gym. He added pounds, muscle and it translated to an additional 45 yards in length.
"It was the first time I definitely took it seriously, diet, all of it," said Paul, who has caught the eye of a few college programs, including Grand Canyon and North Idaho College. "And playing in that weather made me realize how nice it is to play here even if it's 60 and rainy."
Paul was maybe 5-foot-6 and 140 pounds as a freshman. He's currently 6-0 and 162 pounds. Drives that carried 240 yards a few years ago now soar 285 yards.
Paul hopes his back cooperates this week in South Carolina. The top 64 after two stroke-play rounds advance to match play, which begins Wednesday at 7,367-yard Ralston Creek.
"I would love to qualify for match play, that's my first goal," said Paul, who thanked Dave Smith Motors – his father is an employee – for a financial contribution and several Shoshone golfers pitched in to help with tournament expenses. "If I can make it to match play, anything can happen."
---