In the Kitchen With Ricky: Celebrate mango season with a tropical margarita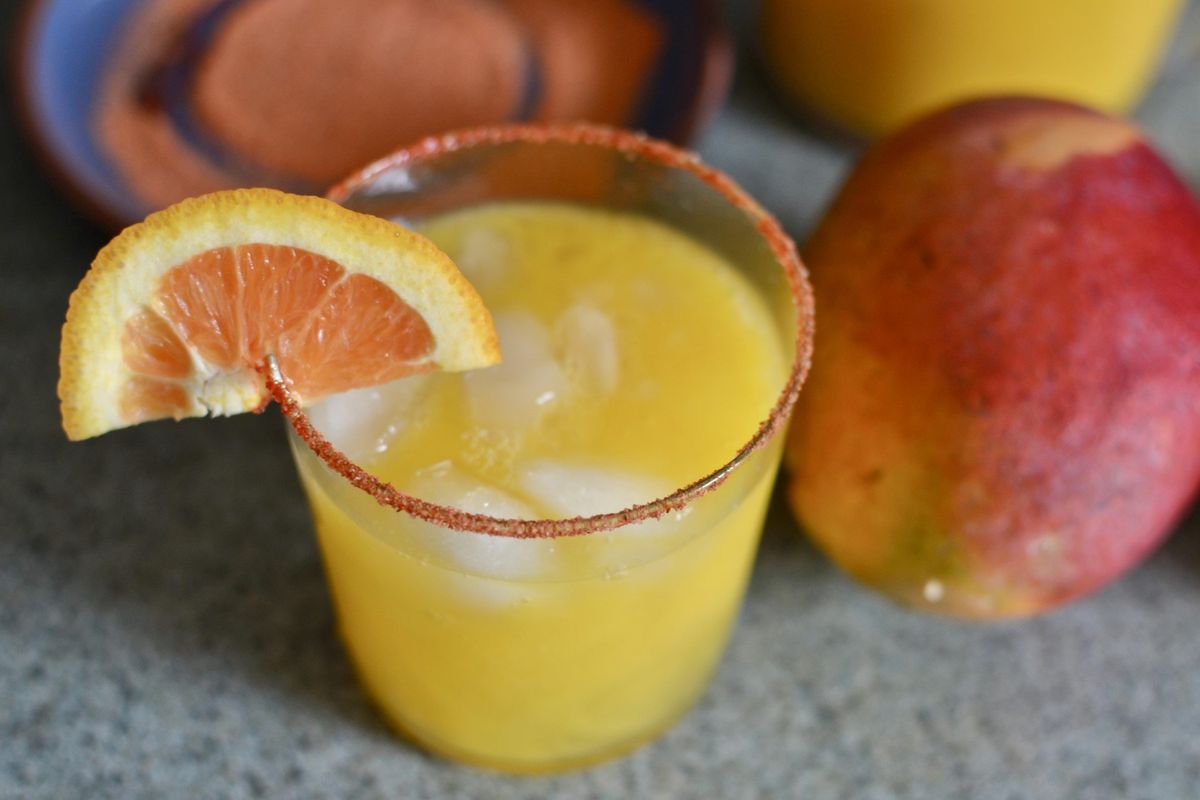 It is mango season! I adore fresh mangos this time of year (May-September). Eaten by themselves, used in a dessert, cocktail, salad, salsa or even entrée, they are a delicious way to add a tropical twist and new flavor to your everyday eats.
There are a thousand different mango varieties, and India is the leading producer of this fruit. Here in the United States, however, we only see a few of those varieties. In fact, Mexico is the leading supplier of mangoes to the U.S., and a fresh mango with a little bit of Tajin (a Mexican chile lime seasoning that can be found in most grocery stores) is one of the yummiest snacks. In fact, that is what inspired today's recipe.
It's no wonder that mango is one of the most popular flavors of margarita. The spiciness of the tequila is deliciously balanced out by the sweet and almost creaminess of the golden orange fruit. With the addition of the acid from citrus, you're hitting so many flavor profiles that your mouth is really experiencing a party and it becomes a craveable sip.
Make a virgin margarita by simply shaking the mango mix (recipe below) with ice and pouring it into a lime and Tajin rimed glass. Topping the drink off with sparkling water gives it a nice mouthfeel and you barely miss the tequila!
Enjoy mango season everyone!
Fresh Mango Margarita


Mango mix:
1 medium mango, peeled, cored, and diced
1 large orange (or 2 medium), juiced
1 lemon, juiced
2 limes, juiced
2 tablespoons agave or honey
1/2 teaspoon kosher salt (helps to bring out the sweetness)
1/3 cup water
For margaritas:
2 cups of ice, plus more for the individual glasses
1/4 cup orange liquor, such as Cointreau, Grand Marnier or triple sec
½ cup tequila (see note)
For rim:
Citrus wedges
Tajin or salt
To make the fresh mango mix, blend mango chunks, citrus juices, agave or honey, salt, and water.
Mix using a blender until smooth.
Mixture will be thick but will thin out when shaking up the cocktail. The reason it is so thick is because of the fiber in the mango; you can strain this out using cheesecloth over a sieve, but I have always been a fan of the pulpiness.
This mixture can sit in the refrigerator for up to three days before using, so it's great to do ahead and is also delicious as is for a nonalcoholic beverage.
To make the margaritas, I chose to do it as a pitcher, but you can make them into single serving sizes by dividing up mix and alcohol portions into quarters.
Either way combine the mango margarita mix along with the ice, orange liquor and tequila, shake or stir well (if making in a pitcher) or until ice has broken down a bit and mix is a bit frothy.
Pour into an ice filled glass that has been rimed with citrus juice and salt or Tajin.
Enjoy!
Makes 4 margaritas
Note: For this recipe, I recommend silver tequila, also called tequila blanco. This is an unaged, clear tequila.
Local award-winning chef and Rind and Wheat owner Ricky Webster can be reached at ricky@rindandwheat.com. Follow Webster on Instagram @rickycaker.
---