State 1B boys: Wellpinit wins first state championship in school history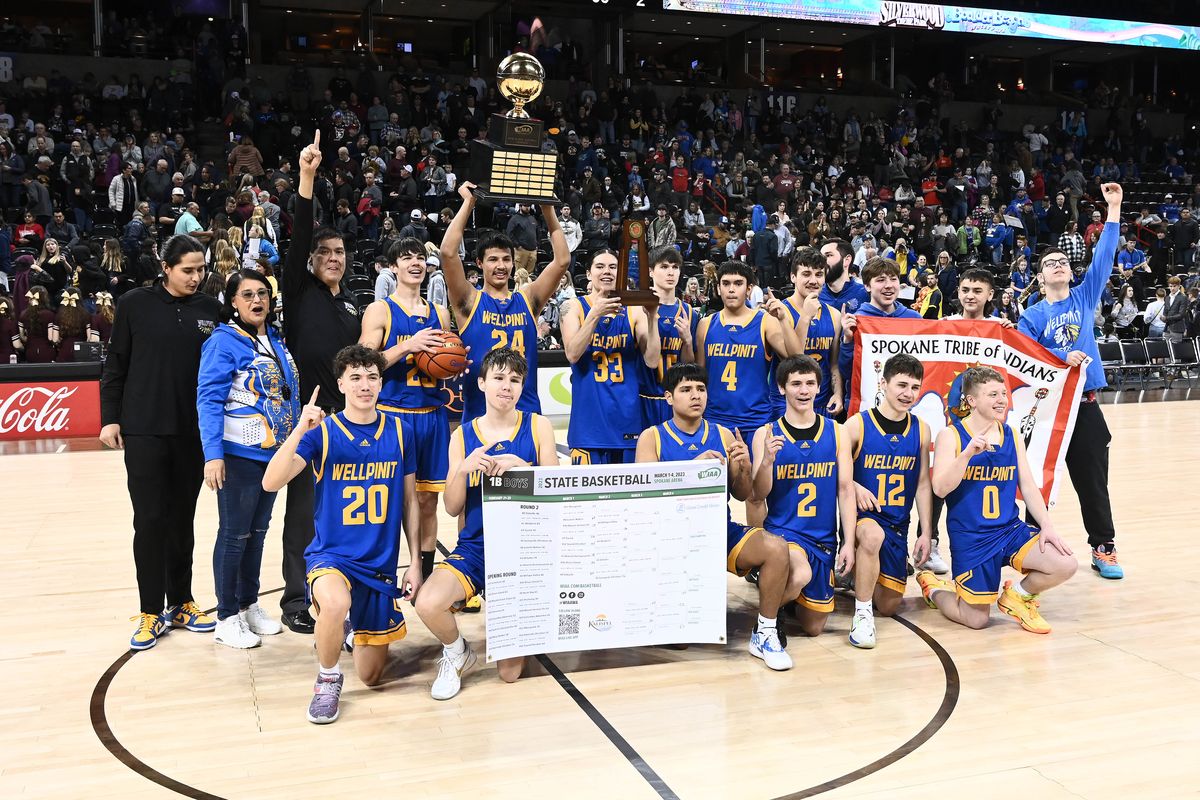 It's amazing what can happen over the course of a year.
The Wellpinit boys basketball team saw its season come to a disappointing end in 2022 following a first-round loss to DeSales in the State 1B tournament.
Wellpinit accomplished more this year than advancing out of the opening round.
After qualifying for the program's first state championship game following Friday's semifinal win over Willapa Valley, top-seeded Wellpinit showed toughness and grit Saturday night at the Arena, defeating second-seeded Sunnyside Christian 55-50 to bring home the school's first state title.
"They played the whole season as one," Wellpinit head coach Billy Flett Sr. said. "Honestly, they just came together as a family. They would not let the negativity from the outside come into their circle, and it was just awesome."
David Wynecoop III led all Wellpinit scorers with 12 points and made four of the team's nine 3-pointers.
That was kick-started in the first quarter when Wellpinit went up 15-6 .
"I'm so happy right now," Wynecoop said. "I don't know how to feel right now. Probably when we get back into the locker room I'm going to cry, but that's what happens when winning this. I loved being here and I'm happy we came out with the win in my senior year."
Wellpinit's offensive output continued in the second quarter, scoring transition baskets off turnovers.
Wellpinit's lead increased to 11 points at halftime, but Flett had a feeling something was going to come from Sunnyside Christian in the second half.
"We controlled the tempo," Flett said.
"Before we went into the locker room, me and my coaches talked about that. What we needed to do was to control the first 3 minutes in the second half, because if we don't control the first 3 minutes in the second half, we're going to give them hope for coming back at us."
Following a pair of 3-pointers by Wynecoop to start the third quarter, Sunnyside Christian switched up defenses to a 1-3-1 zone.
The long arms of the Knights' defenders made it a challenge for Wellpinit to find offense and the turnover margin switched, creating a 16-4 run for the Knights to cut the lead to five.
Wellpinit responded as Andrew Moyer hit a 3-pointer to end a 3-minute scoring drought for an eight-point lead going into the final quarter.
"What I'm proud of is the boys stood their ground and held their own," Flett said.
"Ball movement is key," Wynecoop said.
"Us moving the ball around and finding those open shots, that's what we work for. That's what we practice."
The Knights made one last push in the final quarter. Cole Wagenaar, who finished with 16 points, made a pair of jump shots to cut the deficit again. Wellpinit continued to respond on the offensive end until it was holding up the gold ball after the final horn.
"Very first time but a veteran team," Flett said. "The crazy thing is we got five seniors, but I got seven of 12 coming back. That's pretty good.
"I think we will be contenders next year."
Along with Wynecoop , eight other Wellpinit players scored, including Grant Denison with nine points and Jeffrey Moyer III with eight.
Buddy Smeenk scored 16 points and Isaac DeBoer added 11 for the Knights.
Sunnyside Christian coach Dean Wagenaar announced before the game he is retiring after 27 years.
---