Sports > High school sports
State 1B girls: Neah Bay captures first championship with 56-54 win over Mossyrock
March 4, 2023 Updated Sat., March 4, 2023 at 9:01 p.m.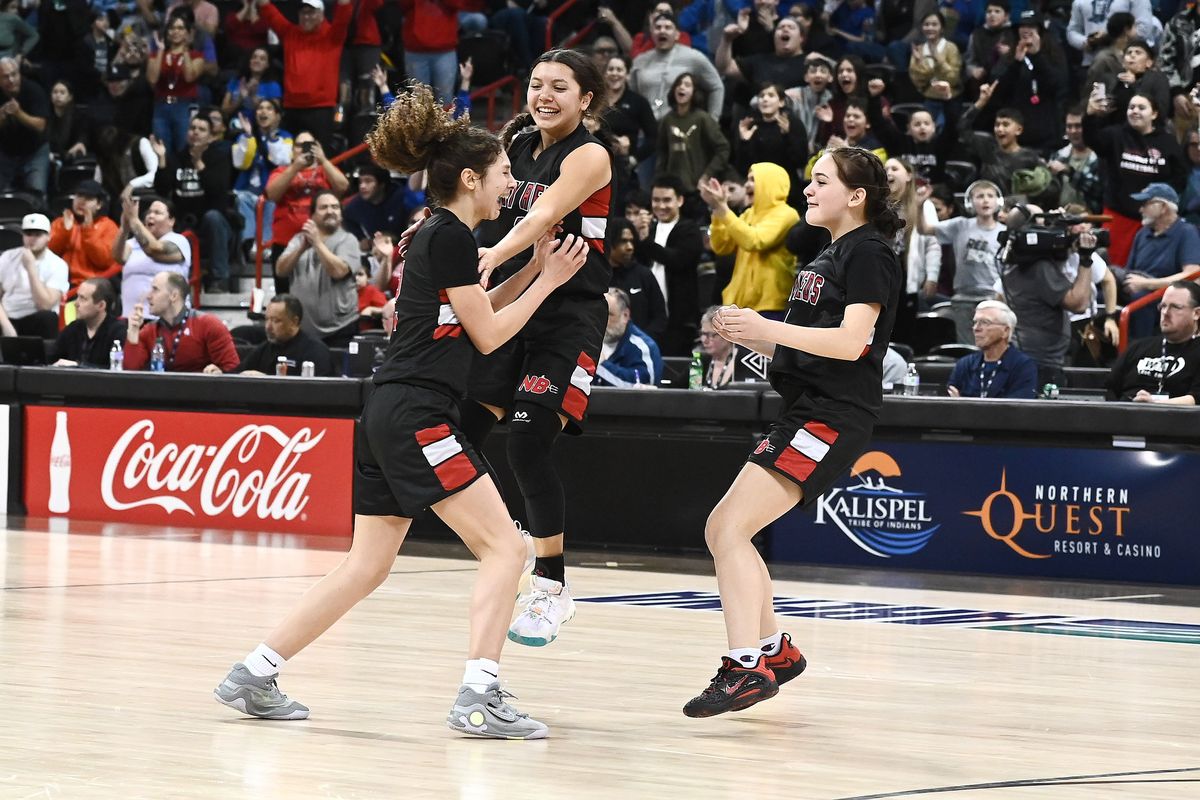 Neah Bay Red Devils celebrate after a 56-54 win over Mossyrock Vikings during the State 1B Girls Championship game held at the Spokane Arena on Sat. March. 4, 2023 in Spokane WA. (James Snook)
Two points in the state of Washington can hardly be farther away from each other than Neah Bay and Spokane.
Last year, after losing the state title game, that 8-hour drive felt awfully long for the Red Devils girls basketball team.
This year's journey is probably going to be much more upbeat.
After trailing most of the game, No. 1 seed Neah Bay used a 14-3 fourth-quarter run to finally slip past the second-seeded Mossyrock Vikings. The Red Devils held on for a 56-54 victory Saturday to claim the State 1B championship for the first time in school history.
"It was frustrating. You went back mad," Neah Bay head coach Cherish Moss said of last year's loss to Mount Vernon Christian, when she was an assistant coach. "But I understood what we needed to do. I understood a lot of things needed to change, and that's just what we did.
"We felt that second place, and we didn't want to feel like that again."
Neah Bay senior Allie Greene scored 13 of her team-high 19 points in the second half as the Red Devils (23-1) kept up with Mossyrock (22-4), which led by as many as eight.
On the Vikings' first possession of the fourth quarter, Abbie Lovan's putback gave Mossyrock a 41-37 lead. But Greene quickly answered with a runner in the lane, and that kicked off the Red Devils' big run.
Junior Ryana Moss hit a pair of free throws to tie the game at 41, then she hit a 3 from the wing to give Neah Bay its first lead since the first quarter. The Red Devils – who beat the Vikings by three in overtime on Dec. 30 – led the rest of the way, and never again did the Vikings have the ball with a chance to tie.
"We focus on defense on boxing out," Cherish Moss said, "and when you focus on that, everything else comes, so we just kept going to that."
Greene made 4 of 6 free-throws down the stretch to fend off the Vikings. In three games at State, Greene scored 54 points and made 18 of 32 field-goal attempts.
"We've been in a lot of tough games this year," Greene said. "We know how to fight through."
Neah Bay junior Amber Swan, who drove for two crucial four-quarter baskets, finished with 11 points and a game-high 11 rebounds. Freshman Angel Halttunen added nine points and five rebounds, including one in the final minute after a missed free throw.
After making 24% of their field-goal attempts in last year's title game, the Red Devils shot 47% from the field – including 6 of 9 on 3-point attempts – and sank 16 of 22 free throws.
Mossyrock, which won a State 2B title in 2007, lost just two games to 1B teams this year, both to Neah Bay.
The Vikings' senior trio led them in scoring again: Caelyn Marshall scored 17 points, Hailey Brooks had 15 and Payton Torrey added nine. Through three games at state, they combined to score 132 of Mossyrock's 173 points.
Local journalism is essential.
Give directly to The Spokesman-Review's Northwest Passages community forums series -- which helps to offset the costs of several reporter and editor positions at the newspaper -- by using the easy options below. Gifts processed in this system are not tax deductible, but are predominately used to help meet the local financial requirements needed to receive national matching-grant funds.
Subscribe to the sports newsletter
Get the day's top sports headlines and breaking news delivered to your inbox by subscribing here.
---