Sports > High school sports
State 2B girls: Colfax hangs on to beat Okanogan 59-52 after enduring late run
March 4, 2023 Updated Sat., March 4, 2023 at 10:33 p.m.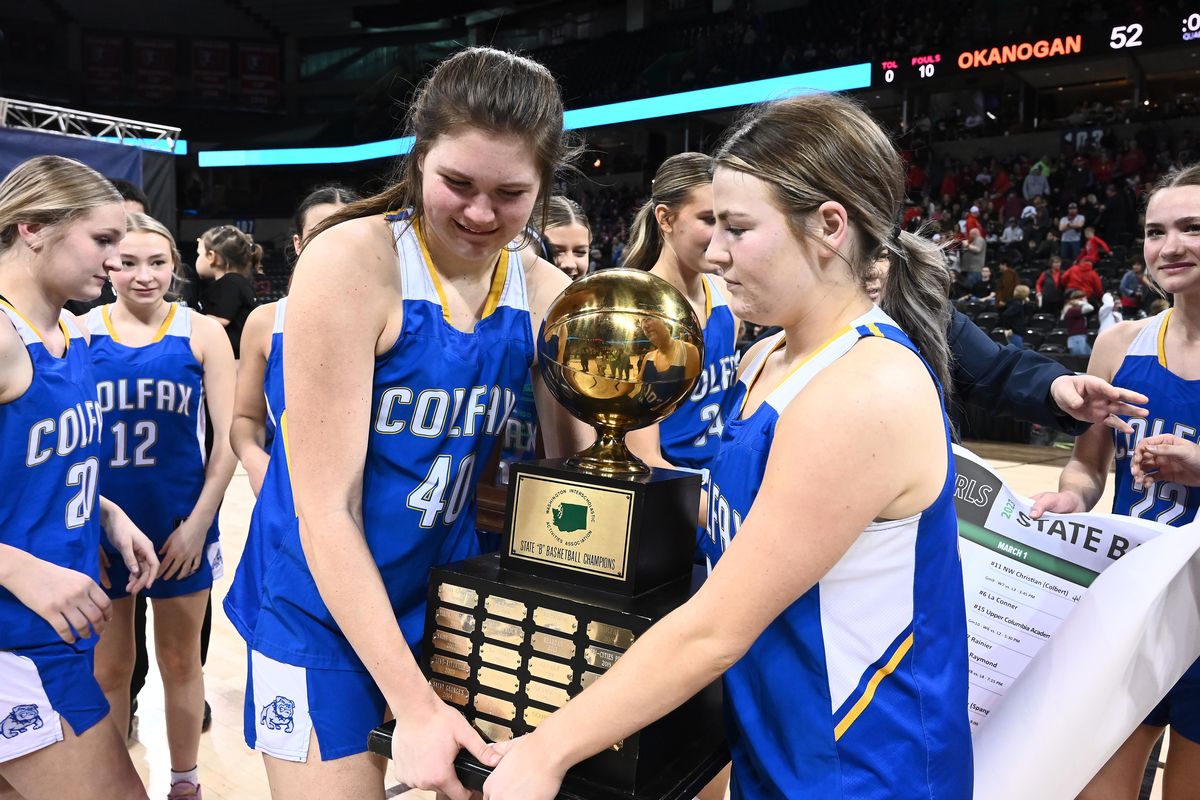 Colfax celebrates a 55-50 win over Okanogan in the State 2B girls basketball tournament championship Saturday at the Arena. (James Snook)
As Colfax's lead evaporated from 16 points to two in a 3-minute span of the fourth quarter, the Bulldogs looked to the person they deemed most suited for the moment: starting point guard Jaisha Gibb.
And as her teammates have come to expect, Gibb came through.
With top-scoring sophomores Brynn McGaughy and Hailey Demler in foul trouble, the senior Gibb did a little bit of everything as Colfax held off Okanogan for a 59-52 victory on Saturday night in the State 2B girls basketball tournament title game.
"Jaisha is such a calm, consistent player in every sport she's in," Demler said, "so we look at her as a leader."
Even as that lead slipped away, Gibb said the team remained calm.
"We were nervous," she said, "but we weren't scared."
The victory completed an undefeated season for Colfax (28-0); the last program to do so was, coincidentally, Okanogan, which finished 27-0 in 2015 and 2016.
"To watch my kids rise up," Colfax coach Jordan Holmes said, "I couldn't be more proud."
Demler and McGaughy combined for 29 points in the first half as Colfax built a 37-18 lead. But within the first minute of the third quarter, McGaughy got her second and third fouls, forcing her to sit. Soon after, Demler got her third and fourth fouls. In limited minutes, they combined to score just nine points in the second half.
Gibb had all 12 of her points after halftime, including seven in a key stretch in the third quarter when Okanogan (25-2) could only trim the lead down to 12. By the end of the third quarter, Colfax led 51-35.
Midway through the fourth quarter, Gibb neatly avoided an over-and-back with a tip-toe move at midcourt, then drove to the basket to increase Colfax's lead to 53-37, and that remained the score with 3:52 left in the game.
Yet Okanogan was not out of it. From there, it went on a 15-1 run, powered by three 3-pointers by Aleena Lafferty and punctuated by one more from Ayeris Jones, which cut Colfax's lead to 54-52 with 1:39 to go.
By then McGaughy had fouled out having played 23 minutes, her fewest of the tournament.
But after that shot by Jones, Okanogan didn't score again and committed a series of turnovers. Colfax, meanwhile, made 5 of 8 free throws down the stretch to close out the victory.
The junior Lafferty led Okanogan with 17 points and 11 rebounds. The senior Jones had 16 points and 10 rebounds, while freshman Jacey Boesel – who also fouled out late – had 10 points and six rebounds.
The victory was a redemption of sorts for Colfax, which lost the title game to Warden 70-55 last year It is also the program's fifth state title, having won in 2018, 2014, 2010 and 2009.
"I think about our seniors last year that won't ever get this moment and it started with them and they laid that foundation," Holmes said, "and the groundwork and their pain in that last game was our fuel for this year. This is (meaningful for) so (many) more than just the 12 in that locker room."
Local journalism is essential.
Give directly to The Spokesman-Review's Northwest Passages community forums series -- which helps to offset the costs of several reporter and editor positions at the newspaper -- by using the easy options below. Gifts processed in this system are not tax deductible, but are predominately used to help meet the local financial requirements needed to receive national matching-grant funds.
Subscribe to the sports newsletter
Get the day's top sports headlines and breaking news delivered to your inbox by subscribing here.
---