Sports
A Grip on Sports: Making the decision if it's time to go or to stay in college faces WSU Gueye this spring
Thu., March 30, 2023 A GRIP ON SPORTS • College athletes face a lot of decisions every day. But none are more important for the top-level ones than deciding when to tap into a professional future. Many times, they make the right one. Other times, they follow the wrong path. Some choices are clear, others murky. So, where does Washington State's Mouhamed Gueye's decision fall on the career map?
•••••••
• Gueye certainly acts ready to move on from Pullman after two years braving the cold that is nothing like his native Senegal. The 6-foot-11, 215-pound forward seems determined to head to the professional ranks after a stellar sophomore season that saw him earn first-team All-Pac-12 honors. His comments to the S-R's Colton Clark make that obvious.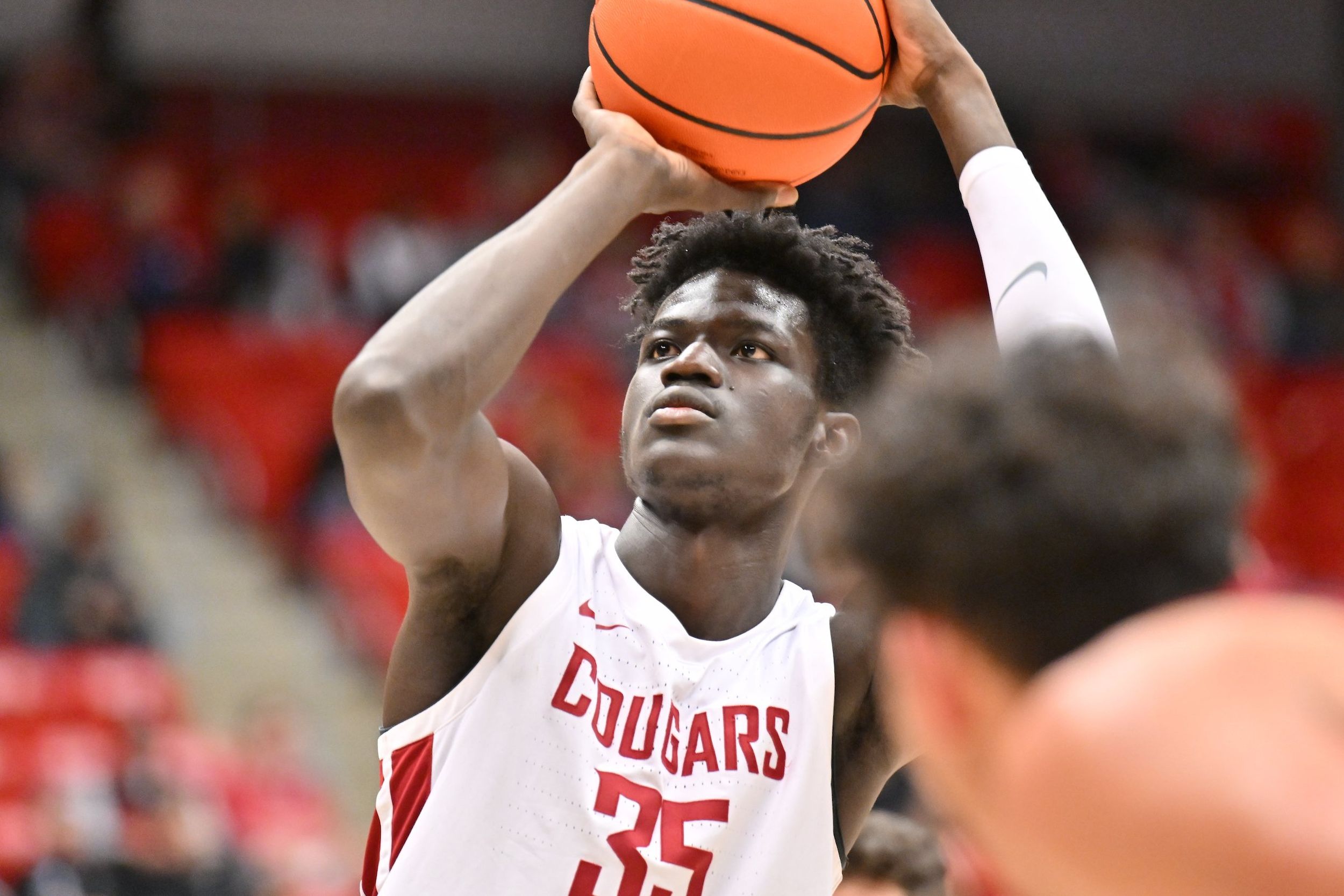 But is it the right choice?
Over the years we've seen local college players wrestle with the same decision. There is no perfect answer. No cookie-cutter formula that works for everyone. Each player has to make that decision on their own, working, often, from way-too-little information and way-too-big dreams.
For Klay Thompson, leaving WSU after three years was the right choice. He knew he was going to be a first-round pick, had an inkling that was going to be to Golden State and nothing could have been better. But he faced the same choice as a sophomore, one that wasn't as clear-cut. He might have been drafted in the second round. Maybe not. He stayed, got better and life has been pretty good since.
Another Cougar, forward Efe Abogidi, took the other path. After two years at WSU, he decided to become a professional. Turns out NBA wasn't an option. He wasn't drafted. Instead, he signed with the G League, the NBA's minors, and played this year with the Ignite. Is he closer to the top rung following that path? Considering he suffered a season-ending knee injury early this year with only average at best production, probably not.
Funny thing, though. His departure opened opportunity's door for Gueye.  
Gueye seized it. And now seems ready to walk through it. Last offseason, Gueye checked his NBA prospects. Didn't hear what he wanted. Returned to Washington State. This offseason? If he's a first-round pick – something that seems remote, as he's currently rated in the second round by most prognosticators – then the decision is easy. But it gets scarier if the first-round, with its guaranteed money, is not a sure thing.
Second-round picks only occasionally have financial guarantees in their contracts. It's possible but not mandatory. Without it, the team doesn't really lose much by cutting ties. The player carries all the risk. If playing in the NBA is the goal, the more ties with a team, the better. Otherwise, the first couple years can be filled with more downs than ups on the bumpy journey to prosperity.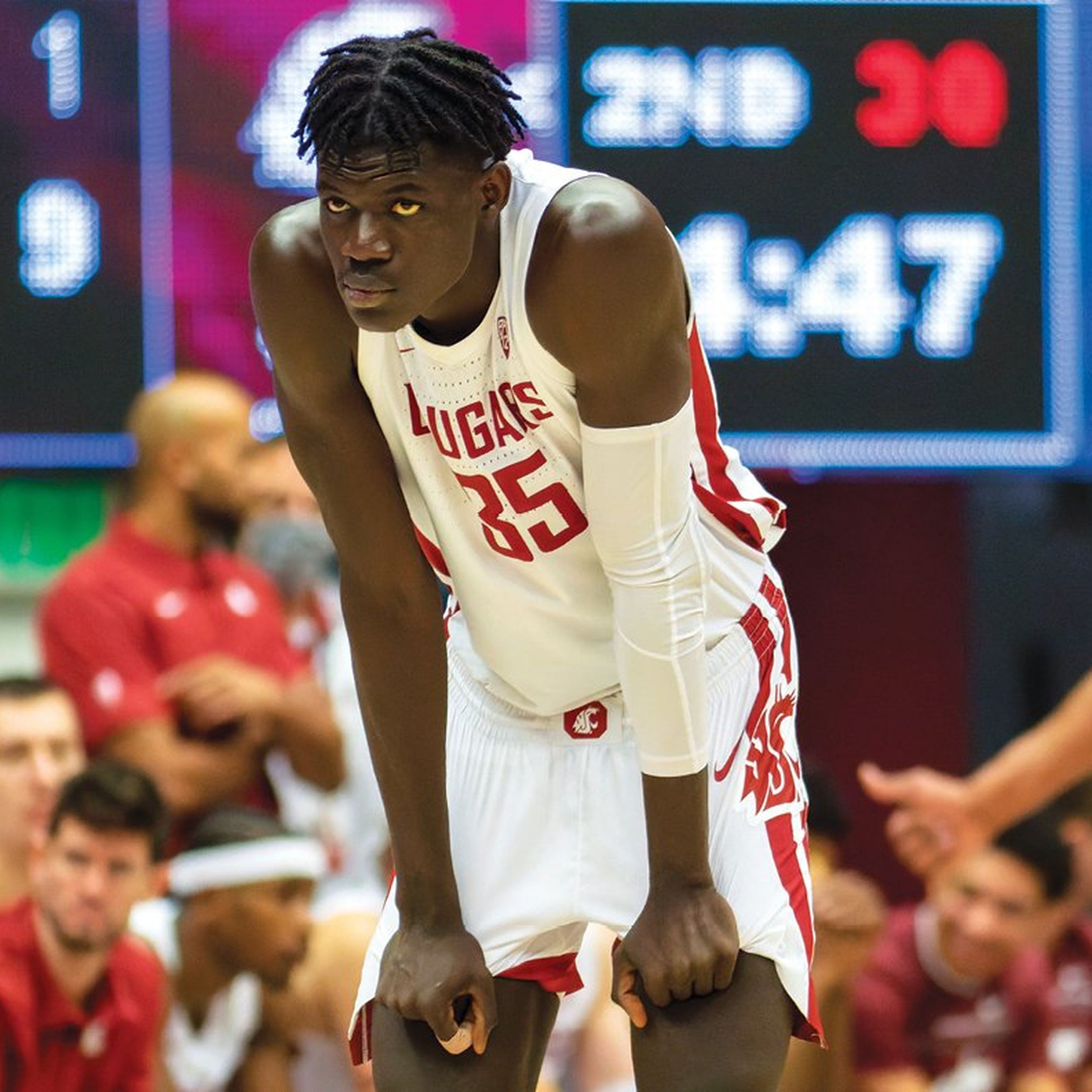 Gueye also has to decide if he will improve staying at WSU. Whether he can shore up weaknesses – strength, outside shooting – and highlight his strengths – mobility, touch around the rim, length.
As we said, it's a tough decision. And those who hand over advice? Often, they have motives that don't align with the player's best interests.
Gueye isn't the first player to go through this. He won't be the last. But that doesn't matter to him. What does is he makes the right choice. And that those who really care about him give their support. Unconditionally.
• We made a mistake yesterday when we lauded the accomplishments of the Conference USA schools playing in the postseason. We forgot Rice, which isn't hard to do unless you are at Panda Express.
The Owls also appeared in a postseason basketball tournament, competing in the CBI along with tournament champion Charlotte. But they didn't get far, going 1-1. That has been the conference's only loss. Until today.
With UAB and North Texas meeting in tonight's NIT final from the Orleans Arena in Las Vegas, Conference USA will add another win and loss to its 17-1 postseason record. Then we will have to sit back and see how Florida Atlantic does Saturday in the NCAA's semifinals.
No matter what, it's a darn good showing by the conference's schools. One we didn't have correct Wednesday. Sorry.
•••
WSU: We linked Colton's story on Gueye above and do it again here. … You know, the decision might be easier if college sports weren't in such a pickle with NIL and such. But probably not. Anyway, Washington State athletic director Pat Chun testified before Congress yesterday about the issue. Orion Donovan-Smith has this story from the other Washington. … WSU rates pretty highly in bang-for-buck. At least with Jon Wilner, who has this story in the Mercury News. … Elsewhere in the Pac-12 and college football, Washington held its pro day yesterday and one of the highlights was a baby carriage. The Huskies also practiced. … Oregon has to replace 80% of its starting offensive line. … An old Colorado assistant has a new role. … Cam Rising is around this spring. Utah's starting quarterback, however, is recovering from knee surgery. Will he be ready when the season begins? … USC is trying to expand its options among returning players. … Arizona has been doing some reshuffling among its receivers. … In basketball news, California made Mark Madsen's hiring official yesterday. … Colorado has to figure out what to do with its frontcourt. … Former Stanford coach Trent Johnson was fired at Cal State Northridge. … UCLA's Jaylen Clark, dealing with an Achilles' injury, is still declaring for the NBA draft. … With a new contract, Arizona State's Bobby Hurley can't be satisfied. … An Arizona walk-on has entered the portal. … Among the women, Washington's WNIT run ended last night at Kansas in a 61-36 semifinal loss. … Can Utah replicate its success.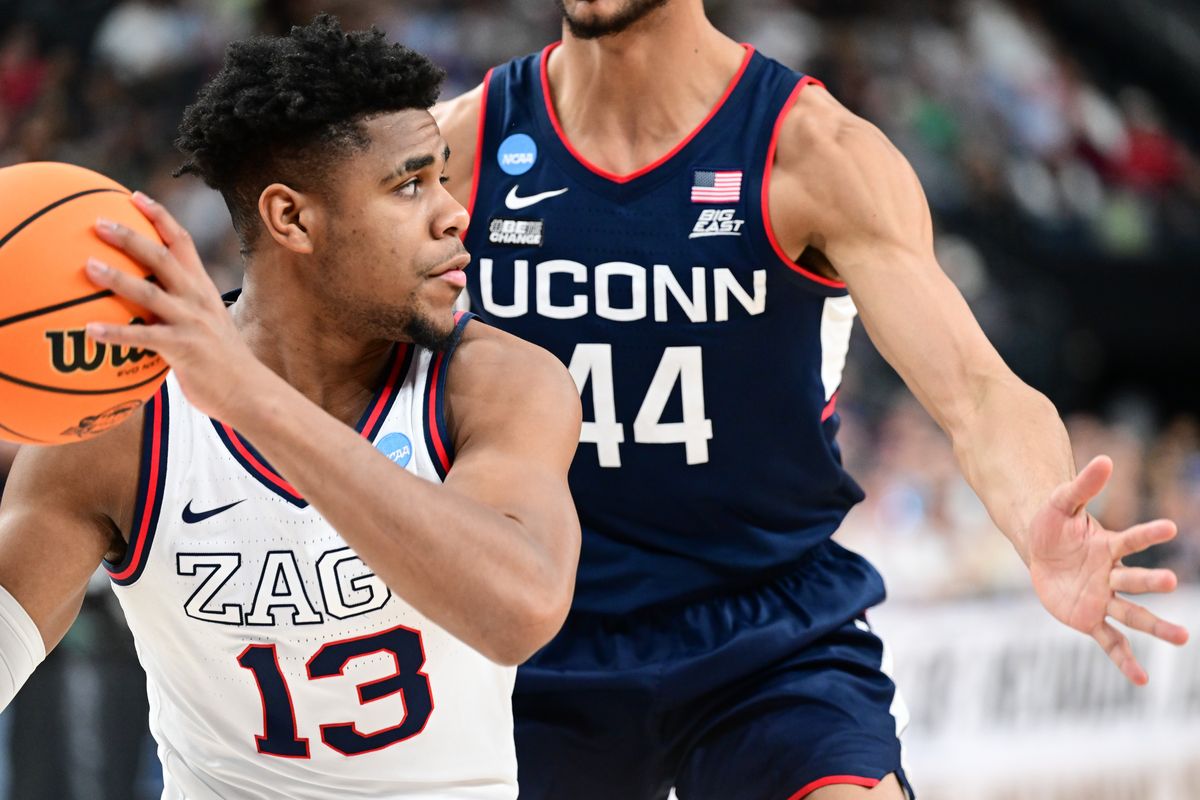 Gonzaga: One roster question answered, one still to be determined. The latter is covered today by Jim Meehan, who has this story on Malachi Smith, the well-traveled guard who blossomed in the latter stages of the NCAA Tournament. There is no hint if Smith will return for another season but he sure is grateful he had the opportunity this year. … Sophomore guard Dominick Harris has decided to put his name in the transfer portal according to a report. … The baseball team has had an opportunity to experience the new turf and new padded fences. They told Justin Reed how much both are appreciated. … Elsewhere in the WCC, Saint Mary's hired Long Beach State coach Jeff Cammon to fill its women's vacancy.
EWU and Idaho: Around the Big Sky, sixth-year football players used to be a rarity. Now, thanks to the pandemic, it's more common everywhere, including Montana. … Montana State is staying flexible with spring practices. … Women's basketball players at Northern Colorado and Montana State have entered the portal.
Preps: Former Mt. Spokane player Brady Hill is getting his chance this spring to show his wares in the Colorado Rockies training camp. Dave Nichols, who has been down in Arizona, talked with Hill, who also played at Washington State and San Jose State, and has this story. Hill has made the conversion to a relief pitcher and may end up in Spokane some time this season. … There is also Dave's roundup of Wednesday's prep action.
Kraken: There are assists and then there are live-altering assists.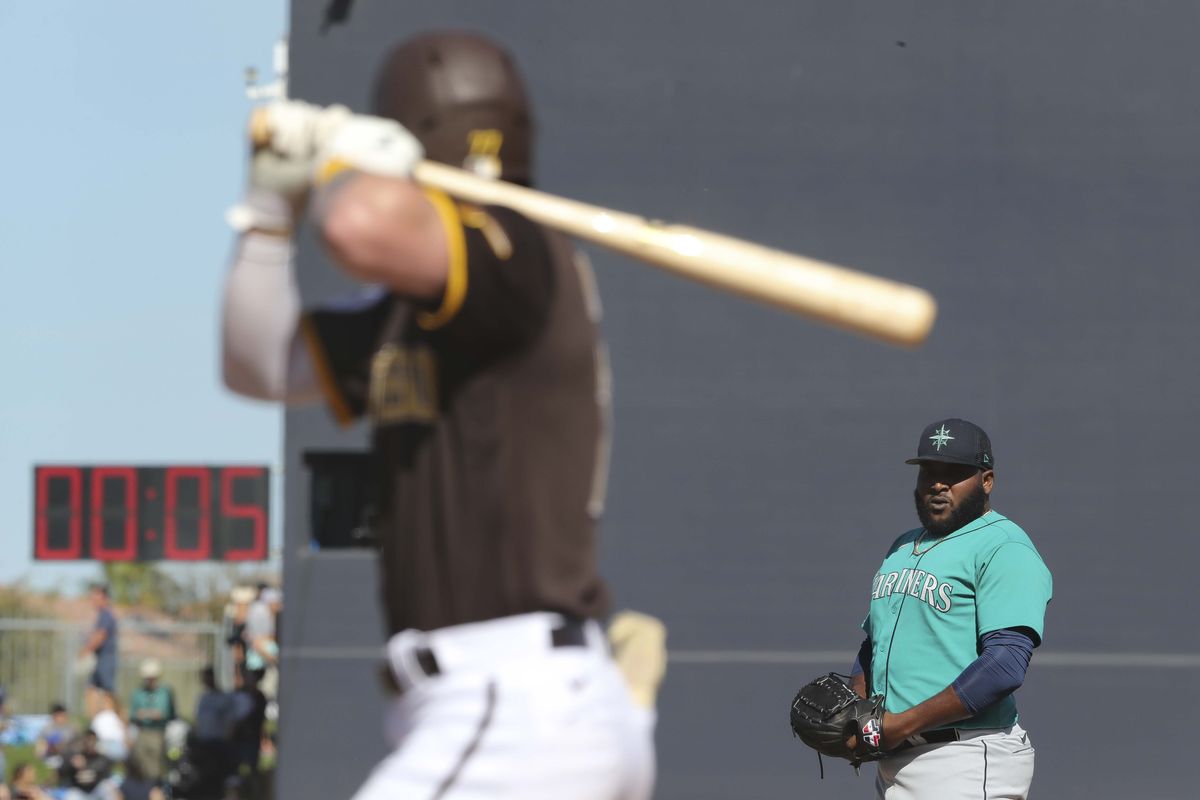 Mariners: There are good arguments for and against the M's having success this season. Ryan Divish outlines three of each. … Our buddy Jim Moore has his thoughts on the season ahead. … The M's workout Wednesday was open to the public and seems to have been fun. … Jarred Kelenic is right where he needs to be as that season begins tonight.
Seahawks: Pete Carroll and John Schneider are back on the road to watch quarterbacks. … No matter how you feel about the Super Bowl loss to the Steelers from back in the day, this is sad news. Referee Bill Leavey, who admitted he was haunted a bit by mistakes made in the game, died Tuesday at 76.
•••       
• We're leaving soon. Headed to Seattle. Spending three days watching baseball. We have a lot of warm clothes packed for the three nights. The tickets are in our phone, which is kind of sad. No more cool-looking cardboard tickets you can save for years. Everything is mobile. We get it. But still, sad. At least now when you say "I was there when …" no one can ask for your ticket to prove it. Of course, they will want a picture but that's another story. Until later …
Local journalism is essential.
Give directly to The Spokesman-Review's Northwest Passages community forums series -- which helps to offset the costs of several reporter and editor positions at the newspaper -- by using the easy options below. Gifts processed in this system are not tax deductible, but are predominately used to help meet the local financial requirements needed to receive national matching-grant funds.
Subscribe to the sports newsletter
Get the day's top sports headlines and breaking news delivered to your inbox by subscribing here.
---