Spokane County Prosecutor's Office won't retry Black man whose convictions prompted charge of racism by appellate judge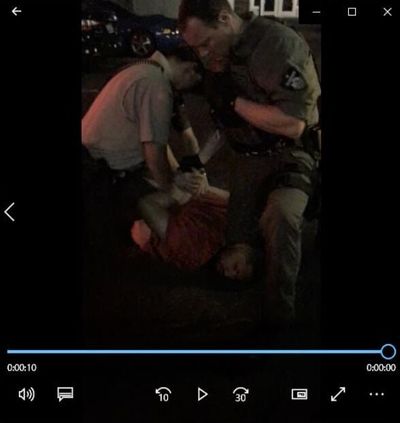 The Spokane County Prosecutor's Office will not retry the 26-year-old Black man whose convictions for resisting arrest were overturned earlier this month by appellate judges, one of whom said the case showed inherent racism in the county's criminal justice system.
Deputy Prosecutor Preston McCollum filed paperwork with the Washington Court of Appeals on Friday requesting the existing resisting arrest charges be dropped against Darnai Vaile. The majority opinion issued May 11 by a three-member panel of the Court of Appeals found that the judge and prosecutors had denied Vaile's right to defend himself by not playing for the jury audio of his arrest outside a Spokane Valley bar in August 2019.
The jury acquitted Vaile of the felony charges of assault on the two sheriff's deputies who arrested him after a woman claimed Vaile had kissed her without her permission. That same woman was the one who shot the video of the arrest. They found him guilty of two counts of resisting arrest, a misdemeanor, but Vaile received no jail time.
"Given that Mr. Vaile was acquitted on the felony charges and only the simple misdemeanor charges of resisting arrest remain, the State has determined that retrial would neither be a prudent use of judicial and administrative resources, nor further any deterrent or protective purpose," McCollum wrote. The office is also not seeking further review of the case by the Washington Supreme Court.
Based on the ruling from the judges, the prosecutor's office needs authorization from the appellate court to dismiss the case.
All three judges agreed the charges should be dropped, but Judge George Fearing went further, arguing the case demonstrated government misconduct based on race, and that the case should be dismissed. His lengthy dissent drew a rebuke from both the Spokane County Prosecutor's and Sheriff's Office, who disputed charges of racism and said the opinion showed disrespect for the woman kissed and would further discourage victims of assault from coming forward to authorities.
But Fearing and Vaile's attorneys noted that he was not charged with anything related to the alleged assault of the woman, instead charged with assault of the deputies who arrested him. Another woman, the sister of the woman kissed, was convicted of third-degree assault of one of the deputies.
---