A Grip on Sports: In the Apple Cup's case, what is old is new again and actually adopted in an altered form A GRIP ON SPORTS • Where does the time go? Other than into aches and pains, are we right? We went looking today through the newspaper's file and realized what we were looking for occurred in 2009. That's 14 years ago. Almost 15, considering the last time the Apple Cup was, seemingly, headed to the Seahawks' home field, was floated in April.
•••••••
• Some thought it was a cruel April Fools Joke. Others realized it was a desperate cry for financial help. But when we broke the story back then Washington State and UW were about to sign a deal to play their rivalry game in what was then called Qwest Field, no one thought it was a harbinger of chaos.
Actually, maybe some folks did. And wanted to beat it back. Definitively.
Washington and WSU announced Sunday an agreement to keep the Apple Cup going after the Huskies head off to the Midwest next August. A five-year deal. The first year will be played in Lumen Field, with seats split down the middle and the same with the proceeds. Then home and home games, starting in Seattle.
The response from the Cougar faithful was immediate. And, as far as we can tell, immediately negative. Just like it was in 2009.
Back then, we were living in Pullman. Covering the Cougars. Walking the Bohler Gym halls daily. Listening. And we heard something hard to believe. We found someone to tells us the story. Someone we could trust.
Turns out, UW and WSU had been talking for a while with First & Goal, Paul Allen's company that ran the Seahawks. When we found out about, the deal had gone from being all-but-signed to in-bad-trouble. We're sure the idea, in Pullman at least, was to hold the wavering Husky feet to the fire. It didn't work.
Why? Mainly because of pressure from fans, including influential boosters. How quaint. Back then, universities and universities' athletic departments cared about what those folks thought. For the same reason media companies matter today. The fans held the purse strings.
WSU needed to make its purse larger in 2009. And a six-year deal to take the Apple Cup to Qwest was worth about $4 million extra for the Cougar athletic department. It was a considerable sum.
And it didn't happen. Who knows. Maybe if then-athletic director Jim Sterk's idea had sailed through, Washington State wouldn't be in the lonely position it is in today. We doubt it, but in alternate universe somewhere, Sterk is still the A.D., the game is played every year at Lumen Field and Paul Wulff has won three Pac-16 titles.
What does that have to do with today? Little, except as another illustration of how far college sports has traveled in a relatively short time. The outcry killed the move then. This past weekend, it was announced as a done deal. Contracts signed and everything. Fans' opinions? Ha.
They have no say. And haven't. Since about 2009.
• We have to go back to that year, nearly, to find a Gonzaga team that is as little-thought-of this early in the season as it is today. And little the 11th-ranked Zags did yesterday afternoon against No. 2 Purdue will change the narrative.
Though, for a half, Jay Bilas was singing their praises, they were playing with a fire and had the Boilermakers clutching at straws. After halftime, though, the Purdue pressure increased and Gonzaga lost its way.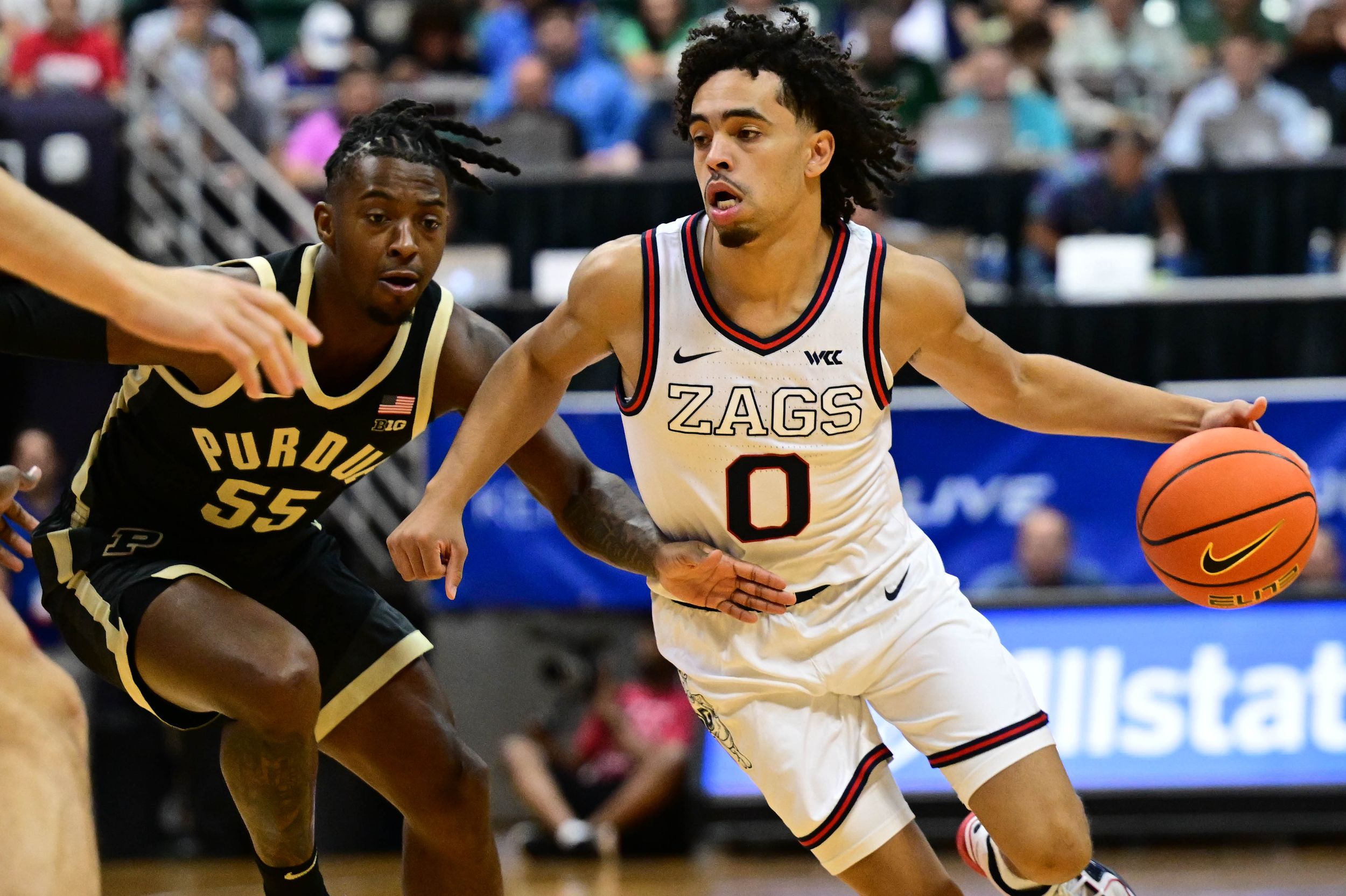 No matter how good Mark Few's teams have been over the years – and, with two national title appearances, they've been darn good – they are at their best when playing connected. Everyone is really, but the Zags' roadmap to success demands it.
They came apart in Monday's second half. And the person who should have pulled them together, new point guard Ryan Nembhard, didn't pull them back together. That's OK. He's new. He may not have the gravitas just yet to do it. He will. And the Zags will get better.
Sweet Sixteen better? Ya. Sure. Why not? The pieces are there. And Few has a track record. Built on playing together.
•••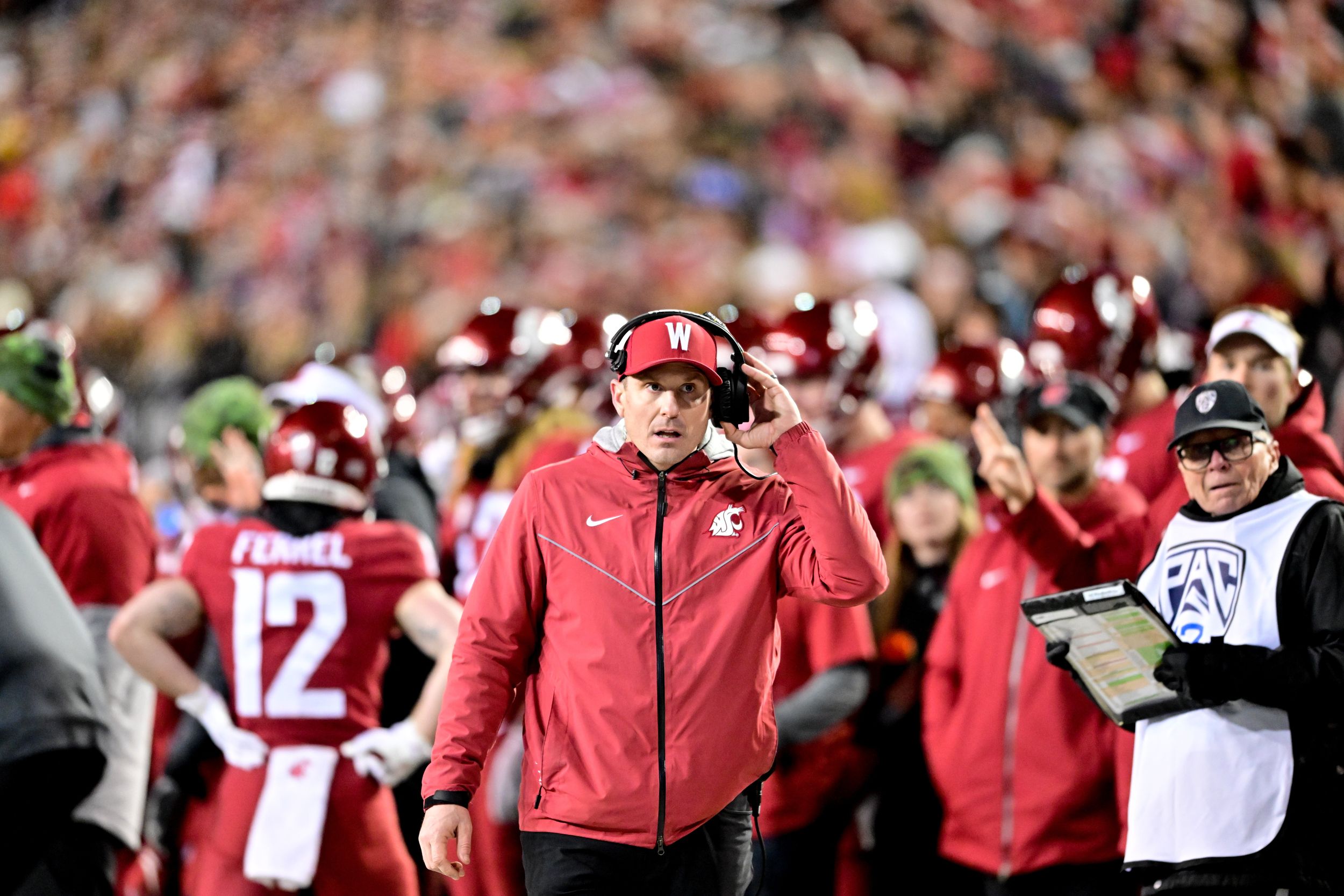 WSU: This year's Apple Cup will be in Seattle (the first of two there, actually). In Husky Stadium. With No. 4 Washington (as ranked by the Associated Press poll) playing host. Rain? Possibly. A rain of sound? Certainly. An upset coming? Well, Greg Wood has his first look at the game. With the spread opening at about 16.5 points in UW's favor, it would be quite an upset. … Jake Dickert is all in with the Apple Cup continuing. He understands the fans' opinions but also believes the game has to be played. We also will add one thought: With the game moving to September, the Cougars should be healthier than they usually are in November. And, as the program that usually has less depth, such things could really help. Greg actually has stories on such subjects. … Elsewhere in the Pac-12 and the nation, Jon Wilner has his conference power rankings in the Mercury News, along with those of the Mountain West. … The CFP rankings will be released again tonight. Is this when the Huskies finally move up? And how will the committee handle Florida State's big injury? … The Heisman seems to be a four-way race, with two of the frontrunners Pac-12 quarterbacks and one a former Pac-12 quarterback. … John Canzano put together a mailbag yesterday. … Washington played its worst half of offensive football this season against Oregon State. … Oregon and Oregon State are still trying to work out a continuation of their rivalry game. This year's edition is Friday night in Eugene. The Ducks may be playing better but the Beavers have shown a grim determination all season. … Stanford's season mercifully ends Saturday with a home game against Notre Dame. … California finishes up at UCLA with the Bears having a bowl berth on the line. … Speaking of the Bruins, the Big Ten should ensure the game with USC ends each regular season. … Why is Cam Rising coming back to Utah? Money, sure. And a good shot at winning another title. A Big 12 title. … Colorado's defense is awful on third down. … The Territorial Cup has a good time slot. It's a big rivalry. … In basketball news, the best game of the day was in Hawaii, where young UCLA took fourth-ranked Marquette to the wire, losing 71-69. … Oregon was shorthanded but still handled Florida A&M easily. … No. 18 Colorado surged past Richmond late. … Arizona remains third in the polls with a big game with Michigan State looming. … The Colorado women are up to third in the A.P. poll. … Utah fell in the polls. … Arizona won last night.
Gonzaga: We made all the observations listed above after watching the game in the comfort of our cozy TV room. Our TV Take is the result. … Dave Boling made is observations from courtside. He has this column with some of the same thoughts. … Jim Meehan has the coverage of the 73-63 defeat as well as a quick recap with highlights. … Theo Lawson has a trio of stories, the first looking at Purdue's biggest strength. He also has the difference makers and a look at the quick turnaround before today's game with Syracuse (11:30 a.m., ESPN2) and the key matchup from that game. … Tyler Tjomsland has a photo gallery from Honolulu. … Before the game, Jim got together with Richard Fox for a Zags Basketball Insiders Podcast. You can listen here. … Also earlier yesterday, Theo put together a story on Gonzaga's ranking. … Elsewhere in the WCC, could Santa Clara actually be the biggest threat to GU in the conference?
EWU: Despite back-to-back disappointing (and losing) seasons, football coach Aaron Best will be back next season. New athletic director Tim Collins made that decision and Dan Thompson reports it. … Elsewhere in the Big Sky, there is a decent explanation why Sacramento State made the playoffs and UC Davis didn't. … Former WSU defensive coordinator Chris Ball was fired as Northern Arizona's head coach after five seasons. Ball was 20-30 in Flagstaff and 5-6 this season. … In basketball news, Idaho State lost on last-second free throws after a really questionable foul call. The shooter wasn't even facing the basket. … Montana State also lost, to Green Bay. … Montana's women won at Grand Canyon.
Preps: Cheney High's Evan Stinson made it officially recently, signing his letter of intent to play basketball at Washington State. That leads off the S-R's most recent local briefs column.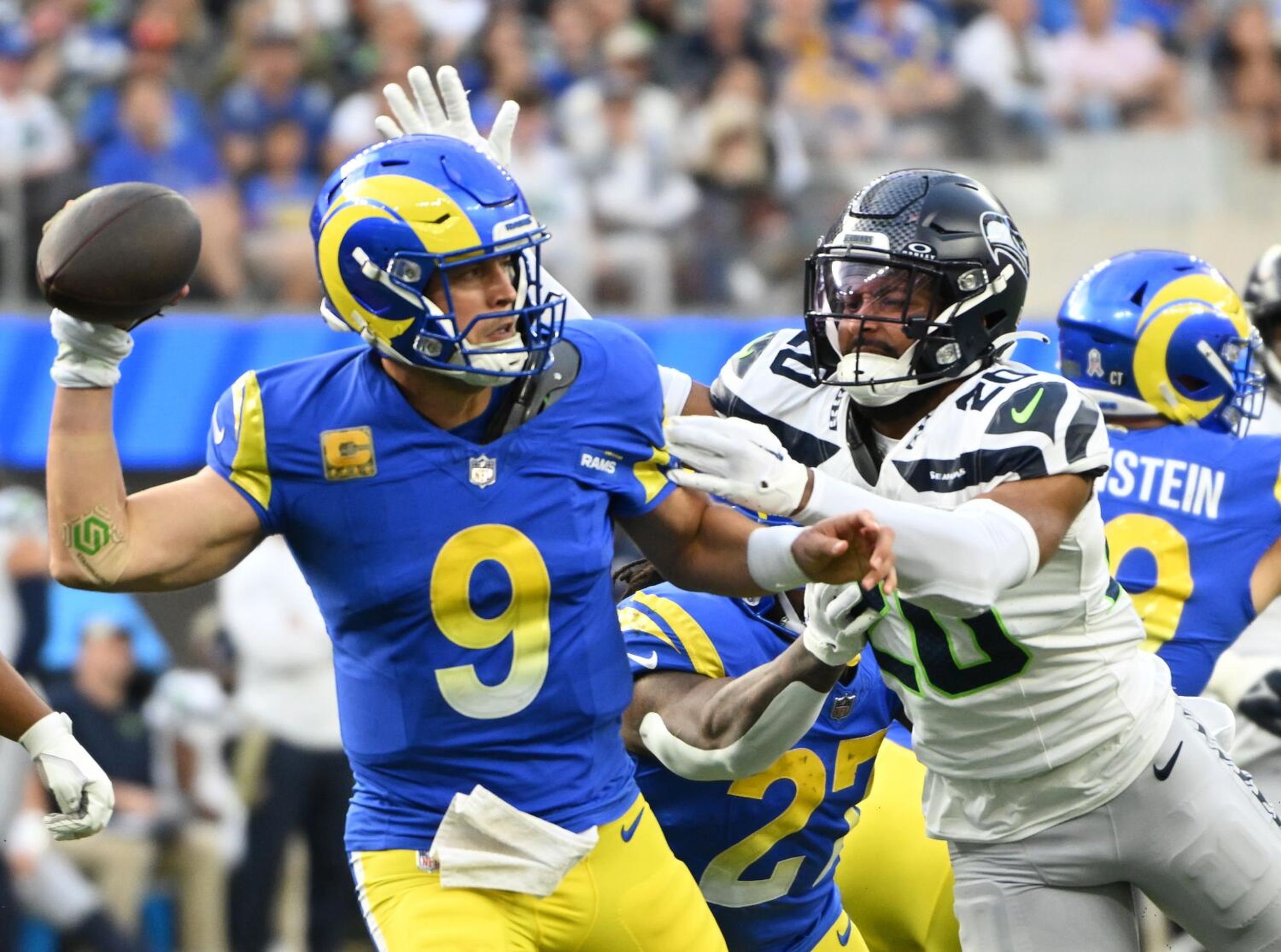 Seahawks: According to Pete Carroll, Geno Smith probably will be back Thursday against the visiting 49ers. Though he may not practice this week. … Carroll also said Smith made a good call at the end of the Rams game. The next time Carroll tells the truth about a boneheaded play will be the first. … Can the Hawks hang with San Francisco? We'll find out on Thanksgiving.
Kraken: Stop if you have heard this before. Seattle blew another lead last night and lost to Calgary.
Mariners: Many things worked for Julio Rodriguez last season. Some things didn't. … You want Shohei Ohtani? We want Yoshinobu Yamamoto. No one ever has enough starting pitching. … The new players on the Hall of Fame ballot were announced Monday. If we had a vote – we don't – we would only vote for one. Adrian Beltre. We also took a hard look at David Wright. And would vote for holdover Todd Helton in a flash.
•••       
• No TV Take today. But we do have some thoughts on the game. Gonzaga needs to win, if only to avoid having to play Chaminade on Wednesday and leaving Hawaii with no significant wins. Beat Syracuse and you probably play UCLA, which will be ranked come March. It's another opportunity to burnish the resume. Also, as we were looking for our story on the proposed Apple Cup move in 2009, we found this John Blanchette column. How we miss reading his talented writing. Until later …
---