Bethany Jean Clement: How a super-umami condiment with a cult following got its Seattle start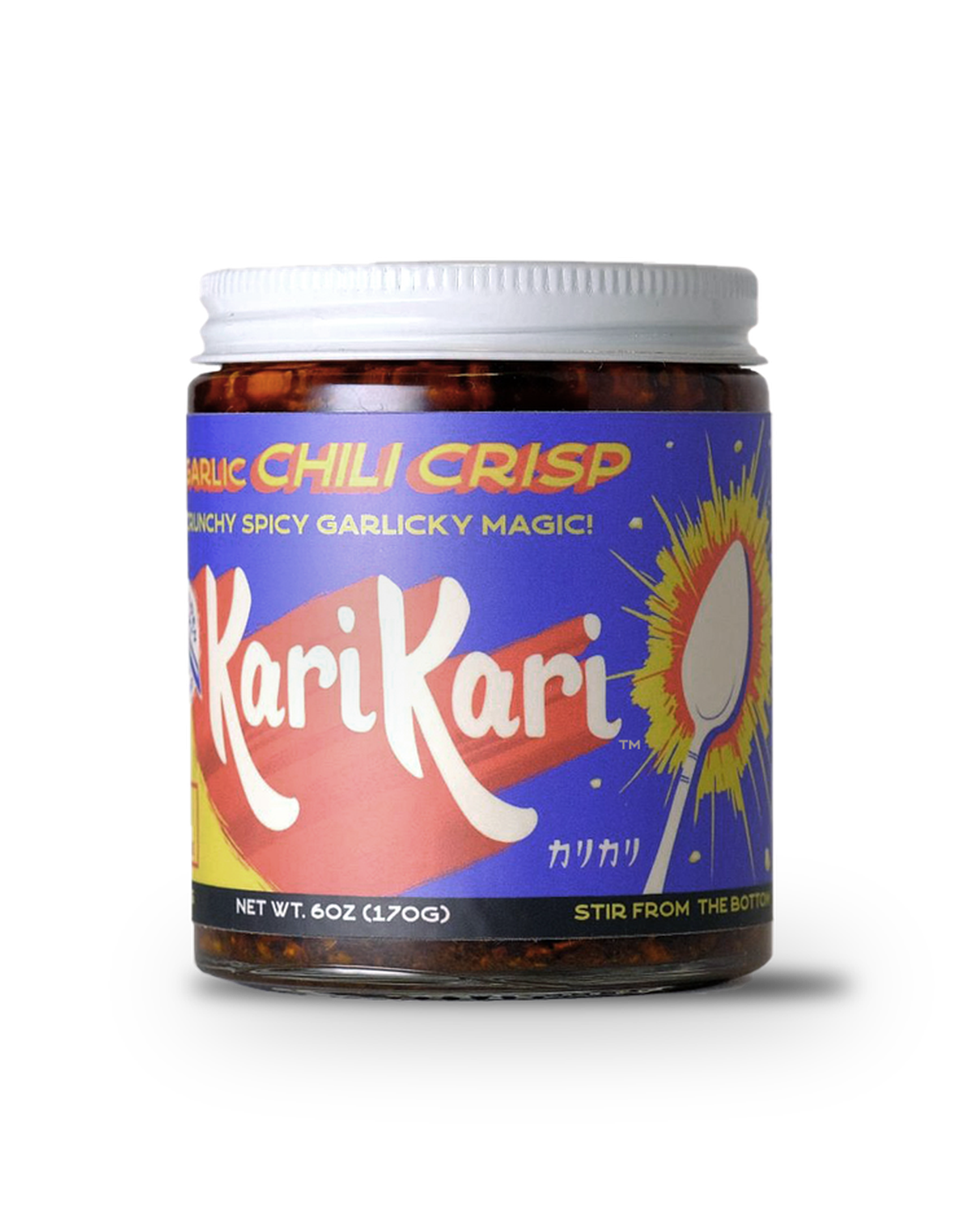 SEATTLE – The spicy, slick, crunchy, garlicky, umami goodness that is chili crisp isn't new by any means from a global perspective, but it's been having a moment in the broader food culture of the United States of late, and one Seattle version has become a national phenomenon. Ruby Sparks and Rob Griset started KariKari out of their Capitol Hill apartment just before the pandemic, in an intense process that led to huge – for artisanal-scale – success.
The cult condiment following has become so zealous, they're now offering KariKari on a subscription basis, with big jars of it delivered on the regular to those who never, ever want to run out. And now local food-heroes including Blotto, Musang and Umami Kushi stock KariKari for retail sale – along with hundreds more restaurants, specialty shops and markets nationwide.
Here, Ruby and Rob tell the story of dozens and dozens of taste-tests, a lot of mess, not knowing what they were doing, the help they found along the way and more – and share a recipe for a spicy, umami, peachy, creamy, herbal salad to celebrate the end of summer.
Bethany Jean Clement: For those who haven't had the pleasure, what is chili crisp, and what makes KariKari so good?
Ruby Sparks: Basically, it is a chili-oil based condiment with crispy, crunchy elements. A lot of thought and effort went into KariKari. One thing that people notice right off the bat is the really large pieces of garlic, to give it a really experiential texture. We thought about the different layers of flavor as well. We can start with the chilies. There's a ton of different kinds of chilies, all across the map.
Rob Griset: So each chili is going to have its own kind of unique profile. And what we noticed is that a lot of chili oils or chili crisps are maybe using one or two different chilies. But what we wanted to do is really showcase kind of a bouquet of chilies, because you're going to have some chilies that are kind of sweet and raisiny, and you'll have some chilies that are smoky, and you'll have chilies that are really heat-forward, some chilies that are really fruity. And so we spent a really long time going into 20 different varieties of chilies and combinations to create this eating experience where you're not getting just heat, but different textures or different flavors from each chili.
The one thing that we were always striving for is this balance of sweet and salty and spicy, without being too spicy … deep umami flavors. Instead of just one kind of chili just bludgeoning you, you're getting these layers of flavor as you eat it.
Bethany: The bouquet of flavors – that's very poetic – and the chilies come from all around the world … I know that you started out in your Capitol Hill apartment, and I'm wondering how messy the R&D was?
Ruby: We spent about a year getting to our final equation, and it did get very, very messy. (Laughs) I mean, you can imagine frying large batches of anything in a small apartment with no hood – it's quite an undertaking.
Bethany: Especially chilies – you must have made some real gas clouds in there.
Ruby: Yeah, we're definitely opening every door, every window possible. (Laughs) While we were in that R&D period, when we would fry stuff there would just be oil dripping from pots and pans, the ceiling … Just smelling like fried garlic and chilies.
During that time when we were honing in – it takes a few days to make a batch, so we tasted on day one, we tasted on day 10. And we would give it to friends and family, people in the industry, et cetera, collect feedback, think about it ourselves. (For) the next iteration, what one thing or a couple things that we want to test and tweak: add more or less, completely take out, et cetera.
And while we were doing that, too, thinking about if we're really going to do this, what is scalable? Ingredients and techniques that are going to work if you're producing a large batch product.
People (were) really giving us some positive feedback – friends and family were like, "We really like it when you bring this stuff – I want some more!"
Bethany: And when did you actually go to retail?
Rob: It was really funny – we were working on (KariKari) for like a year; we worked on the label also for a year, and then when it was finally done, we just kind of looked at it, and we're like, "Well, now what do we do? I guess we just walk into stores and have people try it." So I just threw a couple of jars in a box, and I walked into (since-closed Capitol Hill specialty shop) SugarPill, and I was like, "Hey, my wife and I make this chili crisp and I think you should try it." (Owner Karen Schwartz) was like, "I'd love to – do you have a spoon?" I totally didn't even bring a spoon. So she went in the back and grabbed one.
This was pandemic times, so we both had masks on. And she pulled her mask down and tried a bite, and she just looked at me, and she was like, "This is … amazing. I'll take a case." I ran home to Ruby, and we got all excited, like, "They want a case!" I brought the case over, and (Schwartz) put it up on Instagram, and by the next day, she was already emailing us for another case.
Bethany: Were you able to keep up as things exploded?
Rob: Yeah, kinda. I mean, at that point, we didn't have any kind of machines, and doing everything by hand …
Ruby: We got into a commissary space. As we've gone from that one store to like 250-plus stores, we definitely had to scale up – like instead of a blender that you might have on your kitchen counter, we graduated to an industrial one. We started with this kind of hand labeling machine (where) you have to roll it yourself and whatnot. And we just got a labeling machine where you just put it on a belt and it, like, labels it.
Bethany: Did you ever think you'd be so excited about a labeling machine?
Ruby: (Laughs) No! Obviously these repetitive things, they wear on your body, so yeah! But it's also a really interesting world to start to get into – you can't just readily type into Google "best labeling machine for condiments." It's a kind of research journey to even find the companies that make these kinds of food production machinery, and then furthermore, decide what machines are going to work for you. There's not necessarily the chili crisp machine. (Laughs)
Bethany: Did you find any sort of mentors? Or are you just total autodidacts?
Ruby: Of course, whenever we'd come across other makers, we'd talk about how they're doing stuff – a lot of people that you meet in commissary kitchens are also more small-batch. Any piece of equipment that we see in the kitchen, we're checking it out, and thinking through if anything can be applicable to us.
Rob: A good mentor for us has been Miles (Thomas, of) Scrappy's Bitters. Miles and I have been friends since like the second grade. So he's been giving us little tidbits of advice in his growth.
Bethany: So a condiment subscription seems really funny – how'd that model come about?
Rob: Well, if you've ever gotten one of our six-ounce jars, you can eat it really fast. Especially if you have a dinner party. Suddenly you're just out. So we started a subscription service so that people could just always have something in the cupboard and they don't have to think about it.
Bethany: What are some of your favorite KariKari applications?
Ruby: I love it with roasted vegetables. I love it on a great steak, a piece of fish … With vanilla ice cream it's very good as well, which is a really cool combo for summer with the kind of spicy-sweet-heat situation going on.
Rob: Oh, you just took mine – I really, really like it on vanilla ice cream. Or like a grilled chicken with peaches and KariKari. I just love that kind of sweet with really savory grilled meat and KariKari. And grilled Dungeness crab tossed in KariKari with scallions is so good. We made a brittle out of it for the holidays, and it was also really good.
Ruby: … Just combining it with another fat, like stirring it into an aioli …
Rob: Oh, yeah, like fold it into cream cheese for a schmear on a bagel.
Bethany: So chili crisp-type condiments have a deep cultural history. How do your backgrounds play into it, or play off of it?
Ruby: Think about chili oils – you could think about a salsa macha, chili crisp, et cetera. Growing up, I had a lot of different kinds of food. I'm half African American and Japanese, and half Irish Italian, and my grandma being from Japan is a really significant influence in my life. Being a mixed-race person, chili crisp is a mixing of different stuff and that resonates with me, and that heritage is a really important part of who I am.
"Karikari" means crispy or crunchy in Japanese, so that's a part of naming it – for my grandma, and the language, and that part of my background. I remember the first time my grandma tried it, she was like, "Oh, this is karikari." She was saying, "Oh, this is crunchy – this is the texture." Her reaction was really sweet.
Rob: When we were going to Japan to visit Ruby's family, her aunties, we were there for a while, and Ruby had lived there for about a year, and she's so passionate about the language, and she was teaching me some of her favorite words, and some of those are onomatopoeia words. When we came back and we were trying to decide on a name, that's when we thought of "karikari." …
I would say that my approach to it is just a deep love and passion for flavor, and that's what I've always strived for. And being a chef and working in the industry is just loving food and loving flavor.
Bethany: Do you still use KariKari at home? Did you ever get sick of it?
Rob: It's really funny that you asked that because we have to taste every single batch. And every single time I taste it, I always say, "Oh my God, it's so good." Still. Out loud.
Summer Peach Burrata Salad with KariKari
This recipe from KariKari co-owners Rob Griset and Ruby Sparks celebrates the end of summer with the last of luscious local peaches matched with the supreme creaminess of burrata sparked by their cult-favorite condiment.
3 ripe peaches
1 8-ounce ball of burrata (or two 4-ounce)
8 basil leaves
Several heaping spoonfuls of KariKari
Olive oil
Maldon sea salt to taste
Fresh black pepper to taste
Wash and slice peaches into 1/2-inch wedges, and place on medium-size serving platter.
Tear burrata into bite-sized pieces, and place among the peach wedges.
Leave basil leaves whole or tear into 1-inch pieces, and place decoratively on salad.
Strategically spoon KariKari on the peaches and burrata so you can have some in every bite.
Drizzle olive oil so that everything has a nice sheen.
Sprinkle Maldon sea salt and fresh black pepper to taste.
---