Arizona State transfer Iman Isanovic an ideal fit with WSU volleyball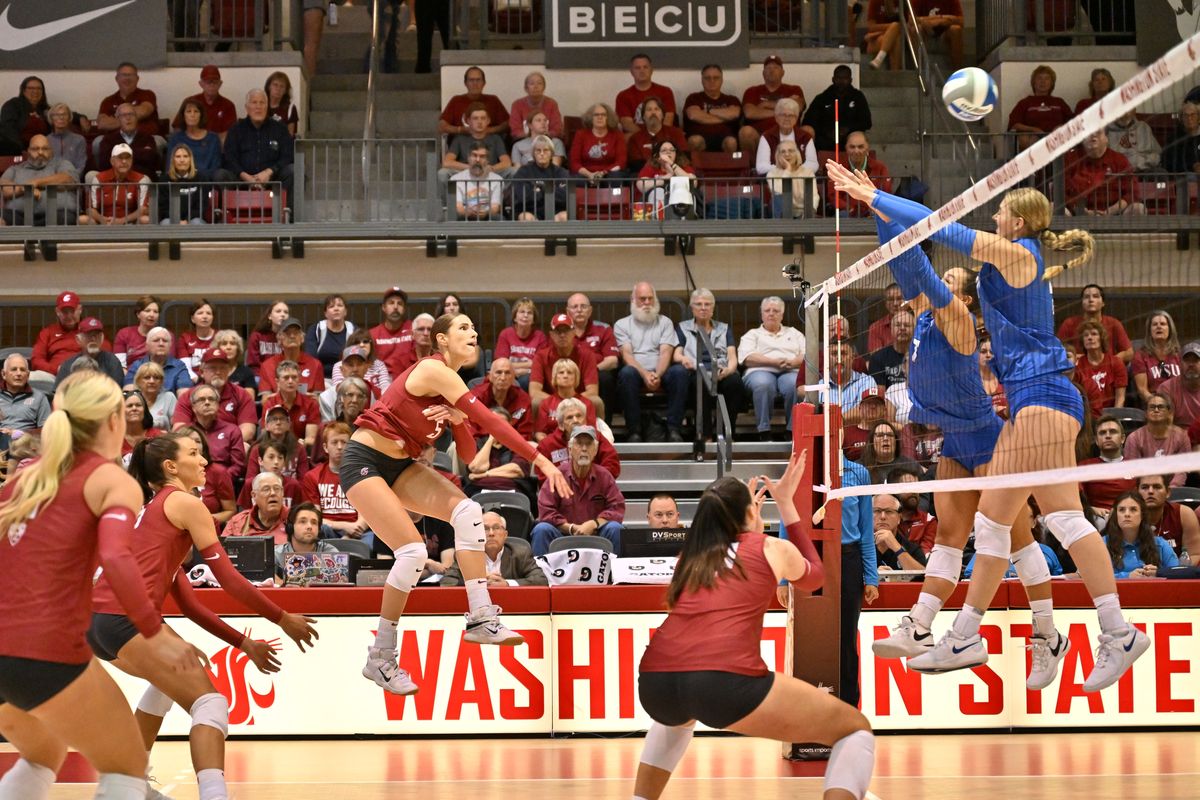 If there were a job description for what Washington State University's volleyball roster needed after last season, Iman Isanovic would have had the perfect resume.
One small problem: Isanovic was planning to stay at Arizona State for her fifth season and play for Sanja Tomasevic, the coach who brought the Bosnia and Herzegovina native to the U.S.
When Tomasevic and ASU mutually agreed to part ways last December, Isanovic's plans changed and the talented outside hitter put her name in the transfer portal. She had a connection with WSU All-American middle blocker Magda Jehlárová. The two became friends during the 2021 European championships while playing for their respective national teams.
"Our teams were in the same group and we both ended up qualifying for the European championships. We all celebrated together," Isanovic said. "We were introduced during that time and after that we became pretty good friends. When I entered (the portal), she jokingly asked me, 'What are the chances of you coming to WSU?' I said, 'We'll see.' "
Isanovic eventually decided to transfer to WSU and she's become a crucial addition to a team that has climbed to No. 7 after three consecutive wins over ranked teams, including a pair of top-10 foes.
She credits Jehlárová with an assist, but added, "It wasn't solely because of our friendship. The way she was talking about the team and the program, even before I decided to transfer, she always spoke so highly of everyone."
Now Isanovic is doing the same. The Cougars, who entertain rival Washington at 7 p.m. Thursday, have earned attention regionally and nationally with their fast start, including a four-set road win over defending national champion Texas last Friday in Austin in front of 4,656 at Gregory Gym (capacity 4,000). The Longhorns entered the match 199-13 at home in the past 14 seasons.
"It's just absolutely cool how integrated the community here is," Isanovic said. "I've had a lot of classmates texting that they watched the games and how awesome it is that we've beaten quality teams and they're looking forward to coming to our matches. I think some of the professors are going to come, too. It makes me happy to be a part of something like that."
Isanovic got a head start by enrolling at WSU for spring semester, which assisted her smooth transition in the program. She leads WSU in kills and boasts an impressive .364 hitting percentage while replacing Laura Jansen, who was second in kills behind Pia Timmer last year.
"We needed (an outside hitter) with Laura graduating," Cougars coach Jen Greeny said. "She's played at a high level. She's played with her national team. She's super smart, wants to do well, works hard. She fits (the job description) quite well."
Pullman is perhaps the last place Isanovic thought she'd be as a fifth-year senior when she left the family home near Sarajevo at age 16 to attend high school and play volleyball in Slovenia. It helped that she was joined by two club teammates, but it was still tough to leave home.
"Volleyball is something I wanted to do with my life and I recognized I couldn't do it in Bosnia," Isanovic said. "I was eager to chase my dream and my family was very supportive, especially my mom. She was a rock this whole time."
The move worked out as Isanovic had hoped. Her next big move, joining Tomasevic's program at Arizona State, was easier in some ways because she'd already learned how to live on her own.
"Surprisingly, I see my family a lot more in the states than I did in Slovenia," Isanovic said. "Throughout my college career, I've had an opportunity to come home twice a year, during winter (break) and in the summer."
She's working on her master's in political science with a graduate certificate in global justice and security. She hopes, after her volleyball career is over, she can make a difference back home.
"I come from a country in a pretty unique situation," said Isanovic, a CoSIDA Academic All-American in 2021. "I was born in a postwar society. My whole family was in civil war in the 1990s in Bosnia, breaking with Yugoslavia. The political scene in Bosnia has been difficult to maneuver, the way the society is structured with three ethnic majorities, it made me interested in the way things were.
"I hope to do something in the field of politics and diplomacy to work on human rights."
Isanovic had a decorated career at ASU. She led the team in kills each of the previous three seasons and she's one of just 18 players with 1,000 career kills in an ASU uniform. She was first-team All-Pac-12 in 2021, but the team only had one winning season and never finished above eighth in the conference standings in her four years.
She's still putting up big numbers, but it's for a WSU team that figures to be in the Pac-12 title chase after placing third last season. It's a safe bet Bohler Gym will be rocking for Washington on Thursday.
"It (Bohler) was always one of my favorite gyms to play in, even when everyone was rooting against me," said Isanovic, who will likely embark on a pro career overseas following the season. "If the game against BYU (a 3-1 WSU victory earlier this month with 2,147 in attendance) was the way it was, I think the Apple Cup will be 10 times that.
"I'm so excited to be part of it."
---