Washington State defense 'made just enough' plays in win over Oregon State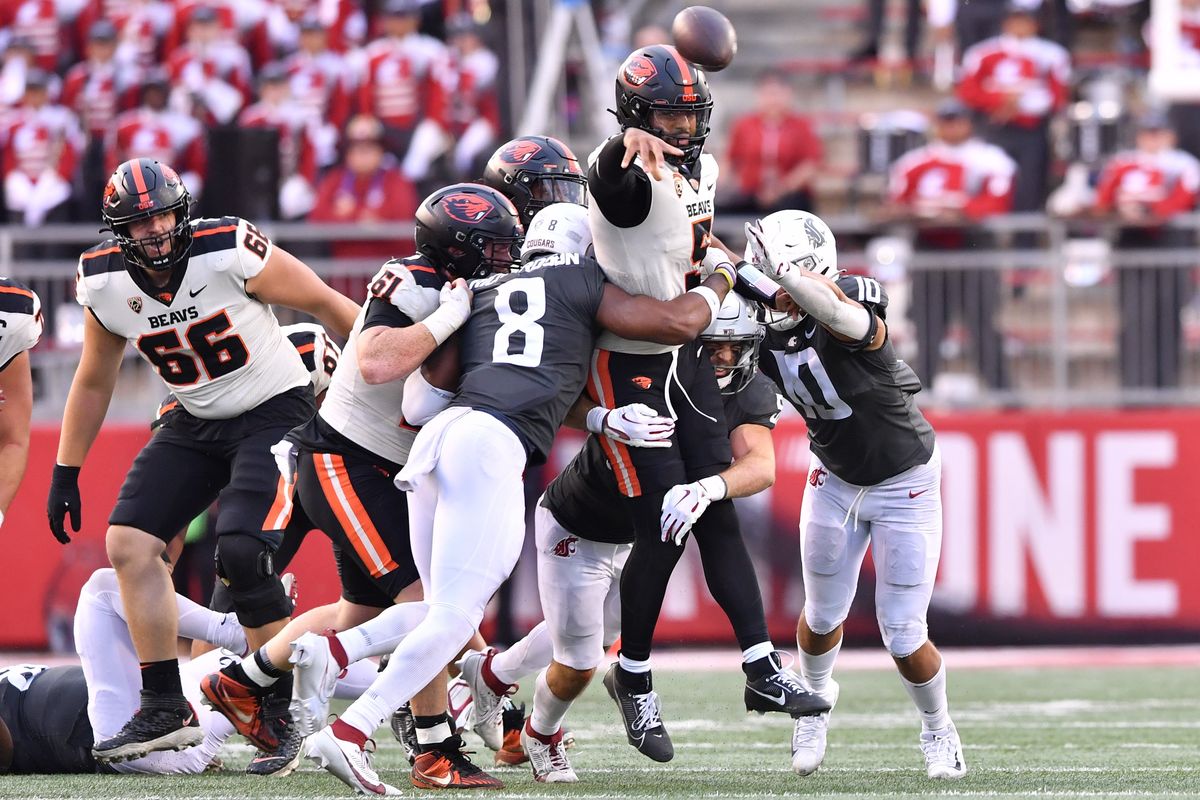 PULLMAN – Washington State football followers will get lost in the weeds trying to find a reason why the Cougars won Saturday based on defense.
After all, Washington State's defense allowed Oregon State 440 yards total offense, 242 on the ground on 39 rushes and four touchdowns.
But listen to coach Jake Dickert talk following his 19th-ranked team's 38-35 win in their Pac-12 opener at Gesa Field and the victory doesn't happen without the defense.
The proverbial bend-but-don't-break line applied to the Cougars .
Or as Dickert said, the Cougars did just enough.
Oregon State stuck to its game plan most of the way, but when the 14th-ranked Beavers found themselves in a 38-21 hole with 9 minutes, 12 seconds remaining, they had to eschew their potent ground attack and do something they'd rather not do.
The Beavers made it interesting until WSU's Cooper Mathers recovered an onside kick that had been touched by teammate Ron Stone Jr. seconds earlier.
"We just beat a really good Oregon State team," Dickert said to open his postgame comments. "And it wasn't pretty. It was tough, it was gutsy, it was gritty. Our guys went out there and executed and made just enough, one more play than they did."
One of the key contributors, especially late, was redshirt senior transfer cornerback Cam Lampkin. He made a couple of key open-field tackles that kept the Beavers from making big plays.
Oregon State attacked Lampkin's side of the field late. That didn't catch Lampkin or his coaches by surprise.
"We know what they're going to do," Dickert said. "Lamp has responded. Lamp is one of those stories. He came here as a starter from Utah State and didn't get what he wanted last year and had to stay the course over and over and over.
"When you do that you usually see the results of your work."
Dickert had plenty to say about Lampkin.
"I'm really proud of that kid," Dickert said. "Wisconsin did the same thing late in the game. So he's responded and you have to have a short memory and he kept fighting."
The Cougars hit Beavers quarterback DJ Uiagalelei, a transfer from Clemson, 12 times. They may not have piled up the sacks, but they caused the OSU quarterback to throw early and over his intended receivers often.
Stone talked about a winning attitude that's brewing on defense.
"This defense has really just been years in the making," Stone said. "The culture that we have on our defensive side of the ball … even though it's not going to be perfect, in those big-time moments we want to be the ones on the field. We trust ourselves to make those plays in those situations. We have a really good group that we have a lot of trust with."
---