Washington State's next men up – Josh Kelly and Kyle Williams – combined for 333 receiving yards, 4 TDs in Oregon State upset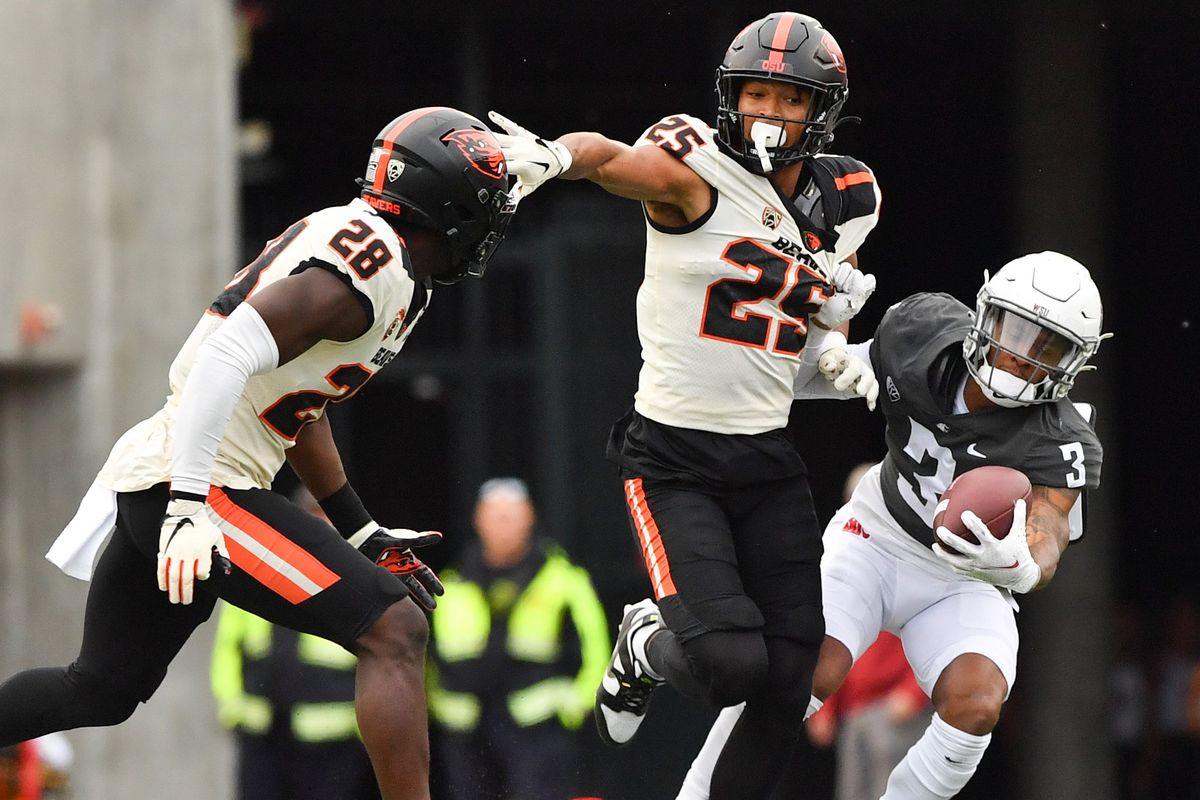 PULLMAN – When No. 21 Washington State's top wideout, Lincoln Victor, left Saturday's game against No. 14 Oregon State midway through the first quarter with a lower-body injury, the Cougars quickly turned to the next man up in the receiver rotation.
More like, next men up.
With Victor no longer a go-to target for Cam Ward, the Cougars' productive junior quarterback predictably zeroed in on Josh Kelly and Kyle Williams – transfer receivers who joined came to Pullman from the Mountain West to help WSU offset the loss of its top three receivers from a season ago.
There's now a case to be made that Kelly and Williams were not just sufficient replacements but surefire upgrades at the position after the duo combined for 333 yards and four touchdowns during a narrow 38-35 victory at Martin Stadium, helping the Cougars secure their second victory over a ranked opponent and give them their first 4-0 start since 2017.
"All you've got to do is just put it in their vicinity and they'll come down with it," Ward said. "… We got two good players in the portal. What they did at their last school was great, so we were glad to have them choose to commit here.
"Them first getting here, I told them straight up, 'We're looking for two new guys to throw the ball to,' and they showed up and they showed out today."
Victor's injury wasn't characterized as severe by WSU coach Jake Dickert, who said the veteran slot avoided a fracture.
Victor may not have to miss any amount of time, given the Cougars enter a bye week before traveling to UCLA for their next game on Oct. 7.
Either way, it's unlikely they'll be considered shorthanded after breakout games from Williams and Kelly, who both set career highs in receiving yards .
Williams reeled in seven catches for 174 yards and one touchdown.
Kelly caught eight passes for 159 yards and a career-high three touchdowns.
They became the first WSU duo to each total 150 yards in the same game since Vince Mayle (263 yards) and River Cracraft (172) accounted for 435 yards in a 60-59 loss to California in 2014.
Kelly's efforts included three plays that could've been considered for SportsCenter's popular nightly Top 10 segment. In the first quarter, he made an improbable one-handed catch on the left hash, reeling in a 29-yard pass with his left hand a few inches above the turf.
On a 44-yard touchdown in the second quarter, Kelly made one defensive back miss before spinning through three other tacklers on his way to the end zone. On his third touchdown reception, the former Fresno State receiver hung onto another Ward pass using just his left hand.
Kelly said it wouldn't be too long before he reviewed each of the plays when he left a postgame news conference, but asked to select a favorite, the redshirt junior said, "I ain't going to lie, it was probably the first one-handed catch, because that's what really got me going."
Williams, who transferred from UNLV, had a variety to choose from, including the second play from scrimmage, which saw the junior create 5 to 10 yards of separation from the next-closest defender before catching a 63-yarder from Ward and walking into the end zone.
Asked about the players Kelly and Williams replaced – in particular outgoing transfers Donovan Ollie (Cincinnati) and De'Zhaun Stribling (Oklahoma State) – Dickert interrupted, saying, "I'm not worried about people we lost.
"… I'm well-documented in saying we're more athletic at wide receiver than we have been in the past, and it's really exciting to see those guys go out there and make those plays and how hard they've worked."
Kelly relayed conversations between WSU's receivers and Victor, who returned to the home sideline with crutches in the second half.
"In our receiver room, we just kept telling him, 'We're going to ride with you,' " Kelly said. "For him to tell us, 'Keep attacking.' Linc is not just a big receiver in our room but a big leader on this team, and everyone listens to Linc."
---