Big Sky notebook: Montana looks to respond after upset loss to Northern Arizona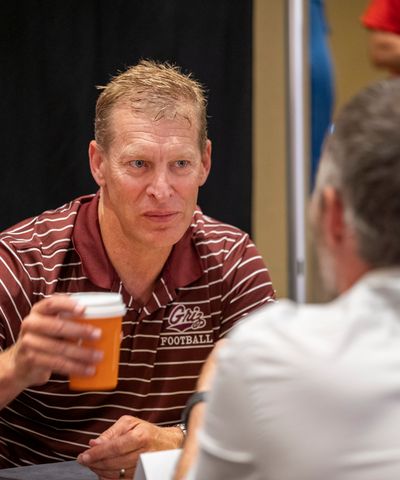 It's only been one week of Big Sky Conference play, but the six football games played Saturday provided a couple of surprises.
One of them was pointed out by Bobby Hauck on Monday, two days after the Montana Grizzlies lost at previously winless Northern Arizona 28-14.
"Our team's disappointed," the Montana coach said during his weekly media availability. "(We) made numerous mistakes in simple situations and we got beat. With that, we have first-place Idaho State coming to town, and we'll be excited to play Saturday."
That Idaho State is in first place is correct: The Bengals (1-3 overall) are one of six Big Sky teams tied atop the standings at 1-0.
But the fact that Montana (3-1, 0-1 Big Sky) is tied for seventh place is perhaps just as surprising.
Losing to Northern Arizona was something the Grizzlies hadn't done with Hauck as their head coach (he was 8-0 against the Lumberjacks). He still has a winning record against all of the conference's current members, including a 9-2 mark against Eastern Washington.
Northern Arizona (1-3, 1-0) never trailed in Saturday's game, building leads of 14-0 and 21-6. After the first quarter, Montana was never back within a touchdown.
Montana dropped to No. 18 in the FCS Stats Perform Top 25 after the loss – Eastern Washington, after its 27-24 win over UC Davis, jumped into the poll at No. 19 – and the Grizzlies don't play the Eagles this season.
But the Grizzlies still have dates against four other ranked FCS teams, at No. 21 UC Davis (2-2, 0-1), at No. 4 Idaho (3-1, 1-0), home against No. 8 Sacramento State (3-1, 0-1) and home against No. 3 Montana State (3-1, 1-0) to close out the regular season.
It is still just one loss, but Montana's road to the playoffs looks to be among the most difficult left.
Idaho State leads the Big Sky in passing yards at 322.3 per game. Eastern is ranked second with an average of 265.3. Bengals wide receiver James Chedon leads the conference with 31 receptions, one more than Eagles junior wide receiver Efton Chism III.
The Eagles will play at Idaho State on Oct. 14 coming out of their bye week.
Bobcats handle Wildcats, prepare for Vikings
The result may not have been as surprising, but that Montana State shut out Weber State 40-0 certainly was a notable result on the first weekend of Big Sky games.
The Wildcats (2-2, 0-1) – who play at Eastern Washington on Oct. 21 – fell to No. 16 in the Stats Perform poll after being shut out by an FCS opponent for the first time since 2015.
Montana State completed its first shutout against a Big Sky team since blanking Portland State in 2006.
The Bobcats will host Portland State (2-2, 1-0) Saturday. The Vikings are coming off a 59-21 victory over Cal Poly, which came on the heels of a 91-0 win over NAIA North American.
"(We have) an opportunity to play a team that's scored 150 points the last two weeks and really has got a lot of good players," MSU coach Brent Vigen said Monday during his media availability. "… We've got our work cut out just to reset again, not get too high after a victory, come back and go to work."
Montana State (325.8 yards per game) and Portland State (231.8) are No. 1 and No. 2, respectively, in the Big Sky in rushing yards per game. Eastern ranks 10th at 123.3.
Montana State hosts Eastern Washington on Nov. 11.
Hawkins mum on Larison's status
UC Davis coach Dan Hawkins chose not to elaborate when asked Monday about the status of Lan Larison, the Big Sky's leading rusher who left during the third quarter of the Aggies' 27-24 loss to the Eagles on Saturday.
"A lot of therapy. That's my update (on Larison)," Hawkins said during his media availability.
Larison carried 22 times and set a program single-game record with 255 rushing yards through two-plus quarters against the Eagles. But later in the game he was standing on the sidelines with a brace on his knee.
Larison, a junior, leads the conference in rushing attempts (70) and yards (479). He is the only player in the Big Sky averaging more than 100 rushing yards per game.
The Aggies play at Cal Poly (2-2, 0-1) on Saturday.
---