Josh Perkins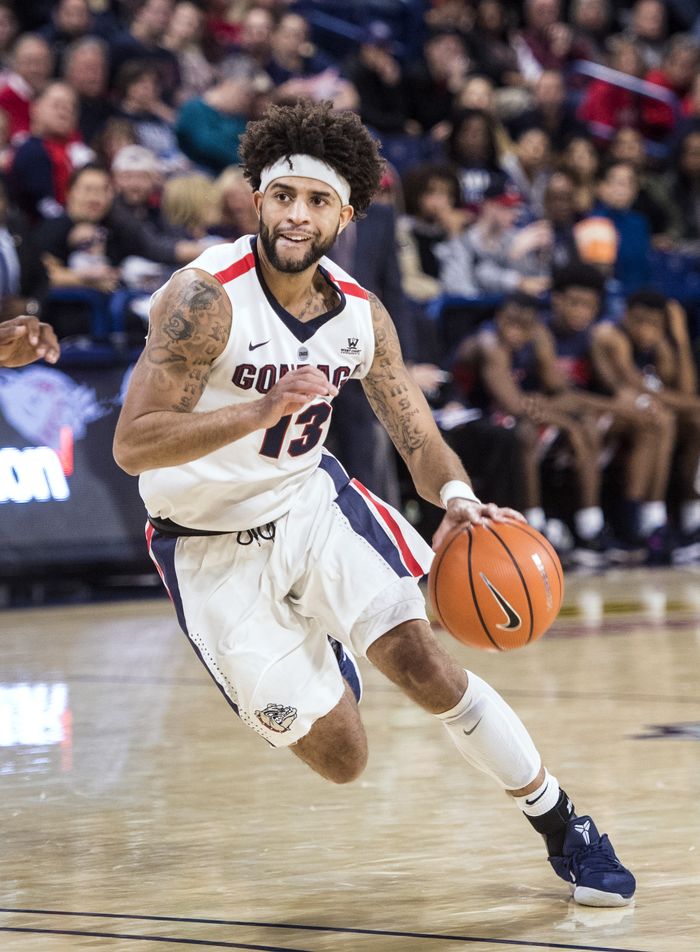 Jersey: 13 Position: G
Age: 27 Height: 6-3 Weight: 190
Hometown: Park Hill, Colorado, United States
Birthdate: Aug. 25, 1995
Bio: Denver native played final high school season at Huntington Prep in West Virginia. Rated 10th point guard by ESPN and 56th overall in ESPN Top 100. Ranked No. 14 among point guards and No. 94 overall by 247sports.com. Averaged 8.0 points, 5.1 assists and 2.7 rebounds as a senior, helping Huntington Prep to No. 3 national ranking and a 29-5 record. Led Colorado 5A players in scoring (25.2) as a junior at Regis High. Named Aurora Sentinel newspaper's co-Player of the Year and earned 5A All-State honors. Averaged 18.6 points and 5.2 assists as a sophomore. Also had offers from UCLA and Minnesota.
Sr

Scouting report:
Projected starter at point guard. One of the most experienced returning guards in the nation with 116 career games, including 108 starts. Quality 3-point shooter (career 39 percent) and high-level passer. Ranks in top 10 in assists and made 3-pointers on program's all-time lists. Returned from off-season shoulder surgery to score 10 points in scrimmage and place second in 3-point shooting contest at Kraziness in the Kennel. Team's primary point guard as redshirt freshman and junior.
Jr

Scouting report:
Selected first-team All-WCC and NABC second-team All-District 9. Earned WCC All-Academic honors. Led team in minutes played (32.9), assists (5.3), 3-pointers (83) and steals (44). No. 1 in WCC with 3.3 assist-to-turnover ratio in conference games. Posted double-double (12 points, 10 assists) versus Loyola Marymount. Perfect from field (6 of 6), including four 3-pointers against Incarnate Word.
So

Scouting report:
Honorable mention All-WCC team after averaging 8.1 points, 2.3 rebounds and 3.1 assists. Second on team with 63 3-pointers and made 39.9 percent beyond arc. Scored season-high 18 points twice, versus Bryant and Florida. Top 10 in WCC in assists per game and assist-to-turnover ratio. Connected on five 3-pointers against Mississippi Valley State and San Diego. Tallied 16 points in victory over Arizona in Los Angeles. Scored all 13 of his points in first half of NCAA title game loss to North Carolina. Suspended for exhibition game and season-opener against Utah Valley after being charged with physical control of a vehicle while under the influence.
Fr

Scouting report:
Started all 36 games as redshirt freshman, averaging 10.1 points and 4.1 assists. Named to WCC All-Freshman team. Averaged 30.8 minutes. Connected on 46.3 percent of 3-pointers in conference, second in the WCC. Poured in 21 points against Saint Mary's. Scored career-high 26 points versus Santa Clara.
Fr.

Scouting report:
Suffered broken jaw against Georgia at Madison Square Garden five games into season and eventually received medical redshirt. Averaged 5 points and 3.4 assists prior to injury backing up Kevin Pangos.
Sports > Gonzaga basketball

UPDATED: Sun., Dec. 9, 2018

Sports > Gonzaga basketball

UPDATED: Thu., Nov. 15, 2018

Sports > Gonzaga basketball

UPDATED: Thu., Dec. 20, 2018

Sports > Gonzaga basketball

Mon., Dec. 3, 2018

Sports > Gonzaga basketball

UPDATED: Tue., Nov. 27, 2018

News > Spokane

Sat., Dec. 15, 2018

Sports > Gonzaga basketball

UPDATED: Wed., April 11, 2018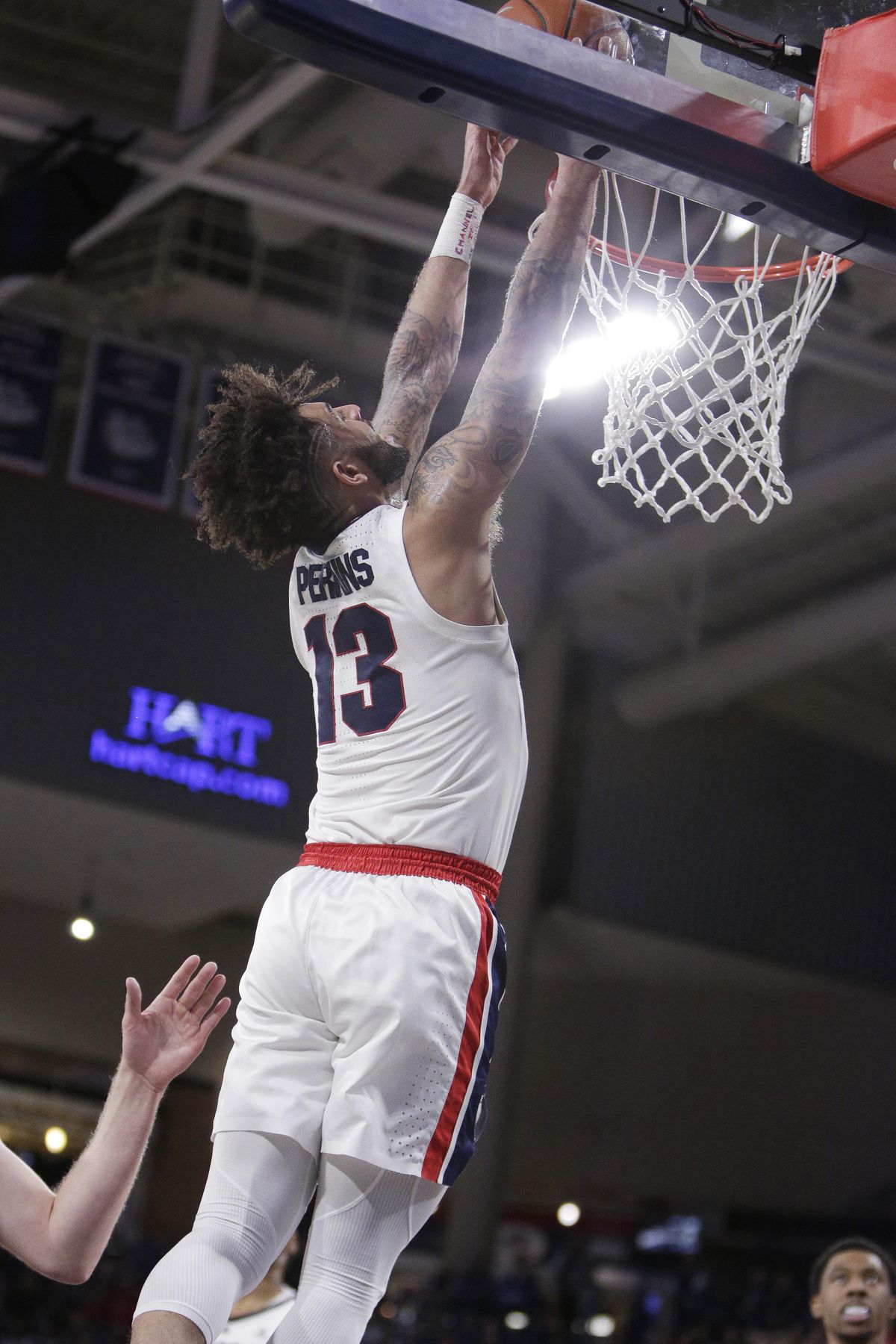 Gonzaga's Josh Perkins elevates for a dunk during the first half against Santa Clara. (YOUNG KWAK / AP)
Career Stats
Per Game
Team
G
GS
MPG
PPG
RPG
APG
SPG
BPG
TOPG
PFPG
FG%
3P%
FT%
14-15
Gonz
5
0
20.2
5.0
1.0
3.4
0.8
0.2
2.0
1.4
.500
.400
.750
15-16
Gonz
36
36
30.8
10.1
3.3
4.1
1.2
0.3
2.1
2.8
.433
.378
.700
16-17
Gonz
38
35
28.9
8.1
2.3
3.1
0.9
0.2
2.0
2.2
.418
.399
.729
17-18
Gonz
37
37
32.9
12.3
3.1
5.3
1.2
0.1
2.1
2.5
.439
.393
.753
18-19
Gonz
32
32
30.9
11.0
2.8
6.6
1.4
0.1
2.0
2.0
.462
.377
.833
Career
148
140
30.5
10.2
2.8
4.7
1.1
0.2
2.0
2.4
.440
.389
.751
Totals
Team
G
GS
Min
FGM
FGA
3PM
3PA
FTM
FTA
OR
REB
A
Stl
Blk
TO
PF
Pts
14-15
Gonz
5
0
101
9
18
4
10
3
4
0
5
17
4
1
10
7
25
15-16
Gonz
36
36
1109
127
293
48
127
63
90
22
120
146
43
11
74
101
365
16-17
Gonz
38
35
1100
97
232
63
158
51
70
9
87
119
33
6
75
85
308
17-18
Gonz
37
37
1216
156
355
83
211
61
81
19
116
196
44
3
77
94
456
18-19
Gonz
32
32
988
123
266
46
122
60
72
15
91
211
44
4
63
63
352
Career
148
140
4514
512
1164
244
628
238
317
65
419
689
168
25
299
350
1506
Game Logs
| | | | | | | | | | | | | | | | | | |
| --- | --- | --- | --- | --- | --- | --- | --- | --- | --- | --- | --- | --- | --- | --- | --- | --- | --- |
| Date | Opp | Result | Min | FGM | FGA | 3PM | 3PA | FTM | FTA | OR | REB | A | Stl | Blk | TO | PF | Pts |
| 11/6 | IdaSt | W 120-79 | 25 | 3 | 6 | 1 | 2 | 0 | 0 | 0 | 2 | 8 | 1 | 0 | 0 | 3 | 7 |
| 11/10 | TxSo | W 104-67 | 33 | 6 | 11 | 1 | 4 | 6 | 6 | 0 | 4 | 11 | 1 | 0 | 2 | 1 | 19 |
| 11/15 | TexA&M | W 94-71 | 29 | 3 | 9 | 0 | 4 | 1 | 2 | 0 | 2 | 6 | 3 | 1 | 1 | 3 | 7 |
| 11/19 | @Ill | W 84-78 | 37 | 3 | 5 | 1 | 2 | 3 | 4 | 1 | 4 | 9 | 2 | 0 | 7 | 4 | 10 |
| 11/20 | Ari | W 91-74 | 32 | 7 | 11 | 4 | 8 | 0 | 0 | 0 | 4 | 9 | 2 | 0 | 3 | 3 | 18 |
| 11/21 | Duke | W 89-87 | 38 | 3 | 6 | 1 | 2 | 2 | 2 | 2 | 3 | 7 | 1 | 0 | 2 | 2 | 9 |
| 11/26 | NDakSt | W 102-60 | 22 | 3 | 4 | 2 | 3 | 2 | 2 | 0 | 2 | 6 | 2 | 0 | 1 | 0 | 10 |
| 12/1 | @Cre | W 103-92 | 36 | 4 | 10 | 1 | 4 | 4 | 4 | 2 | 4 | 13 | 1 | 0 | 1 | 3 | 13 |
| 12/5 | Wash | W 81-79 | 40 | 3 | 11 | 3 | 7 | 0 | 0 | 0 | 4 | 6 | 0 | 0 | 2 | 0 | 9 |
| 12/9 | @Tenn | L 73-76 | 37 | 0 | 6 | 0 | 1 | 0 | 0 | 1 | 3 | 9 | 0 | 0 | 1 | 3 | 0 |
| 12/15 | @UNC | L 90-103 | 38 | 7 | 13 | 5 | 9 | 1 | 1 | 0 | 5 | 8 | 4 | 0 | 6 | 4 | 20 |
| 12/18 | Tx-Ar | W 89-55 | 28 | 3 | 7 | 2 | 4 | 2 | 2 | 1 | 4 | 4 | 1 | 0 | 3 | 4 | 10 |
| 12/21 | Denver | W 101-40 | 26 | 2 | 4 | 1 | 2 | 0 | 0 | 0 | 5 | 4 | 2 | 0 | 1 | 2 | 5 |
| 12/28 | NortAL | W 96-51 | 26 | 5 | 12 | 2 | 7 | 1 | 2 | 0 | 2 | 4 | 2 | 0 | 2 | 3 | 13 |
| 12/31 | CS-Bk | W 89-54 | 21 | 4 | 9 | 2 | 4 | 0 | 0 | 0 | 0 | 2 | 0 | 0 | 1 | 4 | 10 |
| 1/5 | SantaC | W 91-48 | 26 | 2 | 4 | 0 | 1 | 2 | 2 | 0 | 5 | 5 | 4 | 1 | 0 | 1 | 6 |
| 1/10 | Pac | W 67-36 | 26 | 4 | 8 | 2 | 6 | 4 | 4 | 0 | 1 | 6 | 0 | 0 | 2 | 1 | 14 |
| 1/12 | @SanFr | W 96-83 | 35 | 6 | 11 | 2 | 4 | 2 | 4 | 0 | 3 | 5 | 0 | 0 | 1 | 2 | 16 |
| 1/17 | LyMnt | W 73-55 | 30 | 3 | 6 | 0 | 2 | 1 | 1 | 0 | 4 | 1 | 1 | 0 | 3 | 0 | 7 |
| 1/19 | @Por | W 89-66 | 35 | 4 | 12 | 3 | 8 | 0 | 0 | 2 | 3 | 7 | 3 | 1 | 1 | 1 | 11 |
| 1/24 | @SantaC | W 98-39 | 26 | 7 | 13 | 2 | 6 | 2 | 2 | 2 | 3 | 8 | 1 | 0 | 0 | 0 | 18 |
| 1/31 | @BYU | W 93-63 | 32 | 2 | 7 | 1 | 4 | 1 | 2 | 2 | 2 | 10 | 0 | 0 | 2 | 0 | 6 |
| 2/2 | SD | W 85-69 | 37 | 3 | 7 | 0 | 1 | 6 | 6 | 0 | 1 | 6 | 3 | 0 | 2 | 2 | 12 |
| 2/7 | SanFr | W 92-62 | 28 | 4 | 6 | 0 | 1 | 1 | 2 | 0 | 5 | 7 | 0 | 0 | 3 | 2 | 9 |
| 2/9 | StMry | W 94-46 | 24 | 1 | 4 | 0 | 0 | 0 | 0 | 0 | 1 | 9 | 1 | 1 | 2 | 3 | 2 |
| 2/14 | @LyMnt | W 73-60 | 35 | 1 | 6 | 1 | 3 | 4 | 4 | 0 | 1 | 4 | 0 | 0 | 2 | 1 | 7 |
| 2/16 | @SD | W 79-67 | 34 | 6 | 12 | 1 | 6 | 2 | 4 | 0 | 4 | 9 | 2 | 0 | 1 | 3 | 15 |
| 2/21 | Pepper | W 92-64 | 28 | 4 | 6 | 1 | 1 | 1 | 2 | 1 | 3 | 9 | 1 | 0 | 5 | 2 | 10 |
| 2/23 | BYU | W 102-68 | 31 | 7 | 11 | 3 | 4 | 4 | 6 | 0 | 0 | 7 | 1 | 0 | 2 | 2 | 21 |
| 2/28 | @Pac | W 86-66 | 32 | 3 | 6 | 2 | 4 | 0 | 0 | 0 | 3 | 4 | 2 | 0 | 0 | 1 | 8 |
| 3/2 | @StMry | W 69-55 | 35 | 7 | 15 | 0 | 3 | 5 | 5 | 0 | 2 | 2 | 2 | 0 | 1 | 0 | 19 |
| 3/11 | Pepper | W 100-74 | 26 | 3 | 8 | 2 | 5 | 3 | 3 | 1 | 2 | 6 | 1 | 0 | 3 | 3 | 11 |