Idaho GOP central committee chooses Yates as new party chairman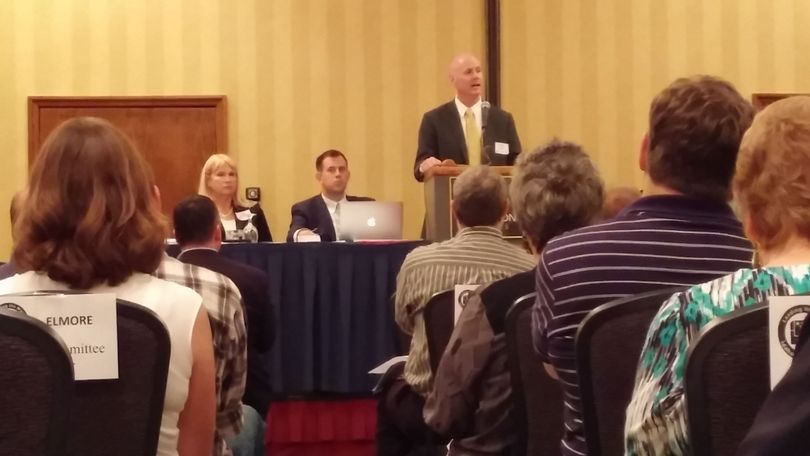 Idaho's GOP state central committee has voted in Steve Yates as the next state party chairman; he defeated Mike Duff of Blackfoot and Douglas Pickett of Oakley. Yates is a former aide to Dick Cheney and recent arrival to the state who unsuccessfully challenged GOP Rep. Jeff Thompson in the primary.
Yates acknowledged his newcomer status in his stump speech to the committee, in which he emphasized that he moved here because he loves the state, Idaho Public TV's Melissa Davlin reports. He talked about finding common ground and resolving conflicts quickly and quietly. "I have my own point of views," Yates said, but said it's not the chairman's job to impose his opinions on others.
In Duff's speech, he asked for unity in the party. "Our enemy is not in the Republican Party. Our enemy is in the Progressive Socialist Party, formerly known as the Democratic Party." He also blasted candidates Richard Stallings and AJ Balukoff, calling the latter a "limousine liberal."
Pickett's speech started with an extended metaphor comparing the party to an energetic colt. He also appealed for unity. "We are all Republicans after all," he said.
Today's selection was required because the June state Republican Party convention ended in disarray and division - without any votes on party leaders, resolutions or a platform. Former Chairman Barry Peterson maintained he was still in charge after that, changing the locks on the state party office and filing suit against other party officers, but lost in court, leading to today's meeting.
---
---