Wed., June 15, 2011
Mavericks Get The Title But Not A Ring?
In an interview with NBA TV soon after the Dallas Mavericks earned their first NBA title on Sunday night, team owner Mark Cuban jokingly dismissed the idea of giving his team championship rings as a reward. Probably because he was bored. Most likely because he's Mark Cuban, and he just likes saying things like that -- pointing out that rings were "old school" and mentioning that he'd try to come up with some new sort of reward for Dallas' 8 1/2-month trek.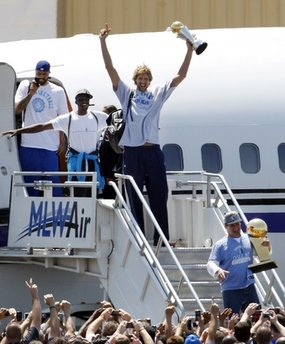 "We've got to talk to him about that," said Dirk Nowitzki, the finals MVP. "I don't think the last word has been spoken yet. We know he always wants to do something different, something bigger. But the ring is just so classic. I think I would vote for a ring. I mean, I'm a man. I don't know how I'd feel about a bracelet." Read more here. AP Photo/LM Otero
Ring or bracelet? Or something else?
---
---