Tue., Sept. 2, 2014, 1:21 p.m.
Idaho Families Can't Make Ends Meet
A sobering report, titled "Families Out of Balance," published this morning, confirms what too many Idaho middle- and lower middle-class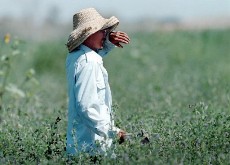 families know all to well: They are struggling more than ever to put food on the table and clothes on their backs. In the first of what will be a series of reports produced by the Alliance for a Just Society, 10 states, including Idaho, were examined to compare jobs, wages and the cost of living. "Our reality is that we can't even afford to live in our own house because rent is out of our budget on what the two of us earn," said Idaho husband and father of one Deejay Henry. "I have had two raises since I began working here, and now I make $12 an hour. Henry is not unlike thousands of Idahoans whose household budgets hover way too close to their income, leaving no room for savings, emergencies or higher education for their children/George Prentiss, Boise Weekly. More here. (AP File Photo for illustrative purposes, worker wipes his brow in Canyon County field)
Question: Isn't it too bad that you can't eat Idaho's beauty?
---
---