Mon., Nov. 12, 2012
Antron Brown makes auto racing history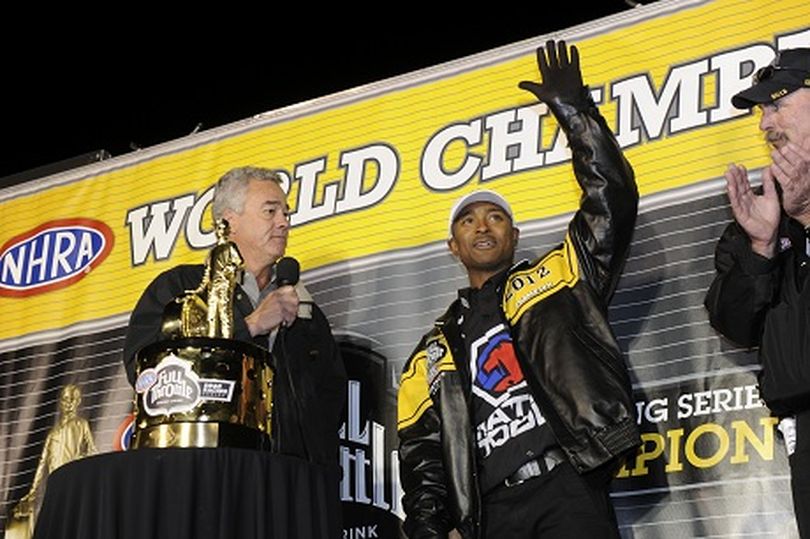 Antron Brown, who lost in the opening round of eliminations, had to wait until the final round before he could grab the championship trophy, when Tony Schumacher lost in a photo finish to Brandon Bernstein.
Courtesy: NHRA Media Relations
POMONA, Calif. – Antron Brown became the first African-American to win a major U.S. auto racing title Sunday at the Auto Club NHRA Finals.
Brown, who lost in the opening round of eliminations, had to wait until the final round before he could grab the championship trophy, when Tony Schumacher lost in a photo finish to Brandon Bernstein.
Brown entered Sunday's eliminations 67 points ahead of Tony Schumacher and for a while it appeared that Schumacher would put together another magical come-from-behind victory to take the title. Schumacher's U.S. Army dragster lost the final to Bernstein's ProtectTheHarvest.com dragster by eighth-thousandths of a second.
When the win light went on in Bernstein's lane, Matco Tools dragster driver Brown was mobbed by his teammates, family and friends in a huge celebration at the starting line.
"I feel so blessed to be in this moment right now and this is a big huge moment," Brown said. "I am just glad we could bring it home for Don Schumacher Racing. To win the world championship the way the competition has been this year in Top Fuel and to run and compete how we've been doing all season long is just phenomenal. We all switched the lead back and forth a bunch of times. Is this really happening?"
Brown, who earned six victories in 11 final rounds and was top qualifier three times en route to his title, continues the great history of diversity in NHRA, joining pioneering champions Shirley Muldowney, Cruz and Tony Pedregon, Hector Arana and Angelle Sampey.
"If I can be an inspiration for any of the kids out there who have dreams, any Americans, that's all I want," said Brown, who became the 18th different driver to win a Top Fuel world championship title.
Jack Beckman claimed the Funny Car world championship title when he outlasted teammate Ron Capps and took the title by two points in one of the closest points margins in the history of the category.
Top qualifier Capps lost in a close semifinal round to rookie Courtney Force and dropped out of contention. Beckman was crowned champion before his semifinal matchup against eventual race winner Pedregon, which he ultimately lost.
Beckman's title gave team owner Don Schumacher both nitro championship trophies and more than a million dollars in earnings for the weekend, duplicating his effort from 2005 when his son Tony won Top Fuel and Gary Scelzi took the Funny Car crown.
Beckman, a cancer survivor who won the 2003 Super Comp championship, came on during the Countdown playoffs and moved into contention with a win at St. Louis. He took the points lead at the event in Reading, Pa. when he set a national performance record and was the No. 1 qualifier. A major historian of the sport and former drag racing school driving instructor, Beckman, who drives the Valvoline/NextGen Dodge Charger, was more than thrilled with the outcome.
"You think about this, and you dream about this," Beckman said. "It's going to take me a while to wrap my head around this. We would have loved to have won it head-to-head (against Capps) in the final, but the trophy is going to shine just as well no matter what. We really wanted to win."
Cruz Pedregon (Funny Car), Allen Johnson (Pro Stock) and Andrew Hines (Pro Stock Motorcycle) joined Bernstein (Top Fuel) as race winners of the final event of the NHRA Full Throttle Countdown to the Championship at historic Auto Club Raceway at Pomona.
The win for Bernstein was the 19th of his career and ended a drought that dated back to 2009. Bernstein used a quicker reaction at the start to finish in front of Schumacher. Bernstein posted a performance of 3.762 seconds at 320.81 to finish in front of the quicker, but losing U.S. Army dragster which clocked a 3.753 at 325.53.
"It's awesome, we did a great job all weekend," Bernstein said. "It's been a long time since we've had a win. It's a really good team and it's a lot of fun. I don't think I've ever had a win where I had to wait so long for the TV interview. Hopefully next year we're in a better position to challenge for the championship. We'll come out next year and try to get a championship."
Pedregon raced to his first Funny Car victory of the season and 30th of his career, as he pulled away from rookie Force in the final round. Pedregon drove his Snap-on Tools Toyota Camry to a performance of 4.035 at 306.12 while Force lost traction in her Traxxas Ford Mustang at the hit of the throttle.
"We've probably left five or six races on the table this year and we put it together this weekend," Pedregon said. "But we've always had a fast car. We placed third overall last year, and after winning today, we finished fourth this year and I think we've proved we belong with the top teams.We're a smaller independent team, but with the way we finished, I think we can build on this and be one of the favorites heading into next season."
In Pro Stock, Johnson capped off his championship season with his seventh victory of the year and 16th of his career, powering his Team Mopar Dodge Avenger past Vincent Nobile in the final round. Johnson posted a 6.528 at 212.76 to hold off Nobile's Mountain View Tire Avenger, which finished in 6.533 at 211.66.
"Our team is so awesome and the Mopar Dodge Avenger has just performed flawlessly," said Johnson, who on Saturday gave Dodge its first Pro Stock championship since 1994 and fifth overall. "Determination and my father (who is his engine builder) is what got us to this point. He wanted to do this all his life and my whole focus was winning this with him. A lot of hard work and determination went into winning this. We had a dominating performance in this Countdown, won a championship and ended with a win. What more can we do? That has added just a little more emotion to it."
Hines defeated newly crowned Pro Stock Motorcycle world champ Eddie Krawiec in the final round and took his sixth victory of the season and 31st of his career. Hines rode his Screamin' Eagle Vance & Hines Harley-Davidson to a track record performance of 6.766 at 198.29 to finish in front of Krawiec, who trailed with a 6.805 at 197.54.
"It was by far the best bike I had all year," Hines said. "This was an absolutely phenomenal bike I had all weekend long. It was a total joy to get down the track."
The 2013 NHRA Mello Yello Drag Racing Series opens Feb. 14-17 with the O'Reilly Auto Parts NHRA Winternationals at Auto Club Raceway at Pomona.
---
---