Thu., April 28, 2011
Veteran officer offers field safety tips to turkey hunters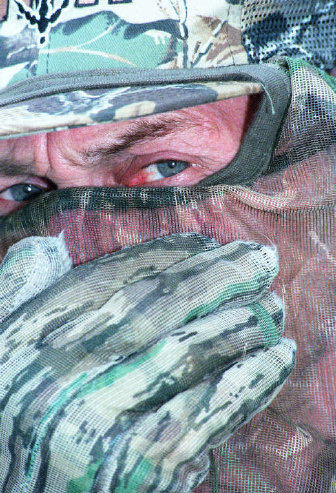 HUNTING -- With spring turkey hunting seasons in full swing around the Inland Northwest, it's worth pausing a moment to hear out Larry Case, a Virginia conservation officer for three decades as well as an addicted turkey hunter, has see it all over the years, from inside a blind and behind a badge.
"No groaning or eye rolling, please: Hunter safety is serious business," he says.
"Let's start with the most basic rule in hunter safety; if all hunters observed this rule, all the time, we would have virtually no "hunter mistaken for game" incidents. If you ever had a Hunter Education course you should have this first one memorized..."

Read on for his eight timely tips on "Safety In the Turkey Woods."
1. Positively identify your target before you pull the trigger. Plain and simple if all hunters followed this one, we would have no more "I thought I saw a turkey" shootings. None of this "I thought I saw a red head", no "I thought I saw a beard", positively identify the target every time.

2. Refrain from stalking spring gobblers. The turkey that hangs up out there and refuses to move but continues to gobble can tempt us to stalk or "slip up on" him. Don't do it, you don't know who is in the area, one hunter sitting and watching and another crawling to this turkey is a recipe for a tragedy. I know, I have seen it too many times.

3. Avoid the colors red, white, and blue in your hunting attire. These are the colors on a mature gobblers head. So, no blue or red on your hat and for heavens sake you can't have that white handkerchief sticking out of a back pocket. Remember the old nemesis of the white socks, when you sit down, your pant leg will reveal the color that could get you shot. I have seen it more than once. On another note, as turkey hunters most of us flee from blaze orange like the plague. When we are walking and calling however, trying to toll up a gobbler, a blaze orange hat or vest could save your life.

4. If you arrive at your area and there are other hunters already present try going to another spot. The more hunters you put in an area the more likely you are to have an incident; it's the simple law of averages. Put the truck in gear and try that place down the road that you were saving for just this occurrence.

5. If you do encounter another hunter speak to them in a loud, clear voice. Never wave or otherwise move to alert another hunter to your presence, especially if the other hunter is stalking the sound of your calls. Let's be honest, most of the time we don't want to speak out because we are afraid of spooking the turkey we are working. No old gobbler is worth getting shot over, call out to the other hunter, try this turkey another day.

6. When you set up on a turkey select a tree, rock, or other object larger than your body to hide and protect you from the rear. Have a clear field of view in front of you. The tree or whatever you lean against while sitting should be wider and taller that you. You need some clear area in front of you to watch for the approaching gobbler, this will also allow you to watch out for those that do not follow rule #2.

7. Be cautious transporting and setting up decoys. Decoys work, which is why they have become so popular. We need to be careful about carrying them in the woods, don't let that red head stick out of your vest. When setting the decoy, think how another hunter may approach so you are not in the line of fire.

8. Calling that you suspect is another hunter may be just that. Leave the area. Again, taking the chance is not worth it. We all know that turkeys make some bad calls sometimes, but if you are just not sure about that hen out there, get up and leave.

This is not a complete list of safety tips, most of us would be well served to call our state DNR and take a Hunter Education course. If you do follow these however, you are on your way to a safer, more enjoyable season.
---
---