Bald eagle numbers may be peaking at CdA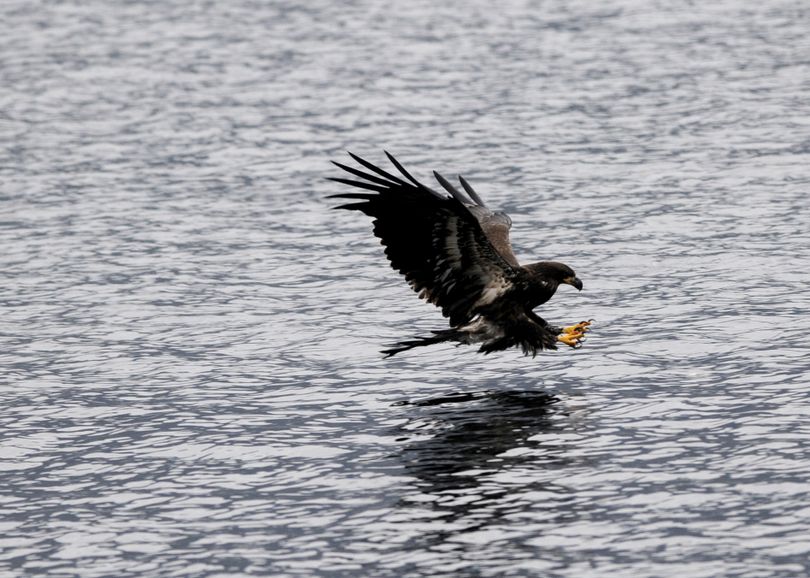 WILDLIFE WATCHING -- The number of bald eagles gathering at Lake Coeur d'Alene appears to have peaked or may be declining slightly after last week's record count of 259 birds in Wolf Lodge Bay.
In today's survey, a total of 237 bald eagles -- 204 adults and 33 immature -- were counted in the weekly survey by BLM wildlife biologist Carrie Hugo. That's down slightly, but Hugo notes in the survey report that viewing conditions were fairly difficult because of the sun shining into her spotting scope and snow on the trees making it difficult to pick out the white heads of the adults.
The 2010 peak count -- a record at that time -- was 254 bald eagles surveyed on Dec. 23.
"As usual, lots of birds were seen on the south shore across from Higgens Point and many were on the west side of Beauty Bay," Hugo said.
"Lots of Eagle Watchers out today as well. The Mineral Ridge Trailhead parking lot was packed! There are still many kokanee floundering around and there were plenty of opportunities to see eagles fishing on the wing today."
Eagle Watch Week runs Dec. 26-Jan. 1, with volunteers offering information and offering use of spotting scopes 10 a.m.-3 p.m. south of the Wolf Lodge exit 22 from Interstate 90.
---
---