Mon., Jan. 23, 2012
Police: Girl Scouts peeper wore g-string
A man arrested for voyeurism outside a Girl Scouts gathering in Spokane was wearing a red g-string and no pants when a woman spotted him early Sunday, officials say.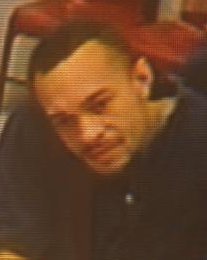 Martin J. Green, 29, had a "pocketful of condoms" in his untied sweat pants when police arrested him after a brief foot chase near the Girl Scouts office at 1404 N. Ash St., said Deputy Prosecutor Patrick Johnson.
Green's g-string, pocketful of condoms and lack of pants "gives me a great cause for concern for our community," Johnson said today at Green's first court appearance.
Assistant Public Defender Mike Elston disagreed.
"I fail to see the significance of the allegation of the g-string or the condoms," Elston said. "The allegation is he looked through a window."
Green is pictured in court courtesy KHQ.
Officers responded to the office about 12:45 a.m., where the group was holding a slumber party. Police lost sight of Green but caught up with him in the 1700 block of West Mission Street.
A Girl Scouts employee identified him as the shoeless man she saw looking into the building's windows while holding his pants in front of his legs, police said.
Green told police he left his home in the 1500 block of West Sharp Avenue after an argument with his girlfriend and happened to walk by the building. Green said he didn't know the building belonged to the Girl Scouts but he ran because he knew he was trespassing, according to court documents.
Green served eight years in prison in Georgia for a violent crime conviction in 1999, according to court testimony.
Superior Court Judge Annette Plese today set his bond at $10,000. He's to be arraigned Feb. 7.
---
---