Wed., Oct. 21, 2009
WSU's Montgomery speaks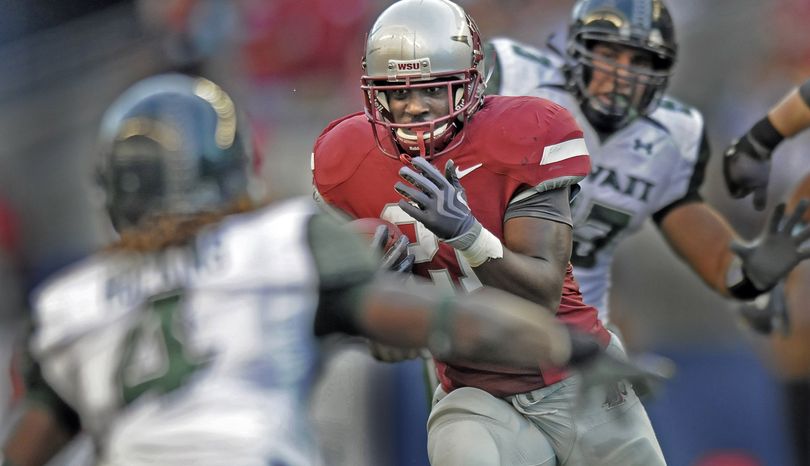 COUGARS
Have we got some news for you. Intrigued? Well, don't be. Unless of course you get excited by our usual practice report. We'll even throw in our story for tomorrow's S-R, the unedited version of which you can read on the link. It's about James Montgomery, who talks for the first time since his leg injury, and Brandon Jones, two Cal transfers whose road back to Berkeley took decidedly different paths. Read on.
••••••••••
• We're going to start with our practice report tonight. And it's not all good news. But when is it ever? One of the Cougars best players wasn't in Pullman today. Punter Reid Forrest skipped practice to be with his family in Ephrata. Forrest's 93-year-old grandfather died this week and he went home to help the family through their grief. He will be back in Pullman in time to take the charter to Oakland. ... Middle linebacker Louis Bland didn't finish practice after tweaking his left knee again. Yes, it is the same one that's bothered him since spring football. Coach Paul Wulff said after practice he'll just have to wait and see how Bland responds. In his place, Mike Ledgerwood took a majority of the first team snaps. ... But Wulff said he expects Alex Hoffman-Ellis to be ready to go Saturday. The middle linebacker has been taking it slow this week but was more involved today. ... Offensive lineman Steven Ayers got his sore ankle rolled up on during a scrimmage session and was limping again. He and B.J. Guerra have been cleared to go, but how much they'll play against the Bears is still to be seen. ... Practice didn't seem as crisp today, and the damp, cold weather conditions might have had something to do with it. Wulff said the extra couple days during bye week have made the Cougars more comfortable with the game plan for Saturday but they need to continue to fine-tune their execution. He added they need to have a good practice Thursday. ... The story that follows evolved during the week as Montgomery began rehabbing his injured leg. The junior running back was upbeat as we talked after practice today, explaining what happened to his leg, praising Cal running back Jahvid Best, laughing about how hard rehab is, getting serious when talking about his time in Berkeley, smiling when mentioning how much he likes Pullman. If attitude can ensure someone returning from what Montgomery's been through, then he'll make it. The other subject of the story, Brandon Jones, is one of the Cougars happiest players as well. He has a philosophy about it. "I take practice seriously but you know, at the same time, I try to keep everyone, try to stay positive," he said. "Keep thinking of the good things, keep everybody else laughing because if everybody else feels good, then everybody's going to have fun practicing. If you make practice fun, you get stuff done. If people are having fun, the intensity level goes up, people have good attitudes about it, everything."
•••
• Here's the long version of the story ...
PULLMAN – It was supposed to be homecoming week.
James Montgomery and Brandon Jones have looked forward to it for almost two years, this Saturday's visit to Berkeley. The Cal Bears. Memorial Stadium. Where the two once played before deciding to transfer to Washington State University in the spring of 2008.
This was supposed to be homecoming week, when all the boredom of a redshirt year, all the work with the scout teams, all the trash talk from old teammates, all the patience would be rewarded with a triumphant trip back to Strawberry Canyon.
But life, and football, has a way of taking the long way around.
For Jones, who left Cal feeling a little disrespected, the road still is open. He'll start at cornerback for the 1-5 Cougars as they try to upset the 4-2 Bears, a 35-point favorite.
But Montgomery, whose departure from Berkeley was much more amicable, has been forced onto a detour. A blow to his right calf during the win over Southern Methodist, so slight he doesn't remember it, took care of that.
•••
Montgomery's two years at Cal – he redshirted as a freshman – were, by his own admission, fine but "it just wasn't the place for me."
"I just didn't get the feel I wanted to be there," Montgomery said, explaining he felt a lot of pressure coming out of Sacramento's Cordova High to attend Cal, from his mom's heart problem, since fixed, when he was a high school senior, to people at his high school pushing the Bears.
But the Northwest beckoned even then.
"I wanted to come up here," Montgomery said. "Berkeley's an awkward place. ... I didn't like it at all. And when I took my trips in high school, the college towns felt way better. That's how college should be."
So even though he roomed with Cal coach Jeff Tedford's son, even though he averaged 4.8 yards a carry as a redshirt freshman, and even though he entered the next spring practice atop the depth chart – current All-American Jahvid Best was slowed by a hip injury – he decided to transfer to Pullman.
"To leave here and to go to a place that was a better fit for him, and to make him happy, was OK with me," Tedford said. "I just wanted to make sure he was happy."
Another redshirt year was spent to pay the NCAA transfer penalty and then Montgomery was slowed this fall with a knee strain. But after two games he led WSU with 157 yards, averaging 5.1 yards a carry.
Then came Sept. 19 and WSU's 30-27 overtime win over SMU.
Montgomery said his leg was bruised during the game, but "nothing major. It started as just one spot and then swelled the whole compartment. That's when I knew something was wrong."
Tossing and turning, he got up, sat on the couch, tried to get comfortable. He couldn't. Nothing helped and, at 7 a.m., lying on the living-room floor, he tried to lift his foot.
"It felt like fire shooting through my ankle," he said.
He headed to the emergency room.
After Dr. Ed Tingstad tested the pressure in his leg at the hospital, he told Montgomery he had to go put his scrubs on. "I knew it was bad," Montgomery said.
He was suffering acute compartment syndrome, where blood buildup in the muscle compartment can kill the muscle tissue.
The blow was near the top of the calf. The overnight buildup started to eat away at the muscle, spreading down the leg. It was caught before it went to the foot, a result that probably saved the lower part of his leg.
Montgomery said Tingstad removed a strip of tissue about the width and depth of a hot dog from above the ankle to just below the knee.
"If you feel the leg, you can feel the indentation where they took out the stuff," Montgomery said.
"I just heard some of the details just in the last couple days," Tedford said. "I had no idea it was as serious as it was. I feel bad for him. I hope he's doing well."
He is. A month after surgery, Montgomery has been cleared to begin workouts. He usually keeps his lower leg in a boot but takes it off to ride the stationary bike and rehabilitate the leg.
"I've still got a little range of motion like this," he said, moving his hand up and down, "that's coming back. That's what we're working on. My calf's intact, so ..."
Montgomery's voice trailed off. Asked if he thought he was going to play again, he answered quickly.
"I'm going to rehab like I am," he said. "It's a little setback. I'm going to try to get it together and bring it back. I'm just working my butt off right now."
But he won't be playing Saturday in Berkeley. Though he said he didn't circle the game or anything, he still admitted he had hoped to lead the Cougars to a win.
"You're right about that," he said, laughing.
•••
Brandon Jones wasn't happy in Berkeley either.
The Seattle native – he played youth football with current Cougar Jeffrey Solomon and against Myron Beck – arrived at Cal the same time Montgomery did.
He also redshirted as a freshman and played the next year, though sparingly.
The Bears, who started 5-0 but finished 7-6, struggled with some team unity questions, and they played a role in Jones' decision.
"A little bit, that and kind of not really liking the area," he said. "But more of me not liking the area. (The dissension) was part of it, but just a little part."
"He had a little of a rocky time," Tedford said of Jones' stay in Berkeley. "I think he was in the process of growing and maturing as a person. I think (he) got disenchanted and it was a situation where he could get a little bit closer to home and fit in at a different place."
And the 5-foot-9, 183-pound Jones has fit.
"He walked on and he worked extremely hard," said WSU co-defensive coordinator Jody Sears. "The consistency of his effort and the consistency of his positive attitude has continued to progress since he's got here.
"He earned himself a scholarship pretty much last winter. ... I've been really, really pleased with his effort and his attitude."
Jones will start his seventh consecutive game at left cornerback, facing a Cal offense that leads the Pac-10 in scoring (32.8 points per game). The junior has 25 tackles, an interception and a fumble recovery.
"We know that Brandon has tremendous skill," Tedford said. "He can run very well, he's a great cover guy and we have a lot of respect for his playing abilities."
Cal's rushing attack is led by running backs Best (102.7 yards per game) and Shane Vereen (51.5), the passing game by quarterback Kevin Riley (204.2).
"Some people that are playing I know, like Kevin," Jones said. "I still see some of the stuff I remember he used to do when I used to be out there. Other than that, that's really the only person I really know really well."
But he knows the type of test Best can provide, especially considering Jones has worked hard on improving his open-field tackling skills, according to Sears.
"Jahvid is good and he's fast," Jones said. "I do want to see him one-on-one. Somebody's got to win. If I lose, then I'll come on top the next time."
Unlike Montgomery, Jones has been pointing to this game. He wants to show what he can do.
"Ya, I do," he said. "I also want to show them they missed out."
Saturday, he'll have his chance. Montgomery won't.
•••
• That's it for tonight. We'll be back tomorrow. Until then …
---
---