Sat., Oct. 18, 2014
Chalich steps in, Vandals step up to snap 13-game losing streak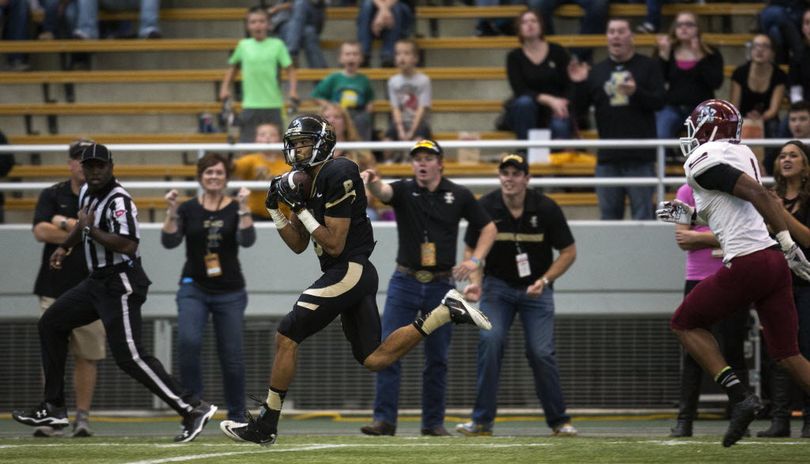 Nuke LaLoosh, the bumpkin philosopher of "Bull Durham," said it all: "I love winning, man. It's like, better than losing."
If they weren't clear on the concept before, the Idaho Vandals certainly were by Saturday night. RIding plays like Josh McCain's 49-yard touchdown catch of a Chad Chalich pass (pictured above), the Vandals halted a 13-game losing streak, dumping New Mexico State 29-17 to make it a happy homecoming weekend in Moscow.
And for the record, yes, it seemed like genuine joy trumped the relief of ridding themselves of the longest drought in the Football Championship Subdivision, even if it was somewhat tempered by the blow to the head that sidelined starting quarterback Matt Linehan -- though no one is saying the "C" word yet.
For more on the Vandals and their victory, follow the link below.
Here's the account from spokesman.com that will appear in Sunday's paper, along with the stats and this story from Idaho's web page. For more of the New Mexico State perspective, check out this story from the Las Cruces Sun-News.
With his father Bob Petrino Sr. in the back of the room and his daughter Ava by his side (and still carrying the cowbells she clanged during the game), it was a jazzed and animated Paul Petrino who met with the media after Idaho's first win of the season -- and his second win as a head coach.
"I'm really happy for the players, happy for the assistant coaches, happy for her (nodding toward his daughter), happy for all the people that hurt so bad each week -- my wife, my other two kids, the assistant coaches' families," Petrino said.
"They're the ones who know how hard we work, the hours we put in and how we live and die by each game. And they all get to be happy tonight."
It was, he pointed out, a full team victory, with significant contributions from the offense (a 536-yard performance), defense (four turnovers) and special teams (Austin Rehkow's 3-for-3 day on field goals, for starters).
It was also a very Idaho victory -- which is to say, a flawed work by a program still making its progress in fits and starts. After punching in its first scoring opportunity for a 7-0 lead, the Vandals gave it back in three plays on a 79-yard touchdown run by NMSU's Larry Rose III -- yet another of the big plays that have plagued them all year. Late in the third quarter after a possession change, the Vandals had to burn a timeout -- and then got flagged for a delay of game after that when it couldn't get the play off. When it had a chance to step on the Aggies' throats in the game's middle stage, Idaho settled for field goals and gave up another big Rose run -- 34 yards -- for a touchdown that pulled the visitors to within a touchdown with 12:11 to play.
And, yes, the Aggies are a bit of a mess. They came into the Dome on a five-game losing streak of their own, tried a new quarterback -- freshman Andrew Allen, who was borderline helpless -- and then turned to previous starter Tyler Rogers, who threw two killing picks in the fourth quarter when his team still had a chance.
Which just means that Petrino should still have the Vandals' attention when they get back to work in practice, only with the confidence and bounce from a victory for a change.
-- The game hadn't even had a chance to assume a tone before it got turned upside down with the injury to Idaho quarterback Matt Linehan. The freshman was in the process of leading the Vandals smartly down the field (a 20-yard completion to a leaping Justin Podrabsky being the big play) when NMSU's Kawe Johnson delivered a blow that was not only late but targeted Linehan's head. The Aggies safety was ejected, but Linehan was done -- he sat on the trainer's table for a couple of series, then went into the locker room for the rest of the half.
Backup Chad Chalich finished off the drive with a run and a handoff to Richard Montgomery that produced the first touchdown, and Petrino paid a visit to his injured starter.
"I told him I loved him and to hang in there," Petrino reported. "I said, 'You're going to be all right.' He wanted to come back in the game and I said, 'Well, calm down and maybe you can.' I knew he wasn't going to, but (it was) just to calm him down. You never want to see anybody get hit like that. It was pretty ridiculous."
Petrino later said that he thought Linehan would be "fine. When I was a kid, (they'd give me) smelling salts in the nose and I'd go back in the game. My dad back there did that to me." But that gets said a lot nowadays, and obviously Idaho's medical personnel will be careful with Linehan. Having a bye next weekend certainly won't hurt. But while he was appreciative of everyone's concern, Linehan's tweet late Saturday night suggested he was in substantial pain.
Chalich, last year's starter in seven games but limited to just four plays this fall before Saturday, was not always spectacular in relief, but he was resourceful and nervy. The play after Linehan's injury, he ran an option keeper into the teeth of NMSU's defense. He continued to run willingly, and kept plays alive with his feet. On one silly play in the second quarter from the NMSU 4, he looped away from the Aggies' rush and retreated back beyond the 30-yard line before finding an open Podrabsky, who ran over one defender and just missed getting into the end zone. Rehkow booted his first field goal on the next play.
"What happened to Matt was frustrating and a cheap shot in my mind, but that's the way the game goes," said center Mike Marboe. "Chad came in, and he's got a ton of expeience and we've got all the faith in the world in him. He stepped in, looked us in the eyes and said, 'Let's go.' "
Chalich air mailed a few throws, and surely he'd like to have a redo on the rollout interception he threw in the second quarter. But he also had a likely touchdown dropped by Montgomery, and his touchdown pass to McCain, sold with a quick pump fake, was a thing of beauty. He finished with 18 completions in 32 attempts, for 192 yards. He also gained 73 with his own feet.
"We were going to run a little more anyway," Petrino said. "I learned from my dad, and my brother did it, to have a short list for your backup quarterback. They know what they do and what they like. Between series, I'd ask Chad, 'Do you like this call or this call?' Most of the time you go with what they like, but not always."
-- McCain made Winston Rose look foolish on his touchdown catch, but maybe the most impressive of his 11 receptions came late in the first half when he caught a bubble screen pass on the left edge and was on the verge of being corralled for a loss or little gain. After eluding a tackle, he broke right and went clear across the field, picking up 23 yards -- while getting virtually nothing in the way of a downfield block.
-- But in fact, the most efficient part of the Idaho offense was the running game, thanks to solid play from the Marboe-led line and some terrific running by Jerrel Brown, who had 151 of Idaho's 310 yards rushing. And that was in about two-and-a-half quarters of play. He reeled off gains of 17 and 22 yards in the drive that produced that early field goal, and in Idaho's first possession of the second half averaged almost eight yards on his six carries. And he was jacked about getting his first touchdown as a Vandal after a year and half.
"Mike and those guys pushed them way back," he said. "I could have bused through there."
As hard as he ran, sometimes the most impressive thing about Brown was his patience in waiting for his blockers to make space.
"With zone plays, sometimes when you press it up to the line of scrimmage you want to suck linebackers in," he said. "You don't want to just run to the open as fast as you can. If you can get the linebackers to commit really hard, usually there's a gap left open. Sometimes you just have to be patient and let things develop -- and big holes happen like that."
--- The big play continues to haunt the Vandal defense. In addition to Rose's two long TD runs, Adam Shapiro dusted Idaho corner Delency Parham on a 51-yard post route in the second quarter. But Idaho also forced four consecutive three-and-outs after that first touchdown, produced a fumble and three interceptions and bottled up Sun Belt receiving leader Teldrick Morgan without a catch.
"We did!" Petrino shouted in agreement. "We worked our butts off to do that. All week long it was '19, 19, 19 better not catch a ball.' Whatever quarterback was in there, if you take 19 out of the game, it would be frustrating for him. We doubled him a lot -- one guy press up in his face and another helping over the top. That hurt us a couple of times against the run, but he was their comfort guy for their quarterbacks and I didn't want him to catch any balls."
--- Jayshawn Jordan's clinching interceptions were semi-dazzling. On the first, he tipped and then bobbled the pass from Rogers while trying to figure out if he was in or out of bounds. In the meantime, NMSU's Jerrel Brown -- yes, another Jerrel Brown -- looked to have managed to get his hands underneath the ball. But then it slipped through again to Jordan, by this time flat on his back. If the Vandals' ensuing touchdown didn't decide it, Jordan's play to jump a back-shoulder throw by Rogers to Joseph Matthews did.
--- And just to note, Rehkow wasn't only perfect on field goals. He dropped two punts inside the NMSU 5-yard line -- the last when the Aggies had closed to 23-17.
--- Some personnel notes. The injuries (Jordan Grabski) and defections (Chris Edwards) at safety prompted Petrino to move Bradley Njoku, switched to corner this season, back to his old spot and he responded with a pick and great work on Morgan. Veteran Tom Hennessey, the subject of an S-R column earlier in the week, continued to see steady duty and was UI's third leading tackler with six. Also, with the depth hits in the secondary, receiver Rueben Mwehla looks to have changed sides, trading his No. 3 (which linebacker Irving Steele also wears) for No. 26 and warming up with the DBs Saturday. And Marius Burgsmueller took over the long snapping duties for injured Brett Ballard.
Here's some video from the post-game presser for more with the happy Vandals:
---
---