Wed., April 6, 2016
M's win and their new manager has a chance to show his mettle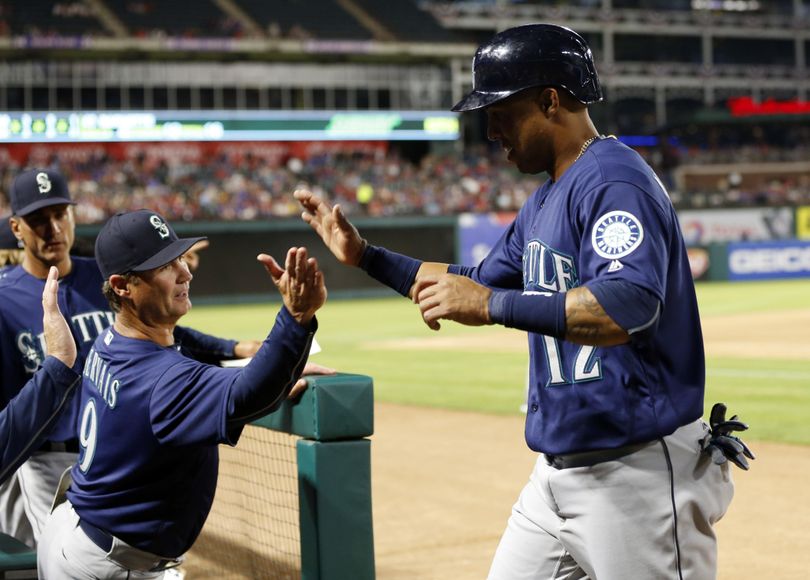 A GRIP ON SPORTS • So the Mariners won yesterday. They blasted the ball around, and out of, the Rangers home field. And then they got into a late dustup with the defending American League West champions. Anyone have a problem with any of that? Read on.
••••••••••
• Baseball "fights" are usually what they were Tuesday evening in Arlington. Out-sized, and out-of-the-dugout discussions about this or that. Team A, in this case the Rangers, takes umbrage at something Team B, the Mariners here, did. Team A does something about it, ie., throws a baseball at a Team B hitter. Words ensue. Sometimes a confrontation. And, in rare occasions, an out-and-out brawl. It never got past the conversational stage yesterday, though the conversation between former M's pitcher Tom Wilhelmsen and new M's catcher Chris Iannetta was heated. So was the tete-a-tete between new M's manager Scott Servais and his Ranger counterpart, Jeff Banister. As Times' columnist Larry Stone rightly pointed out, the whole incident was a gift to Servais. He got to show his team passion is OK, he was able to stand up for his guy – that goes a long way in the clubhouse – and he set a tone for the next few weeks, when the M's and the Rangers meet often. All good things – if the M's win as they did Tuesday. Start losing and people will point to the eighth inning as evidence Servais is in over his head. It's a results-based business, so every post-mortem includes elements of picking-and-choosing past events as a way to bolster an argument. If the M's get off to a hot start, yesterday's blowup will be used to show how Servais is a leader and knows how to motivate. Lose eight of the next nine and the same marker will be put down as a guarantee he doesn't know what he's doing. So let's get ahead of the curve. There are a few things a new manager has to show a ball club, especially a first-time manager. How he is going to handle the bullpen. How he deals with each player individually. How he handles late-game situations. And how he reacts to bad calls or purpose pitches. Servais showed the M's his response to the last thing yesterday. He's going to stand up for his guy. Loudly. More Lou Piniella than Bob Melvin, to put it in ex-M's manager terms. That's the right way. Be proactive. Respond with a show of anger but don't let it get out of hand. Maybe, today or somewhere down the road, back one of the Rangers' stars off the plate with an inside pitch. Calmly, methodically, not in the heat of the moment. In other words, be professional about it. The lesson is simple: The emotion is there, it's fine to show it, but it's not getting the best of you. Model behavior you want your team to display. That's managing. But, remember, if the bullpen goes to crud, it's all because you didn't start a brawl on April 5.
•••
• WSU: No mention in Jacob Thorpe's practice report whether or not the Cougars baseball-brawled their way through Tuesday's practice so my money is on nope. Jacob also has a video of Mike Leach's interview afterward. ... ESPN.com's Pac-12 blog has a piece on Gabe Mark's new fitness agenda.
• Gonzaga: ESPN's Jeff Goodman is reporting this morning via Twitter that Domantas Sabonis will declare for the NBA draft. That's not much of a surprise to anyone, is it? ... Jacob was doing double duty, also covering Gonzaga's 8-0 non-conference baseball win over the Cougars last night. ... The University of Portland introduced former NBA player Terry Porter yesterday. The event was well attended.
• EWU: There are quite a few Eastern players using spring football practice as a way to show the coaching staff they are now healthy. Jim Allen has this story detailing their injuries and how they have bounced back.
• Chiefs: The WHL playoffs roll on, though without the Chiefs. Everett has had some time off to prepare for the next round against Seattle, which doesn't begin until Friday.
• Preps: Former Coeur d'Alene football coach Herb Criner died recently. Greg Lee has his obituary in today's paper. ... Former Lake City star Matt Troxel is putting his mark on the offense at Idaho State as the Bengals' coordinator.
• Seahawks: The Hawks will have the usual contingent of college players in for visits before the draft, though it's hard to spy any draft plans from the list. ... John Schneider doesn't believe Kam Chancellor will hold out again.
• Mariners: As we said, there was a bit of a brouhaha last night. But the most important thing was the M's got their bats going, albeit late in the contest, and won 10-2. ... Iannetta is off to a good start, which is good for him and good for the team.
• Sounders: Oalex Anderson can run a bit. That's a good thing.
•••
• Boy that was quick. Hump day already. Before you know it the Masters will be on. Like today. Well, the par 3 contest is today, starting at noon on ESPN. If you like a bit of fun on the golf course, then it's for you. Though it's not for everyone. Until later ...
---
---