Mon., Feb. 29, 2016
This week's free game: "Minefield"
Are you a gamer? Do you like free things? Of course you do!
We here at the Tech Deck are just like you: poor gamers looking for cheap entertainment. And nothing's cheaper than cost-free gaming. Each week, we'll bring you a title (or two or three) you can legally play at home without plopping down a single dollar. If you see games you think we should be featuring on the blog, email us at dang@spokesman.com or kiph@spokesman.com.
Tanks provided a deep well for early arcade game designers to draw from. Battlezone, a 1980 first-person Atari cabinet, is widely regarded as one of the finest arcade games of all time. That game followed the 1974 game, titled simply Tank!, also from Atari. In 1983, Stern Electronics attempted to get in on the tank craze with their cabinet, Minefield, a twin-stick shooter that pitted a constantly thrusting tank against waves of ground- and air-based enemies. You can play a version of that game, free in your browser, by clicking below, thanks to the folks at Internet Arcade!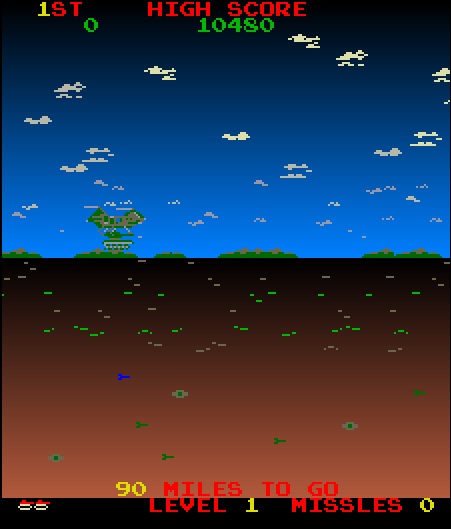 Use the "E, D, F, and S" keys on your keyboard to move up, down, forward and in reverse, respectively. The "I, K, L, and J" keys shoot up, down, right and left on the screen. Avoid mines and pick up missiles as you rumble forward on the map, with the ultimate goal to travel 90 miles.
Stern Electronics was a family operation formed in 1977, when the company bought the assets of failed amusement game company Chicago Coin. Three years later, they would produce arguably their most popular game, 1980's Berzerk. That game is perhaps best known for its indestructible yet ever jubilant villain, Evil Otto, a floating smiley face that would attack the player relentlessly if they didn't move quickly enough through the game's enemy-filled maze.
Stern would go on to release more than 60 titles for American arcades before the industry crash, which occurred shortly after Minefield's release. The company ceased arcade machine productions in 1985, but found new life in the mid-1990s developing pinball tables. Stern Pinball has produced tables based on some pretty massive pop culture properties in recent years, including The Avengers, The Sopranos, Shrek, The Walking Dead and The Simpsons.
Do you have a favorite tank video game? Let us know in the comments below, and check back next week for another free game.
---
---