News > Idaho
Hap Murphy was known as 'quite a man'
Sat., July 24, 2004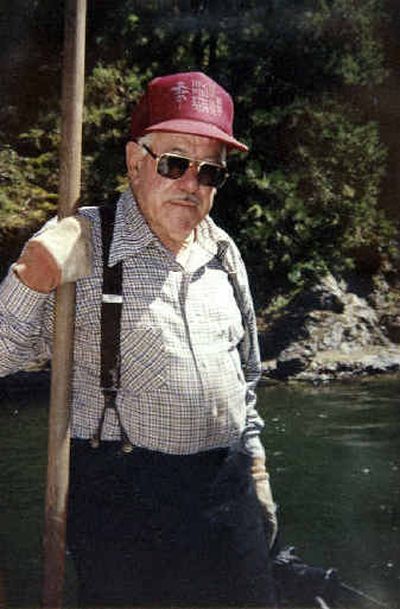 Coeur d'Alene lost a beloved husband, father, steamboat captain and native son July 3 when Hap Murphy, 92, died at home after a very brief battle with cancer.
According to his daughter, Kathi Poitevin, he was the youngest man ever to pass the tests to be a steamboat captain, starting his career on Lake Coeur d'Alene in his late teens. Following in the footsteps of his father, Loren Murphy, Hap was the last living tugboat captain who ran a steam engine in this area.
Born in Coeur d'Alene in 1911, he spent a great deal of his childhood in Dover, Idaho, on the Pend Oreille River. He and his siblings, Mary Mae and Fred, attended a two-room schoolhouse on the river.
In his book, "My First 90 Years," published in 2001, Hap recalls a cute girl named Eilene who smiled at him when he looked at her. Thinking that "she should be kissed," he took it upon himself to oblige her, which got him into trouble with the teacher. This is just the beginning of his many amusing and heartfelt stories he tells in his book.
Kathi talked him into writing the book. She tried at first to get him to tell his tales into a tape recorder, but that made him uncomfortable. She had listened to his many adventures and wanted to be able to have a way for her grandchildren to know Hap. After Hap's first wife, Beatrice, whom he married in 1948, died in 1988, Hap started writing in earnest. He wrote the book in long hand, printing on yellow legal paper. He saved all the pens he used up so he would know how many he used. Then Kathi would enter it all into the computer.
"It took us 10 years putting this together," Kathi said of "My First 90 Years." She said he started just by writing down story after story, not necessarily in order, and soon they realized that he had a book in him.
Hap's name by birth is Henry Wesley Murphy. Two little girls, Montana Dary Doe and Henryetta Stickney Doe, lived next door to the Murphys in Dover. They became playmates and for some reason, little Montana decided to call young Henry "Happy," later shortened to Hap. He lost track of the girls, but later on in life when Hap was running The Boat Drive-In (now Michael D's Eatery) Henryetta came in, but he was so busy, he didn't have time to find out where they were living.
They almost met again during Hap's last days in the hospital. Hap was sharing a room with another man when three women came in to visit the other patient, said Veronica Murphy, Hap's second wife.
"They were nice dressed older women," Veronica said. After the women and all of Hap's friends left, Veronica had to go past the other man's bed to go out the door. She said "excuse me" when she walked in front of him.
"He said, 'Is that really Hap Murphy in here in that bed?' " Veronica said. She replied that it was and the man said, "Well, did you see those three women that were in here; well they're relatives of mine, but that one woman told me she named him Hap."
In his book, Hap said that he and his brother Fred both loved the water and spent most of their lives on boats. Loren Murphy was captain of the Montana steam tug owned by the Coeur d'Alene Lumber Co. When Hap was a boy, the round trip from Coeur d'Alene to St. Maries was seven to 10 days. The first tug Hap piloted was the Coeur d'Alene. At the age of 21 he was the lineman on the Avondale steam tug. The next year he was named Captain of the Cougar, the most powerful tug of the B.J. Lafferty Co., whom he worked for before and after World War II.
Chris Taft of Bonners Ferry went to high school with Hap at the old Coeur d'Alene High School. He remembers riding the tugboats with Hap early Saturday mornings in the old days, patrolling for stray logs that would tear up the tourists' motorboats.
"The deadheads wouldn't always come up to the surface, but he could see them and get 'em," Chris said.
They would round up the strays and put them in a holding pen. Chris said that in the later years, Hap was good about calling and coming to visit him. The last time they met was for dinner six months ago at the Kootenai Inn in Bonners Ferry.
Bob Ross of Coeur d'Alene met Hap in the eighth grade. Hap gave him a ride home from school one day and a friendship formed. Bob was a "bachelor boy" in high school, living alone. Hap and his mother, Callie Murphy, would bring him milk and eggs.
"His mother was a fantastic cook," Bob said. "His father was a nice old boy, too. Hap and I have been friends for the longest time."
Although they attended and enjoyed many dances on the lake, Bob declined Hap's invitation to work on the boats. He called Hap the day before he died, because he heard he was ill. Hap told Bob he wasn't hurting at all and was fine.
On Dec. 7, 1941, while at Mary Mae's for dinner, the Murphy family heard the news about Pearl Harbor. Hap enlisted and entered the army April 24, 1942, in Spokane. Camp Kilmer, N.J., was his last camp before going overseas. The camp was 30 miles from New York City, and he and some of the other men would go to the city on weekends. In his book, Hap said, "It was a wonder we didn't sunburn our tonsils staring up at the tall buildings with our mouths open."
Hap served as a staff sergeant in Europe, Africa and the Middle East, attached to the British 8th Army under General Montgomery. He developed quite the cooking skills and was a great mess cook. He wrote about how dreadful the British mess was, so he was determined to do better.
Near the end of the war he and the company went across the Sahara desert, known as the "big push" that finalized the war. By the age of 30 he had all white hair, according Veronica, so his army buddies called him "the old man."
Walt Franks of Wallace served with Hap in the war. He said that Hap drove out to his home at Echo Bay, on the east side of Lake Coeur d'Alene a week before he died, and they drank a few beers. He had no idea that Hap was sick.
"He was quite a man," Walt said.
After the war and returning to the lake for awhile, Hap decided to try something different, so with partner Bud Newton, they took possession of The Boat Drive-In in November of 1949. Even though it was a bad winter, with his cooking skills they still managed to break even. By the next spring, they were so swamped with business he wrote, "I had never worked so hard or such long hours. It was worse than tug boating." In three years they owned it free and clear and had made many improvements that they financed with cash.
Hap and Bud were partners in The Boat for 10 years, before Bud bought out Hap's share. Hap continued to run the place for eight more years, while also tug-boating. They remained best friends until Bud died.
Hap met Veronica through a fellow soldier, Art Miller from Lind, Wash. Art was Veronica's first husband. They all met at army reunions every two years, and Veronica had stayed with Hap and Beatrice when she came to one of the reunions after Art's death. After Beatrice died, Hap didn't like living alone. He was hosting the army reunion, and he and Veronica became re-acquainted. They boated to Harrison and did some fishing. They enjoyed each other's company. Veronica had been a widow for 10 years and was living on Camano Island, Washington.
"We fell together we had so much in common," Veronica said.
Hap proposed to Veronica on Camano Island. They were married for 13 years and enjoyed their lake cabin, fishing, traveling, cooking and gardening. The yard of their home is adorned with roses. In his final days his bed was positioned so that he could look out at their back yard and all of its beauty.
Veronica had a huge birthday party for Hap when he turned 90 at the Elk's Club in Coeur d'Alene. Hap had been a member of the Elk's Club for 68 years. More than 280 people attended the party, which featured a great big birthday cake in the shape of a boat.
Three months before his death, Hap took Veronica back to several of his old stomping grounds, almost as though he was seeking closure, even though he wasn't sick at the time.
Marilyn Cooper, a lake neighbor of Hap and Veronica's, is working on submitting the necessary paperwork to name a bay on Lake Coeur d'Alene in honor of the Murphy family. The proposed Murphy's Bay is between Stevens Point and Three Mile Point and is currently unnamed. In order to name a bay after an individual, the person must be deceased.
In addition to Veronica and Kathi, Hap is survived by his son Tim Murphy of Boise, Veronica's three children, Tom Miller of Olympia, Jan Hust of Vancouver, Wash., and Russ Miller of Spokane, his sister Mary Mae, nine grandchildren and 12 great-grandchildren. His brother Fred preceded him in death.
Accuracy watch
Due to a reporter's error, the Tribute for Robert Thom in last week's Handle Extra omitted some biographical information.
Thom married his wife Laura in 1958 in Coeur d'Alene. They have two children, Debra Smith in Rathdrum and Becky Latham in North Pole, Alaska, and five grandchildren.
Local journalism is essential.
Give directly to The Spokesman-Review's Northwest Passages community forums series -- which helps to offset the costs of several reporter and editor positions at the newspaper -- by using the easy options below. Gifts processed in this system are not tax deductible, but are predominately used to help meet the local financial requirements needed to receive national matching-grant funds.
Subscribe now to get breaking news alerts in your email inbox
Get breaking news delivered to your inbox as it happens.
---