News > Features
CENTENARIAN
Sun., May 9, 2004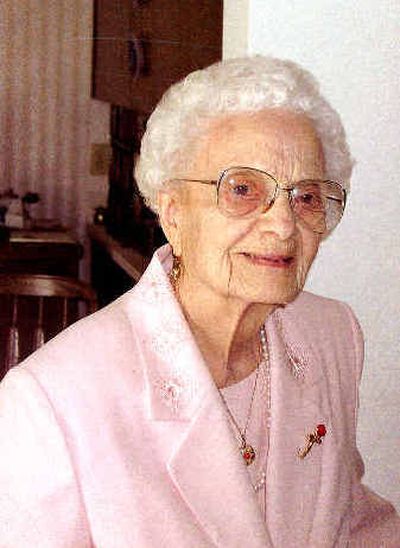 Anna Black
Spokane
Anna M. (Wolf) Black, born May 9, 1904, is celebrating her 100th birthday today. She was born in Dickinson, N.D., and has been a resident of Spokane for 40 years.
She met Peter Black at the home of her sister and brother-in-law, who was Peter's brother. The couple married in 1927. Mr. Black died in 1959.
Mrs. Black has several nieces and nephews.
In her early years living in North Dakota, she worked in sales in a dress shop and won an award as the top salesperson. She also was a homemaker.
She enjoys life and says that being active in her church, golfing, crocheting, reading, playing bridge, watching baseball and traveling have helped her live long and healthy.
Local journalism is essential.
Give directly to The Spokesman-Review's Northwest Passages community forums series -- which helps to offset the costs of several reporter and editor positions at the newspaper -- by using the easy options below. Gifts processed in this system are not tax deductible, but are predominately used to help meet the local financial requirements needed to receive national matching-grant funds.
Subscribe to the Coronavirus newsletter
Get the day's latest Coronavirus news delivered to your inbox by subscribing to our newsletter.
---