Sports
Saxons ready for state trip
Thu., May 13, 2004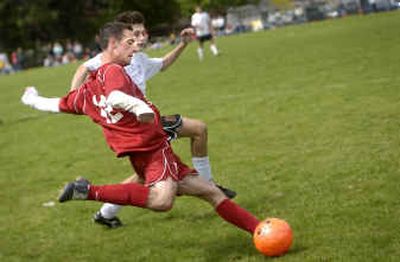 They've already watched a state championship match from the sidelines.
Now four Ferris seniors would like to see a title contest from a different viewpoint.
Dan Landry, Cody Wilson, Brett Mulgrew and Austin Washington will shoulder a big load as the Saxons begin the State 4A playoffs Saturday at home against Pasco.
When Ferris journeyed through the 2001 state tournament, the four were late additions to the varsity roster but never played a minute. With the eager freshmen absorbing the action, the Saxons lost to Decatur 2-1 in double overtime in the championship match at Federal Way.
"We didn't get to play, but it was fun being there," said midfielder/forward Landry, a two-year starter and co-captain. "I kind of know what to expect now, so it won't be a blur like it was our freshman year."
"That was probably the most fun I've had in my life, when we went to the state playoffs," said Mulgrew, a three-year starter at forward. . . . "I thought we'd go the next year, too. I didn't know it would take us three years to get back."
But the Saxons (13-4) are back, courtesy of Saturday's 1-0 win over Lewis and Clark in the District 8 championship match. LC (16-1) bounced back Tuesday and defeated Central Valley 3-2 to qualify for its third consecutive state tourney. LC will travel to Wenatchee (13-3) at 1 p.m. – the same time during which Ferris will entertain Pasco (13-5).
Saxons coach Robin Crain's scouting report on Pasco: short and quick, and good with the ball.
"They're people who can dribble around you, if you're not paying attention," said Landry, whose eight goals this season were three behind Wilson for the team lead. "But I'll put our team up against any team, in terms of speed."
The seniors have come a long way since their ninth-grade season. Ferris assistant coach Tim Donnelly called the quartet the "Mickey Mouse Club" in 2001.
"That's because we were always together and always stayed in the same room," said Wilson, another forward. "I haven't heard that name for a while."
That 2001 Saxons team included Cody's brother, senior goalkeeper Shaun Wilson, and Brett's brother, senior forward Derek Mulgrew.
"I watched how (Derek) did things because we played the same position," Mulgrew said.
"When I was younger I looked up to (Shaun) quite a bit and wanted to do what he did," Wilson said. "He trained me a lot."
Wilson also played goalkeeper until a U-15 club coach moved him out to a scoring position. He had been sharing time in goal with Kris Wright, the former LC goalkeeper now with Gonzaga University.
"I felt a lot more comfortable right away, because I like scoring goals instead of getting scored on," Wilson said.
Washington, a defender and co-captain, grew up watching his brother Adrian playing midfield and forward for LC in the mid-1990s. Washington's younger brother, Avery, is a junior midfielder/forward for the current Saxons.
"I think Adrian was the main influence on both of us," Washington said.
The Washingtons are one of three brother acts on the team. The others are senior twins Gabe and Jordan Knox, and junior Kyle Yonago and his sophomore brother Taylor.
Mulgrew and Landry have been best friends for years. Mulgrew and Washington both attended Moran Prairie Elementary, while Landry went to Sheridan and Wilson to Adams.
Landry, Wilson and Mulgrew are all interested in playing at Community Colleges of Spokane. Washington, a three-year starter, is set to compete for Whitworth College.
"If we had all three of us at CCS, that would be sweet," said Landry, who also competed in basketball until his freshman year.
The Landry influence won't disappear at Ferruis. Landry's sister Julie is a Saxons sophomore who played junior varsity soccer last fall.
When it comes to future jobs, Landry selected Realtor, Wilson radiology, and Washington something in the sciences. Mulgrew said he'll decide after clearing through his prerequisites.
All four are likely to be found playing indoor soccer this summer. But none is thinking much beyond the next few weeks.
"I think we have a good chance," Wilson said. "I think we all get along and play well together. We have quite a few kids who are really good."
Local journalism is essential.
Give directly to The Spokesman-Review's Northwest Passages community forums series -- which helps to offset the costs of several reporter and editor positions at the newspaper -- by using the easy options below. Gifts processed in this system are not tax deductible, but are predominately used to help meet the local financial requirements needed to receive national matching-grant funds.
Subscribe to the sports newsletter
Get the day's top sports headlines and breaking news delivered to your inbox by subscribing here.
---