News > Spokane
Scrutiny may turn to Guantanamo
Mon., May 24, 2004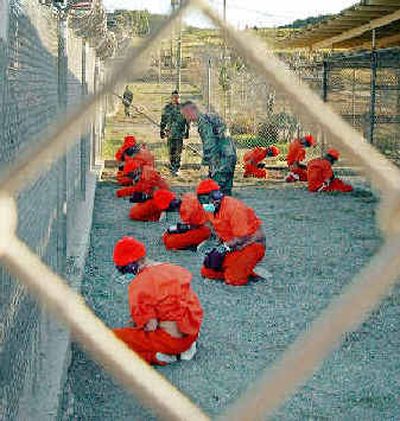 WASHINGTON – The storm of controversy over abuse at U.S.-run prisons in Iraq and Afghanistan largely has escaped the detention facility at Guantanamo, Cuba, where terrorist suspects are held.
That soon may change.
A senior Navy admiral who briefly visited Guantanamo Bay in early May at Defense Secretary Donald Rumsfeld's request has recommended a more in-depth look at the prisoners' treatment. He said conditions there are good now but may have been different earlier.
Also, the Pentagon is facing allegations by former British detainees who say they were abused and videotaped. Sen. Patrick Leahy, D-Vt., is demanding the Pentagon release any such videos.
The International Committee of the Red Cross said Friday that a delegation will return later this month for an inspection and meetings with prisoners. The Red Cross is the only independent organization allowed access to the approximately 600 prisoners at Guantanamo.
The Red Cross, whose reports are supposed to be confidential, has criticized the open-ended nature of the detentions at Guantanamo and the Bush administration's decision in 2002 that the Geneva Conventions do not apply to detainees there because the terrorist suspects are not prisoners of war.
The Pentagon itself is reconstructing events from the early months of detention and interrogations at Guantanamo, when the focus was on extracting as much information as possible – as quickly as possible – from prisoners thought to have knowledge of planned terrorist attacks.
The first prisoners arrived on Jan. 11, 2003, from battlefields in Afghanistan.
It is unclear whether the interrogation methods used in those circumstances may have evolved into the techniques reported in Iraq – and whether they in some way led to the abuse at Iraq's Abu Ghraib prison.
Pentagon officials assert that prisoners at Guantanamo have been treated humanely from the start, but they acknowledge that some pieces of the historical record remain missing or fuzzy. "We're rediscovering a lot of this in the context of trying to make sure we fully understand all aspects of detainee operations," said Larry Di Rita, chief spokesman for Rumsfeld.
He confirmed last week that military lawyers in the Pentagon raised objections to some of the interrogation techniques used at Guantanamo in 2002, particularly with respect to one prisoner believed to have information about planning for a terrorist attack. Di Rita said he could not specify any of the interrogation techniques because they are classified.
Local journalism is essential.
Give directly to The Spokesman-Review's Northwest Passages community forums series -- which helps to offset the costs of several reporter and editor positions at the newspaper -- by using the easy options below. Gifts processed in this system are not tax deductible, but are predominately used to help meet the local financial requirements needed to receive national matching-grant funds.
Subscribe to the Coronavirus newsletter
Get the day's latest Coronavirus news delivered to your inbox by subscribing to our newsletter.
---