News > Idaho
Food bank short on holiday supplies
Wed., Nov. 10, 2004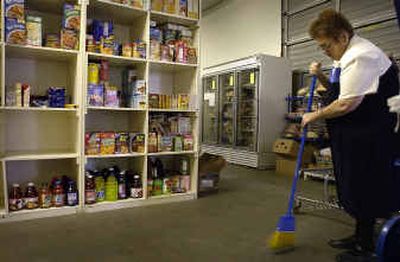 If Thanksgiving dinner consisted entirely of creamed corn or canned green beans, more than 150 Post Falls families unable to afford a holiday dinner would be satisfied.
That's about the only food not in short supply at the Post Falls Food Bank, said manager Cathy Larson. The nonprofit group is experiencing widespread food shortages because of a recent doubling of demand.
"We're turning people away," Larson said Tuesday, while scanning rows of empty or partially emptied pantries.
Actually, the food bank does have 70 Thanksgiving dinner baskets set aside, Larson said, but none includes a turkey. Another 50 families remain on a waiting list.
Larson hopes the holiday situation will brighten a bit after weekend food drives. Events are planned for Friday and Saturday in Post Falls.
On Friday, the U.S. Army is holding a food drive at the Hot Rod Café, 1610 Schneidmiller Ave. The Army has never before pitched in with the filling of Post Falls' food bank, but local recruiter Sfc. Randy Smith hopes to make "North Idaho Hungerstorm" an annual effort.
"It's my community, too," Smith said. "I was born here."
The Army food drive will feature a display of military vehicles. The Army also will sponsor two or three additional food drives before the end of the year.
"We aim to restock the food bank," Smith said.
The Kelly Hughes Band will headline another food drive Saturday held at the Post Falls Wal-Mart. The music and food drive run from 1 to 4 p.m.
The food bank's shortages come from a spike in demand following the agency's move last year to a new, more visible location at 415 East Third Ave. in Post Falls. Larson also suspects the region's growth and a lack of well-paying jobs are to blame.
"They're working, but they're just not making enough," she said.
In September 2003, the food bank helped 900 families. A year later, the number jumped to 1,632 families. The number of senior citizens needing food also has tripled.
"It's been like that every month," Larson said.
The food bank is short on nearly all items – even the canned corn and green beans will run out before long, Larson said. "This isn't going to last. We're out there grabbing everything we can. We'll take anything. We're not picky."
To donate, drop off food at the food bank's office or call 773-0139.
Local journalism is essential.
Give directly to The Spokesman-Review's Northwest Passages community forums series -- which helps to offset the costs of several reporter and editor positions at the newspaper -- by using the easy options below. Gifts processed in this system are not tax deductible, but are predominately used to help meet the local financial requirements needed to receive national matching-grant funds.
Subscribe now to get breaking news alerts in your email inbox
Get breaking news delivered to your inbox as it happens.
---