A&E > Food
Local chefs, architects construct gingerbread gems
Wed., Dec. 7, 2005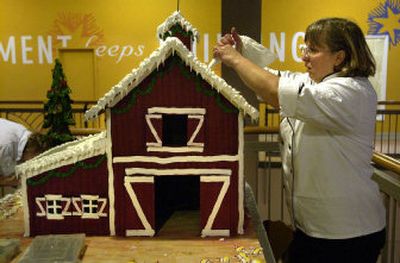 Some teams piped lines of royal icing for the intricate finishing touches while others slathered it on with trowels.
In just three hours, local chefs and architects transformed the bare gingerbread walls into the awe-inspiring confections that drew wide eyes and praise from passersby. While shoppers rushed about doing their holiday shopping, the chef/architect teams embellished their gingerbread structures in an Iron Chef-style competition at River Park Square to create the most fantastical holiday creations they could in just three hours.
Some of the decorating was the how-did-they-do-that stuff that is reserved for commercial kitchens, pastry chefs and professionals armed with boxes of pastry tips and tools. And it's the reason why you simply have to stop and see these houses at the Davenport Hotel, where they'll be on display for the rest of the season.
Here's a sneak peek at what you'll find: Chef Howard Bateman, along with architects Ann Martin and Ryan Bollinger, re-created the Campbell House, complete with floor plans and a glimpse inside the building.
Marcel Kopplin of Marsells Cakes and Desserts hauled a huge red barn to the competition, complete with green gingerbread trees, a farm tractor made from the dough and all the gingerpeople you need to run a farm. The building was designed by Spokane Community College architectural instructor David C. Edwards.
Architect Doug Heyamoto and Chef Carissa Ernst (in their first gingerbread effort ever) built a train station; a natural fit for Ernst, who serves as a chef for Frank's Diner. The mystery ingredient of gummy worms (which each team was required to work into their design) became the train tracks for the engine.
Don't mistake the architectural design of Nancy McKennon and Europa Chef Christie Sutton for a riverboat. The house is actually a replica of a home designed by a German architect. Sutton used sugar and broken Jolly Rancher candies to create the subtly tinted windows.
The father-son team of architect Joseph Stoy and Brix chef Adam Hegsted created a huge town hall, complete with a pond outside surrounded by candy rocks.
But it was Davenport Chef Mark Hise with architect Chris Morlan who paid perhaps the most attention to what was happening inside his gingerbread house. The team designed the house with a steep roof so you could get a glimpse of life behind those gingerbread walls.
He created a family of marzipan bears to occupy the house, and you can catch a glimpse of them going about their daily lives. There's one a hot tub filled with tinted gelatin, a complete dining room set made from pastillage (a sugar, cornstarch, gelatin concoction used in cake decorating and centerpieces), in the kitchen a stack of salmon is waiting to be cleaned for dinner, and upstairs there is a game of air hockey under way, and a bear leans down with one eye closed to line up a shot at the pool table.
"He's winning the game. You can see he's got the 8-ball lined up, right there. He's cleaning up on his brother," Hise said, pausing with a pastry bag in hand, to give a tour.
By the way – all the furniture and decor inside are made from pastillage, and the basalt rocks outside are rock sugar rolled in cocoa powder. Notice the paintings on the wall inside, and there are tons of other surprises.
Novice gingerbread house builders should probably stick to basic structures rather than Googling the Web for pastillage recipes. (The houses are tricky enough.) But whether you make your own gingerbread house or decorate one of the kits that are sold this time of year there were some fun ideas to be found at the Gingerbread Build-off.
Here are just a few:
Tiling the roof: Round gingerbread cookies with a fluted edge cut in half, Nabisco's 100-calorie packs of Oreo cookies, sticks of gum in assorted colors,
Windows: Put crushed Life Savers or Jolly Rancher candies into the windows before baking gingerbread to create stained glass
Trees: Paper cones decorated with royal icing using a star tip; sugar cones also make a nice base for the trees.
Other embellishments: Graham cracker sticks for fences, Hershey's chocolate squares for brickwork and siding; colored coconut can be grass.
Candy ideas: Mini M&M, Red Hots, crushed candy canes, gum drops, gummy candies of all shapes and sizes, licorice ropes, marshmallows, gum balls, Chiclets.
Local journalism is essential.
Give directly to The Spokesman-Review's Northwest Passages community forums series -- which helps to offset the costs of several reporter and editor positions at the newspaper -- by using the easy options below. Gifts processed in this system are not tax deductible, but are predominately used to help meet the local financial requirements needed to receive national matching-grant funds.
Subscribe to the Spokane7 email newsletter
Get the day's top entertainment headlines delivered to your inbox every morning.
---