News > Nation/World
Pro-democracy leader turns 60 in jail
Sun., June 19, 2005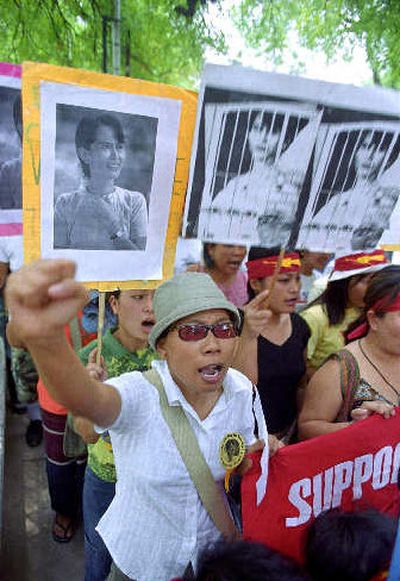 BANGKOK, Thailand – Global protests will be staged and thousands of birthday cards sent to draw attention to the plight of Myanmar's pro-democracy leader Aung San Suu Kyi, who turns 60 today – her 3,523rd day under military detention.
Isolated both from the outside world and her supporters at home, Suu Kyi is confined to a now dilapidated, two-story family house overgrown by jungle in the capital of Yangon. It is sealed off around the clock by security forces.
But the Nobel Peace Prize laureate – articulate and unquestionably brave – remains the great hope for those around the world seeking to end more than four decades of harsh military rule in her homeland, also known as Burma.
"We are trying to use the opportunity of Suu Kyi's 60th birthday to galvanize public opinion and politicians into finally taking some action on Burma," said Mark Farmaner, spokesman for the British-based Burma Campaign.
The birthday campaign is particularly important, he said, because lately interest in Suu Kyi's plight has tapered off. "The international response has been quite pathetic since her latest arrest," Farmaner said.
In a birthday wish to Suu Kyi, U.S. Secretary of State Condoleezza Rice wrote that her courage "in the face of the junta's brutal repression and your continuing house arrest inspires people around the world."
"The United States stands with you and all others in your struggle to free the Burmese people. We look forward to the day when you can celebrate your birthday in a democratic and free Burma where fundamental human rights are respected," Rice added.
But little more than statements of concern followed Suu Kyi's detention in May 2003 after a pro-government mob savagely attacked her car convoy in northern Myanmar, killing a number of her companions.
The democracy leader has been in detention for a total of 3,523 days since she was first put under house arrest in 1989, according to the campaign's Web site.
The global birthday effort is modeled after the 1988 "Mandela at 70" campaign to free Nelson Mandela from imprisonment in apartheid-era South Africa.
Protests were scheduled at Myanmar embassies, and activists were to deliver 6,000 birthday cards at Yangon's mission in Washington.
Irish musician Damien Rice will release "Unplayed Piano," a song about what was one of Suu Kyi's few pleasures under detention – until her piano broke down.
The muted response has led to a deterioration of conditions in Myanmar and greater isolation for the democracy activist than during her previous periods spent under house arrest, Farmaner said.
Local journalism is essential.
Give directly to The Spokesman-Review's Northwest Passages community forums series -- which helps to offset the costs of several reporter and editor positions at the newspaper -- by using the easy options below. Gifts processed in this system are not tax deductible, but are predominately used to help meet the local financial requirements needed to receive national matching-grant funds.
Subscribe now to get breaking news alerts in your email inbox
Get breaking news delivered to your inbox as it happens.
---